Asia Cup 2022: Comparing the Strongest vs Missing XI for Team India
The Rohit Sharma led Strongest 11 and Shikhar Dhawan led missing 11 of Team India for Asia Cup 2022 makes for an interesting comparison. 
When the squad for Team India for Asia Cup 2022 was announced by BCCI, a lot of noise was made around the selected players as well as missing players. While the overall selection felt in line, India missed a few players due to unfortunate reasons, and who otherwise would have made it to the squad. 
With 15 members already selected by Team India along with 3 standbys, we know what the ideal first-choice playing 11 would be for Team India. Whereas we also know the players who were either in contention, were Backups, deserved to play, or missed out of the squad due to injury or other reasons. 
So, in this article, we compare the strongest 11 and missing 11 for Team India for Asia Cup 2022. The strongest 11 has been selected from the official 15-member squad. Whereas the missing 11 has been selected from the potential players, who otherwise were deserving to get selected, but missed out due to an unfortunate reason. 
Openers
When it comes to the Openers for the strongest 11 for Team India for Asia Cup 2022, we have the captain and vice-captain duo of Rohit Sharma and KL Rahul. These two are undoubtedly the best openers for Team India in T20Is,  and deserve to open in the Asia Cup 2022. Meanwhile, the game time KL Rahul shall be getting in the Zimbabwe tour could help him more.
For Team missing 11, Team India have two good backup openers in the form of Captain Shikhar Dhawan and Ruturaj Gaikwad. Shikhar Dhawan may not be in contention for T20Is for Team India, but the guy has been in tremendous form in recent IPLs. Whereas Ruturaj has been a backup opener for Team India for quite some time now.
Middle-order
Coming to the middle-order, the Strongest 11 has an equally strong batting combination of Virat Kohli at 3, Suryakumar Yadav at 4, and Rishabh Pant at 5. If these 3 bring their A-game together, there is absolutely no stopping them in the squad. However, India would be hoping for out-of-form Virat Kohli to make a strong comeback. He shall be playing his 100th T20I vs Pakistan on August 28.  
For Team Missing 11, India have the likes of Shreyas Iyer at 3, Ishan Kishan at 4, and wicket-keeper batter Sanju Samson at 5. These three may not be as strong as the strongest 11, but have the ability to deliver when needed. Out of these three, Shreyas Iyer is already a standby for the main squad. He could get to play if any of the main players get injured or get affected by COVID, and cannot participate further. 
Lower-order
Coming to the lower-order, Team strongest 11 has the likes of Hardik Pandya, Ravindra Jadeja, and Ravichandran Ashwin. Hardik is currently Team India's best all-rounder in T20Is. Whereas Ravindra Jadeja is an aggressive lower-order batter and a quality sixth bowler. Given Team India selected only 3 pacers in their overall squad including Avesh, Ashwin deserves the spot as the spin bowling all-rounder of the squad. 
For Team Missing 11, we have the likes of Axar Patel at 6, Deepak Chahar at 7, and Harshal Patel at 8. Again, the lower-order for Team Missing 11 may not be a match to the strongest 11, but their presence makes the bowling unit much stronger with Deepak Chahar and Harshal Patel chipping in with small attacking cameos. However, Axar Patel's batting has improved significantly, and he is a good add-on at number 6. 
Bowlers
Finally, this is an area where Team Missing 11's bowling unit looks much stronger than the strongest 11's bowling unit. Talking about Frontline bowlers for Strongest 11, we have Bhuvneshwar Kumar, Arshdeep Singh, and Yuzvendra Chahal. Whereas for Missing 11, we have Jasprit Bumrah, Mohammed Shami, and Kuldeep Yadav. Again, the missing 11 looks much stronger as compared to the strongest 11. 
Similarly, if we add Harshal Patel, Deepak Chahar, and Axar Patel to the already strong bowling line-up of Missing 11, the addition of Hardik Pandya, Ravindra Jadeja, and Ravichandran Ashwin still doesn't make the bowling line-up of Strongest 11 stronger. Only if injured Bumrah and Harshal weren't injured, their addition to the official squad would have made the strongest 11 look much stronger. 
Asia Cup 2022 – Strongest 11 for Team India: 
Rohit Sharma (C), KL Rahul, Virat Kohli, Suryakumar Yadav, Rishabh Pant (WK), Hardik Pandya, Ravindra Jadeja, Ravichandran Ashwin, Bhuvneshwar Kumar, Arshdeep Singh & Yuzvendra Chahal. 
Asia Cup 2022 – Missing 11 for Team India: 
Shikhar Dhawan (C), Ruturaj Gaikwad, Shreyas Iyer, Ishan Kishan, Sanju Samson (WK), Axar Patel, Deepak Chahar, Harshal Patel, Kuldeep Yadav, Mohammed Shami & Jasprit Bumrah. 
So, that's how we have the Rohit Sharma-led strongest 11 and Shikhar Dhawan-led Missing 11. Even in the absence of Harshal and Bumrah, our main team can look to retain the Asia Cup 2022 trophy. We have the quality. Just about controlling the nerves and delivering on the right occasion. 
Thanks for reading! What's your thought on the Asia Cup 2022 strongest playing 11 for Team India? Please email your comments to business@cricalytics.com
---
ALSO READ: Asia Cup 2022: The Revamped T20 Format Explained – What's New?
---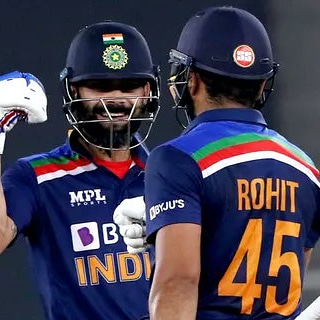 Adesh Kothari is the founder of AK4Tsay1 Cricalytics.
Cricket to him is like what 'Football is to Lionel Messi', 'Singing is to Lata Mangeshkar', 'Dancing is to Michael Jackson', and what 'Acting is to Clint Eastwood'.
Besides his effervescent love for Cricket, Adesh is an MBA by qualification.