India vs WI Stats Wizard: Top 5 Spells in One day Internationals (ODIs)
Anil Kumble and Jason Holder lead the charts as we find the top spells in India vs WI ODI series. 
Fierce fast Bowlers and West Indies have been a love story that has run for over 2 decades. West Indies have produced tons of fierce fast bowlers since the inception of Cricket. Andy Roberts, Malcolm Marshal, Joel Garner, Courtney Walsh, Curtly Ambrose, etc. to name few of the most dangerous bowlers of their generation.
Meanwhile, India, who have been a batting dominant nation have produced superb bowlers of all variety. Be it the legendary, Kapil Dev, spin wizard, Anil Kumble, or the latest bowling sensation, Jasprit Bumrah. India have had superb bowlers, but how have they performed against West Indies, and vice versa.
Analyzing the best spell of these bowlers in India vs WI ODI series was always going to be exciting. Surprisingly, some of the best bowling spells from the West Indies bowlers are bowled by not so famous bowlers.
So, without wasting much time, let's find out the top spells in India vs WI ODI series using our unique revamped methodology. 
METHODOLOGY:
As always, we have analyzed the top spells basis the bowling points calculated from the overall aspect of the game such as wickets taken, economy rate bonus, relative economy rate and wickets bonus, number of maidens, number of dot balls, match-winning spell points, and the player of the match points. 
To leave out the biases and perception, we have kept things simple by comparing the overall bowling points of all the spells to find out the top 5 spells in India vs WI ODI series.
---
#5: ANDERSON CUMMINS'S 5/31 | BRISBANE | 1992
SPELL: 9.3-1-31-5 | ER: 3.3 | BOWLING POINTS: 222.5
Anderson Cummins may not match the likes of West Indies' greats, Malcolm Marshal, Joel Garner, Courtney Walsh, etc. But, his strike rate of 41 in ODIs made him a wicket-taker of his generation.
Coming to the spell, West Indies were facing a must-win situation as they met India in the ninth match of the CB series.
Cummins, who had only recently debuted overpowered the likes of Ambrose and Marshall as he took important wickets of K. Srikkanth, Sachin Tendulkar, and the debutant, Sourav Ganguly.
Courtesy to his brilliant spell of 5/31, India were bundled out for just 191, which West Indies chased in 49 overs.
For a stunning match-winning spell, Anderson Cummins's spell is fifth on the list with a total of 222.5 bowling points.
---
#4: RAVINDRA JADEJA'S 5/36 | THE OVAL | 2013
SPELL: 10-2-36-5 | ER: 3.6 | BOWLING POINTS: 244.4
Ravindra Jadeja may not be the most consistent limited-overs bowler, but he has this knack of coming up with match-winning stunning spells time and again. This one spell came in Champions Trophy 2013, which India won under the leadership of MS Dhoni. 
Bowling first, West Indies were going good at 92-1 when Jadeja was introduced in the attack in the desperation of a wicket. Jadeja didn't disappoint a bit as he got three quick wickets of the set, Johnson Charles, Marlon Samuels, and Ramnaresh Sarwan. His first spell read a mind-boggling 5-1-10-3. 
Brought in his second spell in the 44th over, Jadeja took 2 more wickets, but went for 26 in his last 4 overs with 14 coming in the last over. West Indies scored  233 as Jadeja ended his spell on 5/36 in 10 overs.
Chasing 234, India didn't have any issues as they chased the target in 39.1 overs.
So, for his wicket-taking ability, Ravindra Jadeja's spell is fourth on the list with a total of 244.4 bowling points.
---
#3: PATRICK PATTERSON'S 6/29 | NAGPUR | 1987
SPELL: 9.4-0-29-6 | ER: 3.00 | BOWLING POINTS: 248.0
Most of us may not remember Patrick Patterson due to his short career span. But, he was one of the fastest and the most feared fast bowlers of his generation. Unfortunately, after 7 years in International Cricket, he disappeared and was later discovered after 25 years.  
Anyway, coming to his ferocious spell, West Indies were defending a meager total of 203. Patterson, who opened the bowling ripped apart Team India's top-order accounting for wickets of K. Srikkanth, Arun Lal, and Anshuman Gaekwad.
With India reeling at 5-31, Kapil Dev combined really well with Ravi Shastri to lift India to 144-5. With just 60 more runs required, the victory looked on the cards for India, but Patrick Patterson, who came back for yet another spell got rid of the set, Kapil Dev, Ravi Shastri, and Kiran More to end India's hopes. 
In the end, India were bundled out for 193 as Patrick Patterson finished with a spell of 6/29.  
So, for taking valuable wickets, Patrick Patterson's spell is third on the list with a total of 248 bowling points.
---
#2: ANIL KUMBLE'S 6/12 | KOLKATA | 1993
SPELL: 6.1-2-12-6 | ER: 1.94 | BOWLING POINTS: 256.8
Probably Anil Kumble's best spell in ODIs, and amongst the top 3 when it comes to best spells in ODIs by an Indian bowler. Anil Kumble returned with astonishing figures of 6/12 with an economy rate of just 1.94 as India won the Hero Cup at Eden Gardens, Kolkata. 
On a turning track, India somehow managed to reach a safe score of 225-7 at the end of 50 overs, courtesy to Kambli's superb half-century. 
Chasing 226, West Indies were going good at 101-4 at the end of 28 overs, and needed only 125 more runs from 22 overs. That's when the spin wizard from India, Anil Kumble ripped apart West Indies' bowling with tenacious bowling. 
He looked simply unplayable as he took all the remaining six wickets in his spell of 6.1 overs by giving away just 12 runs. India won the match by 102 runs as West Indies were bundled out for just 123 runs.
So, for his unplayable spell, Anil Kumble's spell is second on the list with a total of 256.8 bowling points.
---
#1: JASON HOLDER'S 5/27 | NORTH SOUND | 2017
SPELL: 9.4-2-27-5 | ER: 2.79 | BOWLING POINTS: 261.1
Ohh yes, this is a spell from the infamous MS Dhoni knock of 54(114) for which he was criticized to the core.
Back in 2017 when India toured West Indies, India had to chase a low score of 190 in 50 overs on what was supposedly a sluggish track. 
Jason Holder was right on the money from the first over bowling bouncers, slower ones, cutters,etc., thus using the pitch to the fullest. Holder took an important wicket of Kohli at the top in his opening spell of 7-2-16-1. 
With 31 runs needed from 30 balls, Holder took important wickets of Hardik and Jadeja thus ending India's hopes. He took 2 more wickets in his second spell as he ripped apart the tail.
In the end, MS Dhoni's slow innings of 54(114) couldn't see India through as India were bundled out for 178.   
For disciplined bowling, Jason Holder's spell is the best spell in an India vs West Indies ODI series with a total of 261.1 bowling points.
---
So, these are the top 5 spells in an India vs West Indies ODI series.
I believe, most of us remember the unique bowling action of Debashish Mohanty. His match-winning spell of 3-18 from 10 overs back in 2001 deserves a special mention. 
---
ALSO READ: Virat Kohli vs Steve Smith: A comparison of a lifetime in Tests
---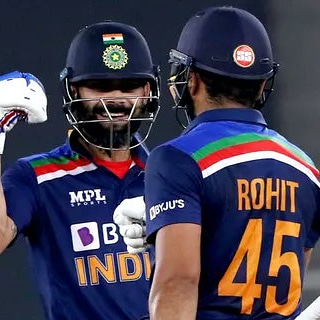 Adesh Kothari is the founder of AK4Tsay1 Cricalytics.
Cricket to him is like what 'Football is to Lionel Messi', 'Singing is to Lata Mangeshkar', 'Dancing is to Michael Jackson', and what 'Acting is to Clint Eastwood'.
Besides his effervescent love for Cricket, Adesh is an MBA by qualification.