IPL 2020: FLOP XI of the Tournament by Cricalytics
MS Dhoni with a poor batting and captaincy record to captain the IPL 2020 flop 11 of the tournament.  
The Indian Premier League has always been a platform for many happening events for the players. Every year we see out of the box performances, players making a name of themselves, emerging players coming-in, national team selection basis season performance, and so on. 
This year has been no different. While we have witnessed some really outstanding performances, there have been equally bad performances too. There are so many star Cricketers, who perform exceptionally well in International format, before succumbing to pressure in IPL, and performing worst.
So, in this article, we take a look at 11 such players from IPL 2020, who combine to form the flop 11 of the Tournament. Please note, all these players are superstars in their own, and the only intention of this article is to highlight their performance for IPL 2020. 
Methodology: 
As usual, we have removed any biases or perception while selecting the best performing 11. Our robust methodology gives precedence to 'Performance Rating' to select players in the playing 11. While there are many players who haven't played much but have a poor record, we have kept the selection criteria to a minimum of 7 innings to avoid such discrepancies. 
Openers:
#1: Prithvi Shaw (DC)
Inns: 13 || Runs: 228  || Avg: 17.5 || SR: 136. 5 || Rating: 3.2
Even in the presence of experienced Ajinkya Rahane, Prithvi Shaw was considered as the first-choice opener alongside Shikhar Dhawan for Delhi Capitals. The attacking nature and a decent run in 2019 were the main reasons for Delhi Capitals to chose Prithvi Shaw over Ajinkya Rahane.
But, barring the initial few matches, Prithvi Shaw failed to make any impact. No feet movement and lack of confidence against the moving ball meant Shaw had many low scores in the tournament. While the team is in the finals, but Shaw's tournament seems over with 228 runs from 13 innings at a bizarre average of 17.53.
#2: Robin Uthappa (RR)
Inns: 12 || Runs: 196 || Avg: 16.3 || SR: 119.5 || Rating: 2.7
A move away from his longest franchise, Kolkata Knight Riders to the franchise that was in need of an opener, Rajasthan Royals was expected to yield good returns for Robin Uthappa. But, a poor choice by the management to play him in the middle-order initially combined with diminishing returns meant Uthappa's had a horrid tournament with the bat.
Overall, he could manage only 196 runs 12 outings with just one 40+ score at an average of 16.3 and a strike rate of 119.65. While middle-order wasn't the best place for him to bat, he didn't do well as opener either having scored 114 runs from 6 innings at an average of just 19 and consistency of 33.3%. 
Middle-order:
#3: Dinesh Karthik (KKR)
Inns: 14 || Runs: 169 || Avg: 14.1 || SR: 126.1 || Rating: 2.3
Dinesh Karthik has probably had his worst performance in the last 5 years, and second-worst of his entire IPL career. In a struggling batting-order of KKR, a lot was expected from Dinesh Karthik, but only once was he able to score a fifty, and 3 more decent knocks in the remaining 13. Overall, the former KKR captain could manage 169 runs at an average of 14.1, and a poor strike rate of 126.1. 
#4: Glenn Maxwell (KXIP)
Inns: 11 || Runs: 108 || Avg: 15.4 || SR: 101.9 || Rating: 1.9
Imagine being paid INR 1075L; the highest for KXIP in the Auction, and you end up scoring a meagre 100 runs in the entire tournament. How frustrating would that be for the management? But, the problem is not in the money being paid, it is in the mindset of Glenn Maxwell.
For a player of his calibre, who ridicules the bowlers in International format, he bats in IPL as if he has forgotten all the basics or he bats as if he doesn't give a s**t about IPL. Whatever may be the reason, Glenn Maxwell could only manage a meagre 108 runs from 11 innings at a poor average of 15.4, and a mediocre strike rate of 101.9; less than his ODI strike rate. 
#5: MS Dhoni (C&WK) (CSK)
Inns: 12 || Runs: 200 || Avg: 25 || SR: 116.3 || Rating: 3
Not sure what went wrong with MS Dhoni, the batsman this season as not once in 14 innings he looked comfortable at the crease.  Ever since the beginning of IPL, the year 2020 saw him score the lowest number of runs scored in his entire IPL career. Not once did he reach a fifty score, and overall could only manage 200 runs from 12 innings at a poor average of 25 and a strike rate of 116.3. 
While his batting was not up to the mark, his captaincy was below-par too. The team didn't do that bad with the performance this season, but it is the 'Horses for Courses' approach where CSK failed. They had an excellent squad for spin-friendly pitches, but since UAE pitches assisted pace more, MS Dhoni ran out of players and out of ideas. Add to it, inconsistent batting-order including that of MS Dhoni. As a result, 2020 became the first year for CSK where they failed to reach the play-offs. 
#6: Riyan Parag (RR)
Inns: 8 || Runs: 86 || Avg: 12.3 || SR: 111.7 || Rating: 1.7
After a successful stint with RR in 2019, Riyan Parag was hailed by many RR players as him being the next big thing. However, the 2020 version of him might have changed the outlook slightly. He could only muster 86 from 8 innings with one match-winning knock. Even though he still young at 18, we have better expectations from him given the potential, and hope he can do well in 2021 and onwards. 
Key All-rounders:
#7: Andre Russell (KKR)
Inns: 9 || Runs: 117 || Wkts: 6 || SR:  144.4 || Rating: 2.5
From being the MVP in 2019 to being the LVP in 2020, it has been a nose-dice performance from probably the world's most fearsome hitter. Not once did he tear the bowling apart in the nine innings he played. Even in the bowling department, he could only manage 6 wickets. He could have made a whole lot of difference in KKR's campaign, but due to his poor returns, KKR ended up in the bottom-half of the points table. 
#8: Sunil Narine (KKR)
Inns: 9 || Runs: 121 || Wkts: 5 || Rating: 3
Forget Sunil Narine, the batsman, even Sunil Narine, the bowler couldn't come out good this time with mediocre returns in both the departments. He managed a meagre 5 wickets from 9 outings; the worst in his IPL career. His bowling average of 60.4 and an economy rate of 7.9 is also the worst in his IPL career. Additionally, barring a half-century, Narine had nothing to show in this season. It won't be a surprise if Narine is released in next year's auction, or maybe the mega auction in 2022. 
Bowlers:
#9: Kamlesh Nagarkoti (KKR)
Inns: 9 || Wkts: 5 || Avg: 46.2  || ER: 8.9 || Rating: 2.8
The fourth KKR player on the list, and the name we had hoped hadn't come into the picture. Kamlesh is a serious talent, and seeing him perform such poorly in his debut season is sad. He could only manage 5 wickets from 9 outings at an average of 46.2 and an economy rate of 8.9. He mostly bowled in the deaths and middle-overs, and that could be the reason for his poor performance.  
#10: Jaydev Unadkat (RR)
Inns: 7 || Wkts: 4 || Avg: 57 || ER: 9.9 || Rating: 2.7
Not for the first time, Unadkat's name has come in the picture for his poor returns with the ball. After a successful stint with the RPS in 2017, Unadkat has faired very poorly in the IPL. While his 2019 and 2018 were still decent, in 2020 he could only manage 5 wickets from 7 outings, but at a poor economy rate of 9.9. He has a single 2-wicket haul to his name to show, but nothing apart from that. 
#11: Navdeep Saini (RCB)
Inns: 13 || Wkts: 6 || Avg: 63.2 || ER: 8.3 || Rating: 2.9
Another name on the list who has tremendous potential, but just couldn't come out well in the field. While the perception for Saini is still the same, but his returns have been poor. A meagre 6 wickets 13 outings at a horrible average of 63.2 isn't expected from the bowler, who represents India in all the three formats. Unless Saini takes wickets if not bowl economically, it is going to be difficult for him to have a successful career. 
IPL 2020: Flop 11 of the Tournament or Season:
Prithvi Shaw, Robin Uthappa, Dinesh Karthik, Glenn Maxwell, Riyan Parag, MS Dhoni (C&WK), Andre Russell, Sunil Narine, Kamlesh Nagarkoti, Jaydev Unadkat, and Navdeep Saini. 
Other Poor Performers: Ajinkya Rahane, Priyam Garg, Aaron Finch, Shivam Dube, and Krunal Pandya. 
Thanks for reading! What's your flop 11 for IPL 2020? Please mention in the comments 
---
ALSO READ: IPL 2020: The Best Playing 11 from the Bottom-half of Points Table
---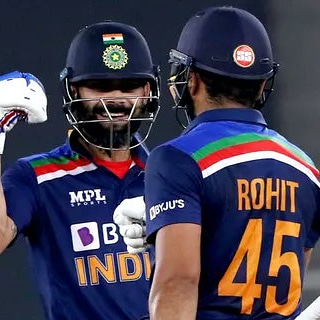 Adesh Kothari is the founder of AK4Tsay1 Cricalytics.
Cricket to him is like what 'Football is to Lionel Messi', 'Singing is to Lata Mangeshkar', 'Dancing is to Michael Jackson', and what 'Acting is to Clint Eastwood'.
Besides his effervescent love for Cricket, Adesh is an MBA by qualification.