IPL 2020: Dream Team of the Tournament by Cricalytics
3 each from Mumbai Indians and Delhi Capitals make it to the squad as we take a look at the dream team of the tournament or season for IPL 2020. 
What a fantastic end to the most exciting T20 tournament in the world as Mumbai Indians maintained their lead by winning their record fifth IPL trophy under the leadership of Rohit Sharma. Meanwhile, Delhi Capitals, who made their maiden final wouldn't be much disappointed either as they fought well till the end.
Both, Mumbai Indians and Delhi Capitals had a bunch of match-winners, who helped the team perform well throughout the tournament. Similarly, other teams in the tournament too had a bunch of match-winners, but on a fewer side, hence the teams were not able to make successful inroads in the tournament.
With the tournament coming to a successful end, it is now time to look the dream team that if played together would create havoc for the other teams. Yes, we are talking about the IPL 2020 Dream Team of the Tournament. So, without much delay, let's jump straight into the article. 
Methodology:
As usual, we have removed any biases or perception while selecting the best performing 11. Our robust methodology gives precedence to 'Performance Rating' to select players in the playing 11. We would also stick to the rule of playing only 4 overseas players, and thus combination is also given a preference to select the players. 
Openers:
Shortlist: KL Rahul, Shikhar Dhawan, Devdutt Padikkal, Quinton de Kock, Mayank Agarwal, and David Warner
#1: KL Rahul (C&WK) (KXIP)
Inns: 14 || Runs: 670  || Avg: 55.8 || SR: 129.4 || Rating: 8.2
The orange cap holder of the season, and probably the best batsman of the season, KL Rahul makes it as the first-choice opener of the squad with a rating of 8.2; second-best of the season. The KXIP captain scored a stunning 670 runs from 14 innings, but at a decent strike rate of 129.4; that's the reason his rating was slightly on the lower side.
KL Rahul played a total of 3 match-winning knocks, and combined with a few decent knocks led him to achieve consistency of exact 50%. He has been also inspirational as a captain. While KXIP didn't qualify for the play-offs, they lost a lot of close matches, and thus those crucial lost moments hurt them for a play-off spot. 
#2: Shikhar Dhawan (DC)
Inns: 17 || Runs: 618 || Avg: 44.1 || SR: 144.7 || Rating: 6.8
The second opener saw a tough fight between Mayank Agarwal and Shikhar Dhawan with David Warner and Quinton de Kock also giving a tough fight, but in the end, Shikhar Dhawan and Mayank Agarwal were equivalent in terms of rating, and Dhawan's longevity resulted in him being selected as the second opener of the squad.
If we observe, the year 2020 has turned out to be a blessing for Shikhar Dhawan. This has been his best year in terms of strike rate, and also the number of runs he scored. The year 2020 also saw him score back-to-back centuries; the first player to achieve this feat in IPL. With a total of 618 runs from 17 innings at a consistency of 53%, Dhawan achieves a rating of 6.8 for his performance. 
Middle-order:
Shortlist: Surya K Yadav, Ishan Kishan, AB de Villiers, Shreyas Iyer, Nicholas Pooran, Faf du Plessis, Eoin Morgan, and Ambati Rayudu.
#3: Surya K Yadav (MI)
Inns: 15 || Runs: 480  || Avg: 40 || SR: 145 || Rating: 7.1
The number 3 position saw a close fight between Shreyas Iyer, Faf du Plessis, and Surya Kumar Yadav, but Surya was stunning this season having played the most successful season of his IPL career. He managed a total of 480 runs (wish he had scored 500 runs) at a brilliant average of 40, and a strike rate of 145. Moreover, his consistency of 71.4% is second-highest in the season behind Ambati Rayudu. 
#4: Ishan Kishan (MI)
Inns: 13 || Runs: 516 || Avg: 57.3 || SR: 145.8 || Rating: 7.6
Probably the surprise package of the season as Ishan Kishan finally gave a performance worth remembering for not just MI fans, but also for Indian fans. Into his sixth season, Ishan Kishan crossed the 500 mark for the first time, and that too at an average of 57.3 and a strike rate of 145.8. Complementing the consistency of 53.85%, Ishan Kishan achieved a batting rating of 7.6; second-best among all batsmen. 
#5: AB de Villiers (RCB)
Inns: 14 || Runs: 454 || Avg: 45.4 || SR: 158.7 || Rating: 7.2
The most valuable player for RCB for probably the umpteenth time as AB de Villiers finished the season with 454 runs from 14 innings at a stunning strike rate of 158.7. He scored a total of 5 fifties in the tournament, and barring the last one, the remaining 4 made a great impact.
If not for him, RCB would have been struggling to bat in the middle-overs as even Virat had a below-par season. He tried his level best to take RCB to the final 3, but that yorker from T. Natarajan would be echoed in his head as probably the 'ball of the season'. Nevertheless, a champion season from the champion as he ends his season with a rating of 7.2. 
All-rounders:
Shortlist: Marcus Stoinis, Rahul Tewatia, Sam Curran, Kieron Pollard, and Ravindra Jadeja. 
#6: Marcus Stoinis (DC)
Mats: 17 || Runs: 352 || Wkts: 13 || Rating: 5.7
The all-rounder of the season, Marcus Stoinins carried on his BBL form successfully to IPL, and he lifted the team on many occasions from a dire state. He single-handedly won 3 matches for Delhi Capitals with 2 in batting and 1 in bowling department. The result saw him score a total of 352 runs and also take 13 wickets in the process; thus joining the elite list of few all-rounders to have achieved this feat. 
#7: Rahul Tewatia (RR)
Mats: 14 || Runs: 255 || Wkts: 10 || Rating: 5.7
What a season this has been for the most dependable finisher from Rajasthan Royals, Rahul Tewatia. I bet no one had guessed for Tewatia being the number 1 Indian all-rounder of the season with 255 runs and 10 wickets. He is one of the only few Indian players to have taken 10 wickets and scored over 200 runs in a single season, and that speaks volume. 
Bowlers:
Shortlist: Jofra Archer, Kagiso Rabada, Rashid Khan, Jasprit Bumrah, Yuzvendra Chahal, Mohammed Shami, T Natarajan, Trent Boult, Varun Chakravarthy, and Anrich Nortje.
Probably the toughest category to choose the players from. If you see, there were 9 players competing for 4 places, and add to that was the overseas players' restriction. Nevertheless, here are the 4 bowlers we selected based on the performance and overseas players' restriction.  
#8: Jofra Archer (RR)
Inns: 14 || Wkts: 20 || Avg: 18.3 || ER: 6.6 || Rating: 7.2
It has become a usual scenario for Jofra Archer every year in the bowling camp of Rajasthan Royals. In the last 3 years, Jofra Archer has been RR's most important bowler having single-handedly carried the burden of bowling in 2 of the 3 seasons.
The year 2020 has been the best of the lot for Archer having picked 20 wickets from 14 matches at an economy rate of 6.6. His consistency this year is second-best to Rashid Khan at 78.6%. Moreover, he has bowled 175 dot balls this season; the most by any bowler.   
#9: Kagiso Rabada (DC)
Inns: 17 || Wkts: 30 || Avg: 18.3 || ER: 8.3 || Rating: 7.2
The purple cap winner of the season, Kagiso Rabada's performance is nothing short of extraordinary. He ends the season with 30 wickets; second-highest in IPL, and only behind Dwayne Bravo's tally of 32 wickets that was achieved in 2013. He was once against Delhi Capitals' go-to man in the middle overs and death overs. Only if he had been good in the powerplay, he would have been even more lethal. Nevertheless, finishing with 30 wickets, Rabada gets a rating of 7.2. 
#10: Yuzvendra Chahal (RCB)
Inns: 15 || Wkts: 21 || Avg: 19.3 || ER: 7.1 || Rating: 6.5
If not for the 4 overseas rule, Rashid Khan should have come-in straightaway as the best spinner of the tournament. However, that doesn't mean Chahal was bad by any means. Yuzvendra Chahal is the leading wicket-taker among spinners this year with 21 snaps from 15 games.
As always, he held the bowling of RCB, and this time he was even more lethal as compared to his previous years. Not that he cares much, but a little more support from other bowlers would have eased the pressure of Yuzi Chahal's bowling. Nevertheless, with a consistency of 66.7%, Chahal has had yet another successful year as a spinner. 
#11: Jasprit Bumrah (MI)
Inns: 15 || Wkts: 27 || Avg: 14.9 || ER: 6.7 || Rating: 8.3
The reason why MI had a successful tournament yet again is the wily 'Boom Boom Bumrah'. The stature of Jasprit Bumrah just keeps growing year on year. While until 2019, he was still lethal, but batsmen played cautiously against him, and as a result, he didn't have man wickets to show.
However, Bumrah of 2020 not only kept things tight, but also ended up taking truckload wickets, and thus he showed why he is regarded as the number 1 T20 bowler in the world. He ended the campaign with 27; the most by an Indian bowler, and a rating of 8.3; best of the season. 
So, that completes the best playing 11 or team of the tournament for IPL 2020. 
IPL 2020 Dream Team of the Tournament or Season: 
KL Rahul (C&WK), Shikhar Dhawan, Surya K Yadav, Ishan Kishan, AB de Villiers, Marcus Stoinis, Rahul Tewatia, Jofra Archer, Kagiso Rabada, Yuzvendra Chahal, and Jasprit Bumrah. 
Thanks for reading! What's your team of the tournament for IPL 2020? Please mention in the comments 
---
ALSO READ: IPL 2020: FLOP XI of the Tournament by Cricalytics
---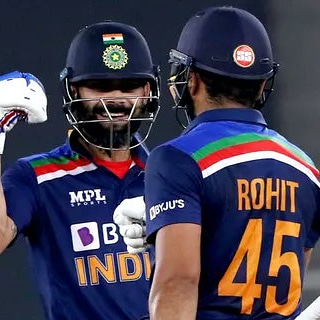 Adesh Kothari is the founder of AK4Tsay1 Cricalytics.
Cricket to him is like what 'Football is to Lionel Messi', 'Singing is to Lata Mangeshkar', 'Dancing is to Michael Jackson', and what 'Acting is to Clint Eastwood'.
Besides his effervescent love for Cricket, Adesh is an MBA by qualification.