Exclusive: Comparing the current strongest T20 XIs for Team India
MS Dhoni and Virat Kohli to lead the respective teams, as we compare the current strongest T20 squad(s) for Team India.
With almost 600 cricketers playing T20 cricket every year, the depth in stocks for India in this format is simply extraordinary. For the same reason, despite the crammed cricketing schedule, the team have never fallen behind in the standards of their performance. 
Although no player has made his T20I debut in 2020, Team India have seen ten new faces in the last two years. Almost none have gone out of radar, and despite doing well domestically, a few are still fighting to wear the blue hue consistently. This shows how Team India have established an effective cricketing system in the country.
Pondering about the same, an idea cropped up where-in two strong Indian T20 teams take on each other. While one eleven is the squad that is close to being the best possible XI to represent the country, the other comprises of the best from the reserves. In this article, we try to analyze the situation as we run a comparison between both these squads.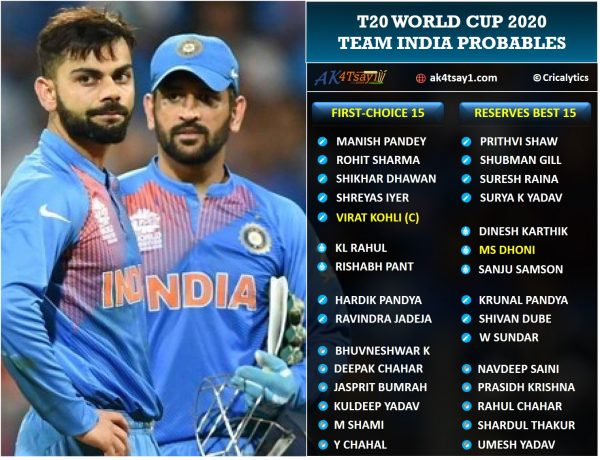 Methodology:
The captains must be decided before selecting the squads. While Team India's captain, Virat Kohli is the automatic choice the lead the current strongest playing XI, the other team needs a solid candidate who can lead a team, and yet be on the reserves. MS Dhoni fits the bill perfectly in this case.
Secondly, Virat Kohli's team is picked first as that represents the strongest team, and MS Dhoni's team is the second-best alternative. Moreover, the teams have been picked based on the players' recent international and domestic/IPL form, and seeing that the squad fulfills the criteria of 5 batsmen, 2 all-rounders, and 4 bowlers.
Openers:
Team VK: Rohit Sharma & KL Rahul (WK)
Team MS: Prithvi Shaw & Shikhar Dhawan

For Team VK, the selection is pretty simple. By far, Rohit and KL are the two best openers for India. While KL has made 679 international runs in the last two years, Rohit has scored 536 runs for the country in the same period. Moreover, KL Rahul's current IPL form makes him the best choice alongside Rohit Sharma, who undoubtedly is Team India's best limited-overs opener. 
There are plenty of options for Team MS, but after seeing through the likes of Prithvi Shaw, Shikhar Dhawan, Mayank Agarwal, and Shubman Gill, we have settled with the Delhi Capitals duo of Prithvi Shaw and Shikhar Dhawan. Although Dhawan has just played the 14 T20Is in the last two years, he has 1018 runs in the last two IPL seasons. To partner him, we have Prithvi Shaw, who has done well in the List A format apart from scoring 598 runs in his first two IPL campaigns.
To compare these two might be an unfair act. While Team MS comprises a youth and an aging player, VK's team has two players at their peak. That said, on their given day, Prithvi Shaw and Shikhar Dhawan could be as dangerous as KL Rahul and Rohit Sharma. 
Middle-order:
Team VK: Virat Kohli (C), Shreyas Iyer & Manish Pandey
Team MS: Suresh Raina, Rishabh Pant & MS Dhoni (C&WK)

The current first-choice middle-order for Team India comprises of captain, Kohli, Shreyas Iyer, and Manish Pandey. Even the stats are better in Team VK. Virat himself has scored 627 T20I runs since 2019, while Shreyas has added 334 runs during this period. Having played nine games from the beginning of 2019, Manish has made 169 runs for his team.
Experience is useful but hard to find in the T20 format. For the same reason, despite not having played for India in a while, we still have Suresh Raina in this squad. In IPL, though, he has done well in the last two seasons, having scored 828 runs from 32 games. Joining him will be the wicket-keeping duo, Rishabh Pant, and captain MS Dhoni.
While Dhoni has just played ten games for India in two years, in IPL, his form has been top-notch. Pant may have struggled for form in T20Is with 252 runs from 15 T20Is, the previous two IPLs have been the most productive for him where he has bludgeoned 1176 runs at a strike-rate of around 165.
While Suresh Raina is undoubtedly a class player, his current form isn't upto the mark as compared to others. But, the other two members are serious trump cards. For Team VK, all the three are in good form, and rank high compared to their opposites.
All-rounders:
Team VK: Hardik Pandya & Ravindra Jadeja
Team MS: Krunal Pandya & Washington Sundar
While Hardik Pandya is undoubtedly the best all-rounder for Team India, the rise of Jadeja has made Krunal's life miserable, who hasn't been bad either. Aside from being a superb bowler and a terrific fielder, Jadeja's recent batting cameos has made sure he is the second-choice all-rounder for Team India in T20Is. 
Looking at the reserves, Team India have Krunal Pandya, Shivam Dube, Washington Sundar, and maybe Ravichandran Ashwin if the team feels he has it in him. But, of these four, Krunal Pandya and Washington Sundar add Team India a perfect balance in T20Is. Taking the last two IPL editions, Krunal Pandya has scored 411 runs, and picked up 24 wickets. While Sundar has recorded 66 runs and 8 wickets. Moreover, Sundar's ability to bowl in the powerplay makes him an asset for Team India. 
Well, it is clear from the stats that Team VK outscores Team MS purely on quality, on a spinning track, and with MS as the captain, the tides could still take a heavy turn.
Bowlers:
Team VK: Kuldeep Yadav, Yuzvendra Chahal, Deepak Chahar & Jasprit Bumrah
Team MS: Rahul Chahar, Bhuvneshwar Kumar, Navdeep Saini & Mohammed Shami
Virat Kohli's team has the current regular bowlers in its squad. The spin department has the famous Kul-Cha combo, that has resulted in 17 wickets in the last two years for the country. With Hardik Pandya back in the squad, it would be easier for Virat Kohli to field both, Chahal and Kuldeep in the playing XI.
Meanwhile, Deepak Chahar and Jasprit Bumrah are the two designated pacers in the squad. Chahar has picked 16 wickets for India in 2019, and has, by far, been one of our better bowlers. In the IPL too, he has been on point, as 32 wickets fell for the Rajasthan pacer in the last two editions. Not much to add on Jasprit Bumrah as he is easily the first pacer that goes on paper for Team India.
Team MS Bowlers:
While in the all-rounder's segment, Team MS has two spin-bowling all-rounders, as a designated spinner, they have only one option. Beating the likes of Shreyas Gopal and Mayank Markhande, Rahul Chahar takes the spot in this team. His 2019 season with Mumbai Indians is the main reason for his inclusion. In the title-winning edition for MI, the youngster had picked up 13 wickets at an economy of 6.55.
A designated starter in ODIs, Bhuvi's time with India in T20Is has been scarce in recent times. Nevertheless, with 41 T20 wickets in the last two years, he is a terrific addition to Team MS. Rising speedster, Navdeep Saini recent record has also been decent, as 24 T20 wickets have come against his name from the start of 2019. Meanwhile, Shami's T20 time with Team India has been less, but in IPL, with 19 wickets last season, he looks to be in good form.
So, that's how the teams stack if we look at the best 22 players for Team India in T20s. While Virat Kohli's team is the strongest team on-paper, MS Dhoni's captaincy combined with his ability to extract the best out of his players can give a tough fight to VK's team.
The Strongest T20 playing XI led by Virat Kohli:
Rohit Sharma, KL Rahul (WK), Virat Kohli (C), Shreyas Iyer, Manish Pandey, Hardik Pandya, Ravindra Jadeja, Deepak Chahar, Kuldeep Yadav, Yuzvendra Chahal, and Jasprit Bumrah.
The second-choice T20 Playing XI led by MS Dhoni:
Prithvi Shaw, Shikhar Dhawan, Suresh Raina, Rishabh Pant, MS Dhoni (C&WK), Krunal Pandya, Washington Sundar, Bhuvneshwar Kumar, Navdeep Saini, Mohammed Shami, and Rahul Chahar.
The third-choice T20 Playing XI led by Dinesh Karthik:
Mayank Agarwal, Shubman Gill, Suryakumar Yadav, Sanju Samson, Dinesh Karthik (C&WK), Shivam Dube, Ravichandran Ashwin, Shreyas Gopal, Shardul Thakur, and Umesh Yadav.
Thanks for reading! Can MS Dhoni's young team beat the strongest T20 squad of Team India led by Virat Kohli? Please, let us know in the comments below. 
---
ALSO READ: Exclusive: Predicting Team India's Squad for T20 World Cup 2020
---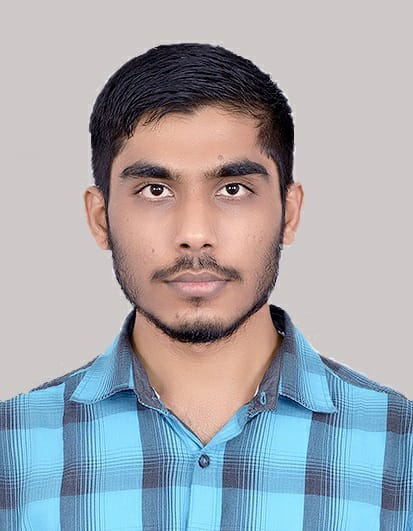 Nesara is an Author at AK4Tsay1 Cricalytics. He is an Engineer by profession. Watching Cricket, Football & Movies is one of his topmost priorities within the day.