Exclusive: Predicting Team India's Squad for T20 World Cup 2020
Team India to field 7 batsmen, 2 all-rounders, and 6 bowlers as look at the predicted squad for the upcoming T20 World Cup 2020.
The Cricketing world is currently dealing with the dilemma on the conduct of the two major Cricketing events- the Indian Premier League 2020 and the T20 World Cup 2020. With no control or solution on the novel COVID-19 pandemic, the scheduling of both the major tournaments has been affected. 
While IPL 2020, which was scheduled in May-June had no other option but postpone amidst the pandemic, the chances of T20 World Cup 2020 getting cancelled are high too. However, with the official news not yet out, the hope is still there for the tournament to run as per schedule in October-November.
We may or may not witness the tournament, but the idea to select the best 15 to represent the World Cup is fascinating. To be honest, IPL 2020 would have played a huge role in the selection of few of the Indian players like MS Dhoni, Navdeep Saini, Krunal Pandya, and Sanju Samson, but we would now have to solely rely on players' past performances along with the right team balance. 
On that note, let's have a look at the predicted squad for Team India for the T20 World Cup 2020 if all players are fit and available for selection. 
Openers:
KL Rahul (WK) || Rohit Sharma || Shikhar Dhawan
It is no secret that Rohit Sharma is a match-winner in limited-overs cricket. The elegant Mumbaikar has been in tremendous touch in the last 4-5 years. However, when it comes to T20s, KL Rahul has been India's best opener in the last 2-3 years with amazing performances.
KL Rahul has been consistent as well as aggressive for Team India in T20Is with an average of 40+, and a strike rate or 140+ in the last few years. Even Rohit Sharma did not hesitate to confess that KL Rahul is Team India's first-choice opener in T20Is, and it is mostly between him and Shikhar Dhawan for the second opening slot. 
The third opening slot has contenders in the form of  Shikhar Dhawan, Prithvi Shaw, Shubman Gill, and Mayank Agarwal. However, barring Shikhar Dhawan, the other three have hardly played any international cricket. Even IPL may not have influenced the selection, hence, we should see the experienced Shikhar Dhawan as the third-choice opener.
Middle-order:
Manish Pandey || Shreyas Iyer || Rishabh Pant (WK) || Virat Kohli (C)
The middle-order seems more or less settled with Virat Kohli, Shreyas Iyer, and Manish Pandey in the core. The fourth spot could see competition from MS Dhoni, Dinesh Karthik, Sanju Samson, and Rishabh Pant. However, MS Dhoni, who last played an International match almost a year back was eyeing a return to the Indian camp through IPL 2020, but with IPL happening before the World Cup seems null, we may unfortunately not see MS Dhoni for the T20 World Cup.
Similarly, for Sanju Samson too, IPL 2020 would have been an important platform for the national side selection. He did get a few chances in the T20Is, but couldn't make any impact. Dinesh Karthik, on the other hand, has done well in T20Is for Team India in the last 3 years. He did play in parts, but has an average of 59, and a strike rate of 161 during this time. But, given Team's reluctance to use him regularly, we may as well not see Dinesh Karthik for the T20 World Cup 2020. 
Meanwhile, the Delhi swagger, Rishabh Pant has been a star batsman in the IPL, but hasn't quite replicated that form in the International cricket. While he did play a few cameos here and there, he is yet to make a major impact in the T20Is. However, with competition not being up to the mark, Rishabh Pant should see himself in the final 15.
All-rounders:
Hardik Pandya || Ravindra Jadeja
Coming to all-rounders, the key debatable players in this area are Krunal Pandya, Shivam Dube, and Washington Sundar. The three bowling all-rounders have been in contention for quite some time now, but haven't been able to make a significant impact in either IPL or T20Is.
Since Jan 2017, Krunal, Dube, and Sundar have taken a total of 14, 19, and 5 wickets respectively, and in the batting department, have scored 121, 26, and 105 runs respectively. None of them have made significant inroads in either batting or bowling department.
While Krunal has been good in the IPL, his competitor, Ravindra Jadeja has seen a rise in T20Is lately with good bowling and fielding performance. Hence, as a like for like replacement, Jadeja has a bright chance of selection. Krunal could have still made the cut had the tournament been in sub-continent, but given a need for an extra pacer or fast-bowling all-rounder, Krunal will have to sit out. 
Meanwhile, Hardik Pandya is a default selection in the all-rounders category. The Baroda born all-rounder has been Team India's core all-rounder for the last 3-4 years, and has performed well in all three departments. Since 2017, Hardik has scored around 200 runs, and has 23 wickets to his name. Moreover, his IPL performances in 2018 and 2019 have been quite excellent. 
Bowlers:
Bhuvneshwar Kumar || Deepak Chahar || Jasprit Bumrah
Kuldeep Yadav || Mohammed Shami || Yuzvendra Chahal
Coming to the bowling category, Jasprit Bumrah, Deepak Chahar, Bhuvneshwar Kumar, Yuzvendra Chahal, and Kuldeep Yadav select for themselves having been a regular member of the Indian team over the past few years, and having performed superbly in International as well as IPL. 
The only debatable area is the sixth bowling option. Team India currently have four players competing for this spot, and that includes Mohammed Shami, Navdeep Saini, Shardul Thakur, and Shivam Dube- if the team is looking for an additional all-rounder.
Looking at Saini, there is tremendous potential, but there is a lack of experience. He has played only 10 T20Is, and has only IPL 2019's experience under his belt. IPL 2020 could have proved to be defining criteria for Saini, but unfortunately, that won't happen. Shardul Thakur too has a similar story with not so good IPL, and an experience of 15 matches under his belt.
Meanwhile, Dube could have been a potential bet, but unfortunately, doesn't have a good IPL, and hasn't given enough confidence in the International arena to deserve a selection. Hence, the team would fall back to Mohammed Shami, who has good experience in Australia, and could be a wonderful bowler on those tracks.
So, that completes the 15-member squad for Team India for the T20 World Cup 2020.      
Predicted Team India Squad for T20 World Cup 2020:
Virat Kohli (C), Rohit Sharma (VC), Bhuvneshwar Kumar, Deepak Chahar, Hardik Pandya, Jasprit Bumrah, KL Rahul (WK), Kuldeep Yadav, Manish Pandey, Mohammed Shami, Ravindra Jadeja, Rishabh Pant (WK), Shikhar Dhawan, Shreyas Iyer, and Yuzvendra Chahal.  
Team India's reserves best 15 for T20 World Cup 2020:
MS Dhoni (WK), Dinesh Karthik (WK), Krunal Pandya, Navdeep Saini, Prasidh Krishna, Prithvi Shaw, Rahul Chahar, Sanju Samson (WK), Shardul Thakur, Shivam Dube, Shubman Gill, Suresh Raina, Suryakumar Yadav, Umesh Yadav, and Washington Sundar.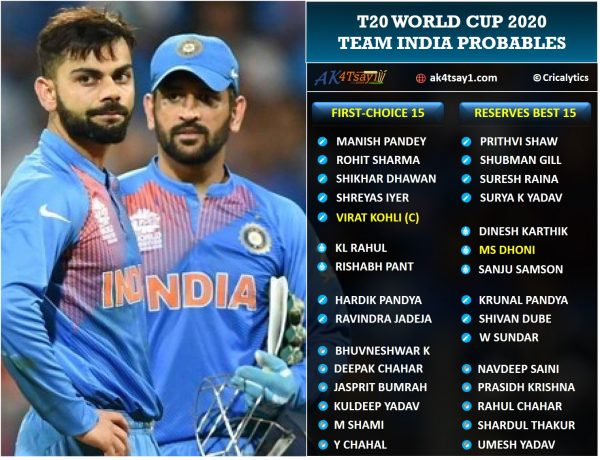 Thanks for reading! Do you guys think we got the squad right? Please, let us know in the comments below. 
---
ALSO READ: Exclusive: Predicting Team India's Squad for 2027 ODI World Cup
---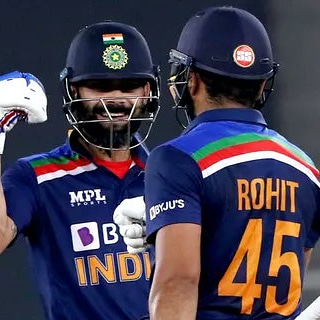 Adesh Kothari is the founder of AK4Tsay1 Cricalytics.
Cricket to him is like what 'Football is to Lionel Messi', 'Singing is to Lata Mangeshkar', 'Dancing is to Michael Jackson', and what 'Acting is to Clint Eastwood'.
Besides his effervescent love for Cricket, Adesh is an MBA by qualification.