Explained: IPL 2022 Latest Playoffs Qualification Scenarios including CSK
CSK, RCB, SRH, PBKS, and Delhi Capitals in a battle for the final spot as we look at the latest IPL 2022 Playoffs qualification scenario.
If the word competition was an adjective, IPL 2022 would be ranked number 1 for that. Such has been the competitive nature of the game so far in IPL 2022. that we have completed almost 80% of the group stage matches, and we still don't have any qualified team for Playoffs. With 15 matches to go, the tournament is truly living on to the term, Business end of the tournament. 
After the recent big wins for RCB and CSK, the tournament has become wide open with all 5 teams having a good shot to take at the Playoffs. Except for MI vs KKR game, which seems to be a dead rubber as Mumbai are already eliminated, and KKR too are eliminated given the poor NRR, all the other games are going to be very important.
While toppers like LSG, RR, and Gujarat Titans will be fighting for the top 2 spots, the other 5 teams, CSK, RCB, SRH, DC, and PBKS will be fighting for a place in the Playoffs. So, analysing all the probability for the upcoming 15 matches, let's look at the IPL 2022 Playoffs Qualification scenario for CSK, RCB, DC, SRH, and PBKS. Meanwhile, as per the leading website, Betway, the outright chance of Chennai Super Kings qualifying for the finals are at 23.00; the third-lowest among all 10 teams. 
Delhi Capitals
M: 11 // PTS: 10 // NRR: +0.150
Next matches: RR, PBKS & MI
Ohh, Delhi Capitals! They were going well until their vs CSK with 5 wins from 10 games and a +ve NRR: the best among all 10 teams. But a big loss against CSK have dented their chances a lot. Their NRR is still positive, which is a plus, but from here, they need to win all three for a Playoffs spot. Even that won't guarantee a slot, but it would keep them in contention. 
Analyzing Delhi Capitals' matches, they face two tough opponents in the form of Rajasthan Royals and Punjab Kings. The match against PBKS would be a virtual knockout for both teams. The team losing this match would at max get to 14 points which would take a lot of task to qualify. Expect Delhi to win 2 of their remaining 3 matches to finish on 14 points. 
Qualification Meter for Delhi Capitals: Neutral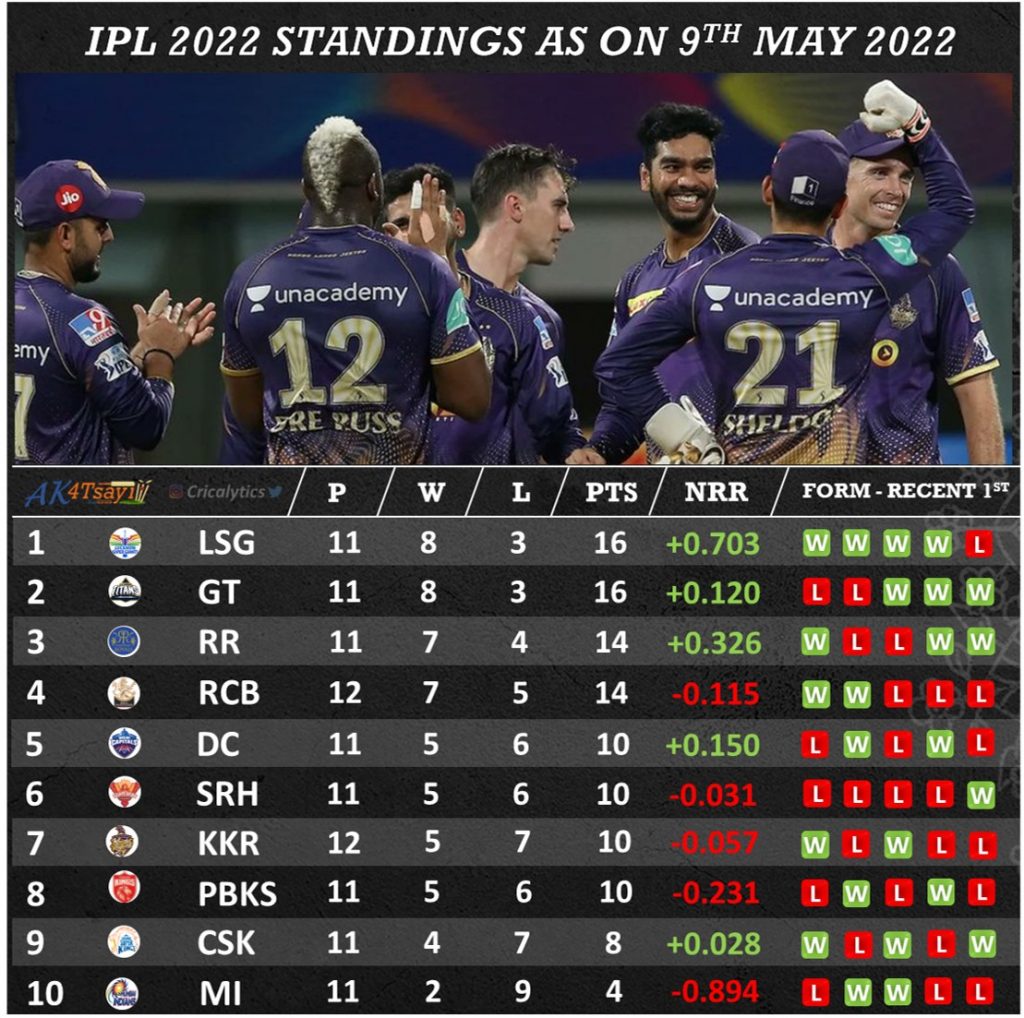 Punjab Kings:
M: 11 // PTS: 10 // NRR: – 0.231
Next matches: RCB, DC & SRH
Similar to Delhi Capitals, Punjab Kings need to win all their remaining matches to keep in IPL 2022 Playoffs contention. 3 wins from here will take them to 16 points. For them, all three matches are virtual knockouts. Any loss against any team would mean they would pack their bags and leave. Expect PBKS to win 1 match from here to finish on 12 points. 
Qualification Meter for PBKS: Negative
Sunrisers Hyderabad:
M: 11 // PTS: 10 // NRR: -0.031
Next matches: KKR, MI & PBKS
If you are a Sunrisers Hyderabad fan, it's a pity sight to unfold. The team has now lost 4 matches in a row, and with NRR in the negative, even 3 wins from here would be difficult for them to qualify. While all matches are virtual knockouts, they cannot afford to lose against PBKS. Even as two of their upcoming opponents are weak, their current form is a major worry. Expect them to win 2 matches from here to finish on 14 points. 
Qualification Meter for SRH: Neutral
Royal Challengers Bangalore:
M: 12 // PTS: 14 // NRR: – 0.115
Next matches: PBKS & GT
Of all 4 teams, Royal Challengers Bangalore have the best chance of qualifying for the Playoffs of IPL 2022. They currently have 14 points from 12 games, and given their big win against SRH, they have got NRR boost. A win form here should almost seal it for RCB, but 2 wins will guarantee them a Playoffs spot.
They face Punjab Kings and Gujarat Titans in their upcoming matches, and both the matches aren't easy ones. RCB vs PBKS is a knock-out for PBKS, and even if RCB lose that one, it should be okay as the GT match will then be a Knock-out. Given their upcoming matches, expect RCB to win at least 1 to finish on 16 points, and ultimately qualify for the Playoffs. 
Qualification Meter for RCB: Positive
Chennai Super Kings:
M: 11 // PTS: 8 // NRR: +0.028
Next matches: MI, GT & RR
Chennai Super Kings (CSK) face the most interesting Playoffs qualification chances for IPL 2022. They are currently at 8 points from 11 matches, and all wins from here will only take them to 14 points. Their qualification chances are very minimal as not only do they need to win all matches from here but they also need RCB or RR to lose all, and expect SRH, PBKS, and DC to at max finish on 14 points. 
This is certainly a possibility, but the probability of that happening is very minimal. If RR and RCB win even 1 match from here, CSK's campaign will be officially over. While their biggest positive is the return of MS Dhoni as captain and their positive NRR, their biggest negative is the current points. Given the matches, expect CSK to win 2 to finish on 12 points. 
Qualification Meter for CSK: Negative
So, that completes the IPL 2022 Playoffs Qualification scenario for CSK, RCB, SRH, PBKS, and Delhi Capitals. Of all 5 teams, RCB have the best chance to finish in the top 4 alongside LSG, GT, and RR. 
Thanks for reading! Looking at the latest qualification scenario, which of these teams do you think would qualify for the playoffs for IPL 2022? Please email your comments to business@cricalytics.com
---
READ MORE: Exclusive: T20 World Cup 2022 Strongest Predicted Squad for Team India
---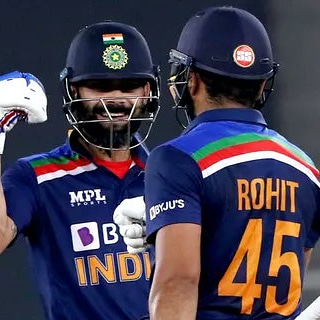 Adesh Kothari is the founder of AK4Tsay1 Cricalytics.
Cricket to him is like what 'Football is to Lionel Messi', 'Singing is to Lata Mangeshkar', 'Dancing is to Michael Jackson', and what 'Acting is to Clint Eastwood'.
Besides his effervescent love for Cricket, Adesh is an MBA by qualification.