T20 World Cup 2022 Strongest Predicted Squad for Team India
Rohit Sharma to lead as we look at the strongest predicted 15-members squad for Team India for the T20 World Cup 2022. 
When you talk about the T20 World Cup, the most influencing factor when it comes to judging the player's current form and player selection is the Indian Premier League. Ever since the inception of IPL in 2008, the tournament has produced n number of players that not only played for the national team but also went on to become successful. 
Even as the T20 World Cup 2022 is almost 6 months away, it is needless to say that IPL 2022 is going to play a major part in shortlisting the players that would be tested over the next 4-5 months before the showdown in October. While regular International players may be rated basis their International performance, the new and rising superstars will still be judged basis their IPL performance. 
From IPL 2022, we may have a potential list of players that could be tested in the coming months, but we can still go ahead and identify a list of the 15 members that would form the strongest squad for Team India for the upcoming T20 World Cup 2022. The list is prepared based on players' capabilities, and their performance in the last couple of years at the International level as well as IPL.
Usually, any International team including Team India will be sending a first-choice 15-members squad and additional 3 members for COVID-19 contingency or injuries. These 3 members will only be added to the regular squad in case there are injuries or a COVID-19 outbreak. So, In this article, we look at the primary 15-members squad and additional 3 players as a contingency. 
Openers:

KL Rahul & Rohit Sharma (C)
Reserve: Ishan Kishan
Team India's openers pick for themselves. On one hand, we have the Captain of the Indian team, Rohit Sharma, on the other hand, we have one of the most consistent T20 openers in the world, KL Rahul. Unless for injuries, the duo should continue to open for the Indian team in all the matches. Both are quality openers, and they also complement each other quite well.
One may question the current form of Rohit Sharma in IPL 2022, but should that be a point of worry? Well, not exactly. Rohit hasn't been his beast best in IPL in the last few years. Since 2017, he has gone past 400 runs only once, but he performs with conviction at the International stage. For quality players like Rohit Sharma, it is just about spending a good time in the middle, and they will come out stronger.
Apart from these two, Team India could take Ishan Kishan in the final 15 in place of Shreyas Iyer, but unfortunately, Ishan Kishan has been in horrendous form in IPL off late. Team India can continue to keep him in the 18-members squad for T20 World Cup, but at this moment, Shreyas Iyer deserves a spot ahead of him. For the backup opener spot, Team India can play Suryakumar Yadav or Virat Kohli, if required.
Middle-order:

 Dinesh Karthik (WK), Rishabh Pant (WK) & Shreyas Iyer, Suryakumar Yadav & Virat Kohli
Coming to the middle-order, Team India would have Virat Kohli fixed for the number 3 position with Rishabh Pant as the primary wicket-keeper. These two have been regular players of the T20I squad, and deserve a place without any question. Again, the form of Virat Kohli in IPL may be a worry, but expect champion players to make a champion return when they play for the country. 
Apart from Virat Kolhi, Suryakumar Yadav starts as the first-choice middle-order player given his performance for Team India and in the IPL. If we talk about the first-choice playing 11, Kohli at 3, SKY at 4, and Pant at 5 make a perfect order. With Virat Kohli as an anchor, Pant and SKY can play the role of the aggressor. 
In addition, Dinesh Karthik has been really good off in the current IPL. With India needing a good finisher, Dinesh Karthik's current form could be exactly what Team India need. Whether he plays as a first-choice finisher is yet to be seen, he has certainly created a strong case for himself.
The final player for the middle-order position should mostly see Shreyas Iyer. The team can also think of Ishan Kishan, but given his current form and struggle against short-pitch deliveries, it's ideal for Team India to go ahead with Shreyas Iyer as Iyer has also been performing well for Team India and IPL.     
All-rounders:

 Hardik Pandya & Ravindra Jadeja 
With Hardik Pandya back to full fitness and bowling well, he and Ravindra Jadeja will be the first-choice all-rounders for Team India. Hardik's bowling is a major plus. Between him and Ravindra Jadeja, they can complete the 4 overs quota. Apart from them, we don't have quality all-rounders available. There are Venkatesh Iyer and Axar Patel, but it would be difficult for them to make it into the top 15. 
Spinners:

 Yuzvendra Chahal & Kuldeep Yadav
If we see the performance in IPL 2022, KulCha (Kuldeep & Chahal) are the best performing spinners, and with their current form, they deserve to be played together. When played together, they have always done well. However, from the two, Yuzvendra Chahal should be the primary spinner in the squad with Kuldeep supporting him. Apart from these two, India can look at Ravi Bishnoi, Washington Sundar, and Axar Patel as other spin options. 
Pacers:

 

 Harshal Patel, Jasprit Bumrah, Mohammed Sham

i &

T Natarajan
Reserve(s): Bhuvneshwar Kumar & Shardul Thakur
Coming to the pacers, this is an area which would need the maximum thinking. With T20 World Cup 2022 being in Australia, India would play at least 3 front-line pacers in their playing 11. From the selected bunch, Team India would need 2 pacers each for Powerplay and Death Overs, and at least 1 pacer for Middle overs. 
If we look at be options, Jasprit Bumrah and Mohammed Shami pick for themselves. Shami is a brilliant Powerplay bowler, and Jasprit Bumrah is an all situation bowler. Apart from this, T Natarajan would be a great addition to the team. He can bowl superbly in middle overs and death Overs. His yorkers are spot on, and he has also improved his bowling for middle overs. 
Coming to the final pacer, it would be a call between Shardul Thakur, Bhuvneshwar Kumar, and Harshal Patel. Of the three, Shardul Thakur and Bhuvi have more experience, and can also bat. But Harshal Patel brings x-factor with him, and in presence of Jasprit Bumrah, Mohammed Shami, and T Natarajan, he can be an asset in the playing 11. Team India should definitely look to fly him to Australia. 
T20 World Cup 2022 – Strongest Predicted Squad for Team India: 
Batters: Rohit Sharma, Shreyas Iyer, Suryakumar Yadav & Virat Kohli
Wks: Dinesh Karthik, KL Rahul & Rishabh Pant
All-rounders: Hardik Pandya & Ravindra Jadeja
Bowlers: Harshal Patel, Jasprit Bumrah, Kuldeep Yadav, Mohammed Shami, T Natarajan & Yuzvendra Chahal
Coach: Rahul Dravid // Captain: Rohit Sharma // Vice-captain: KL Rahul
Additional 3 Reserves for COVID-19 Contingency:
Bhuvneshwar Kumar, Ishan Kishan & Shardul Thakur
In Contention for T20 World Cup 2022:
Arshdeep Singh, Axar Patel,  Avesh Khan, Deepak Chahar, Prithvi Shaw, Ravi Bishnoi, Sanju Samson, Venkatesh Iyer, Umran Malik & Washington Sundar. 
So, that completes the predicted squad for Team India for T20 World Cup 2022. We should see at least 10-11 players in the final 15 from the ones mentioned above. The ones to debate would be Shreyas Iyer, Dinesh Karthik, Harshal Patel Kuldeep Yadav, and T Natarajan. 
Thanks for reading! What's your predicted squad for Team India for T20 World Cup (WC) 2022? Please email your comments to business@cricalytics.com
---
ALSO READ: T20 WC 2022 Complete Official Schedule for IST Timing – Download now
---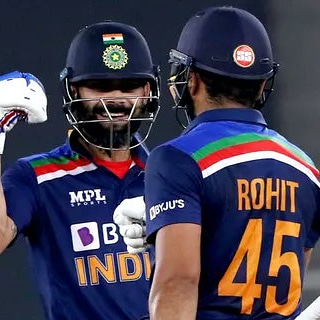 Adesh Kothari is the founder of AK4Tsay1 Cricalytics.
Cricket to him is like what 'Football is to Lionel Messi', 'Singing is to Lata Mangeshkar', 'Dancing is to Michael Jackson', and what 'Acting is to Clint Eastwood'.
Besides his effervescent love for Cricket, Adesh is an MBA by qualification.