Top 5 Memorable Knocks by Indian batsmen against South Africa in Tests
India vs SA: Virender Sehwag's triple century, one of the top memorable knocks in India vs South Africa Test series.
India vs South Africa rivalry isn't as intense as India vs England or India vs Australia, but it is certainly one of the toughest for India. Since 1992, when India first played South Africa, India have won only 11, while South Africa have won 15 with 10 ending as a draw.
At home, India have a better record. They have played South Africa 16 times, while winning 8, losing 5, and drawing 3. Away from home, however, India have played 20 matches, while winning just 3, losing 10, and drawing 7.
If we look at the batting stats, Sachin Tendulkar has been the leading run-scorer with 1741 runs from 45 innings at an average of 42.46. While Sachin has the most runs, Jack Kallis has the best average with 69.36.
Another interesting stat is that no Indian batsman has scored a century in the fourth innings of a Test match against South Africa; a record India would definitely like to improve. 
Nevertheless, with countless memories at home, and away from home, which are the top memorable knocks by Indian batsmen in India vs SA Tests.
---
#5: Kapil Dev's 129(180) | Port Elizabeth | 1992 
Innings: Third | Match Result: Lost
India's first tour down under to South Africa wasn't a good one for India, but it saw some really interesting knocks. One of these iconic knocks came from Team India's first World Cup winning captain, Kapil Dev.
After trailing by 63 runs in the first innings, Team India needed a solid performance in the second innings to give a respectable target to South Africa. Allan Donald, however, was breathing fire with his fiery pace bowling as he left India tottering at 31/6.
With defeat on the brink, Kapil Dev then played an astonishing knock to lift India from 31/6 to 215.  Kapil Dev scored a valiant 129(180) out of Team's score of 215. Such was a bizarre display from others that the second-highest scorer in the team was 17. While India did lose the match, Kapil Dev's knock has certainly gown down in the memory lanes. 
---
#4: Sachin Tendulkar's 129(257) | Johannesburg | 1992 
Innings: Second | Match Result: Draw
The teenage sensation, Sachin Tendulkar was a hot property in the world of Cricket during the early nineties. Having debuted in 1989, Tendulkar had played 17 Test matches before this Test series with centuries in England and Australia. He did hit few amazing innings in that time period, but the best came against South Africa in South Africa in 1992.
After South Africa posted a safe 292 on the board on a bouncy pitch of Johannesburg, India needed a solid platform in the first innings to be competitive in the Test match. But, it was again that man, Allan Donald, who reduced India to 44/3.
However, it was a special day for the wonder kid, Sachin Tendulkar as India saw a magical century from him that lifted India to a respectable total of 227. Sachin scored a match-saving 111, and the only player who supported Sachin was Kapil Dev, who scored 25. 
Chasing 318, India managed to score 141/4 at the end of the fifth day's play. While India didn't win the match, Sachin Tendulkar's century at least made sure the match ends up in a Draw. 
---
#3: Ajinkya Rahane's 127(215) | New Delhi | 2015
Innings: First | Match Result: Won
Ajinkya Rahane has had a good record against South Africa in Test having scored 532 runs from 12 innings at an average of 53.2. He hit 2 centuries against South Africa, and both came in the same match in 2015. While both the centuries are special, his century in the first innings where he single-handedly helped India reach a good score deserves special attention. 
Batting first, India were struggling at 66/3 as Ajinkya Rahane joined Indian captain, Virat Kohli at the crease. While Kohli and Ashwin played a decent knock of 46 and 56 respectively, It was Ajinkya Rahane's knock of 125 that guided India to a respectable score of 334. 
After securing a 213 runs lead over South Africa, Rahane scored another stunning century to completely seal the match for India. Courtesy to his twin centuries, India won the match by a staggering 337 runs. 
---
#2: Mohammad Azharuddin's 163*(229) | Kanpur | 1996 
Innings: Third | Match Result: Won
At number 2, we have Mohammad Azharuddin's match-winning knock of 163* in Kanpur in 1996.
After gaining a valuable 60 runs lead over South Africa in the first innings, India looked slightly complacent in the second innings. At 91/3. Ganguly and Sachin played a valuable hand of 41 and 36 respectively, but it was Azharuddin, who gave the innings the much-needed momentum.
Azharuddin scored a fabulous century, and remained not-out on 163 as his fabulous knock made sure India post a mammoth 400/7. India won the match by a massive 280 runs; the highest win by runs at that time.  
---
#1: Virender Sehwag's 319(304) | Chennai | 2008 
Innings: First | Match Result: Draw
This has to be one of my most favorite knock from from my most favorite batsman, Virender Sehwag. This was Virender Sehwag at his extreme best
After South Africa posted a mammoth 540 on a flat Chennai deck, the onus was on the Indian batsmen to fully utilize the pitch, and give Indians something to cheer about.
Having already hit a triple-century in Tests, the man of big scores, Virender Sehwag excelled his game even further by scoring a triple century at more than run a ball. He hit a magnificent 319(304), which still remains the highest score by an Indian batsman in Tests.
Mind you, this came against the bowling line-up comprising of Dale Steyn, Makaya Ntini, and Morne Morkel. Also, such was the tenacity of this knock that even the great AB de Villiers has rated this knock among the top 5 knocks he has ever seen.
---
ALSO READ: India vs South Africa Stats Wizard: Top 5 knocks in T20 Internationals
---
Apart from these, Virat Kohli's 153(217) that came in 2018 is also right up there among the top memorable knocks by Indian batsmen vs South Africa in Tests
So, these have been the most memorable knocks by Indian batsmen in Tests vs South Africa. Do mention in the comments if there is another knock which needed a special mention. 
Thanks for reading! These are the top memorable knocks in an India vs SA Tests series.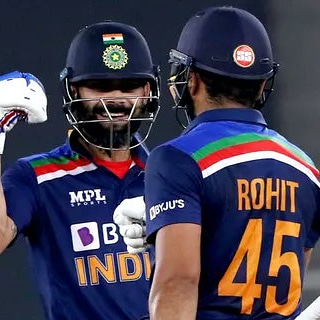 Adesh Kothari is the founder of AK4Tsay1 Cricalytics.
Cricket to him is like what 'Football is to Lionel Messi', 'Singing is to Lata Mangeshkar', 'Dancing is to Michael Jackson', and what 'Acting is to Clint Eastwood'.
Besides his effervescent love for Cricket, Adesh is an MBA by qualification.