IPL 2019 Stats Wizard: Batting Performance Report Card
David Warner, Andre Russell and Jonny Bairstow, the standout batsmen as we analyze the batting performance report card of IPL 2019.
This year belongs to the openers as we have seen outstanding performances from so many openers. The likes of which include David Warner, Jonny Bairstow, Chris Gayle, Jos Buttler, Quinton de Kock, Shikhar Dhawan, etc.
However, the same cannot be said about the performance of the middle-order players. The likes of Rishabh Pant, MS Dhoni, Shreyas Iyer, Mayank Agarwal, etc. have been good in bits and pieces, but didn't fare well as a whole as compared to the openers.
So, how did the batsmen perform, who all made it to the top 5, let's find out in our batting performance report card of IPL 2019?
We had done a similar analysis to find out the top 5 batsmen from the first half of IPL 2019. Do check out that article.
---
METHODOLOGY:
To calculate the batting points, we have considered the overall aspect of the game such as runs scored, acceleration bonus, consistency, number of fours & sixes hit and the number of man-of-the-match awarded.
To leave out the biases and perceptions, we have kept things simple by comparing the overall performance rating of all the batsmen to find out the top batsmen of IPL 2019.
*Please note, only players who have played a minimum of 8 matches are considered for evaluation.
Right then, let's look at the performance of the batting performance report card for IPL 2019.
---
#5: JOS BUTTLER (RR) 
INNS: 8 | RUNS: 311 | AVG: 38.87 | SR: 151.7
BATTING POINTS: 613 | PERFORMANCE RATING: 6.13
At number 5, we have the natural attacking opener from Rajasthan Royals, Jos Buttler.
It has been yet another year of consistent performance for Jos Buttler. In the 8 innings he has played, he has scored a total of 311 runs at an average of 38.87 and a strike rate of 151.7.
Since IPL 2018, Jos Buttler has been RR's best batsman, and he has single-handedly carried RR's top order on his shoulders. His partners, Ajinkya Rahane, Rahul Tripathi, D'Arcy Short, etc. have been good, but only in bits and pieces. 
Buttler scored three fifties this season, but his match-winning knock of 89(43) against the Mumbai Indians on their home turf has been one of the best knocks this season.
Only if Jos Buttler had stayed for some time, he could have helped RR qualify for back to back playoffs. Hence, going into IPL 2020, we would want Jos Buttler to play all the matches for Rajasthan Royals. 
Overall, for being the lone warrior in his team, Jos Buttler gets a performance rating of 6.13 with a total of 613 batting points. 
---
#4: KL RAHUL (KXIP) 
INNS: 14 | RUNS: 593 | AVG: 53.9 | SR: 135.38
BATTING POINTS: 1107 | PERFORMANCE RATING: 6.33
At number 4, we have the stylish opener from the Kings XI Punjab, KL Rahul.
After being the third-highest runs scorer in IPL 2018, KL Rahul has maintained his consistent run by being the second-highest run-scorer in IPL 2019. 
However, unlike IPL 2018, where he was belligerent at the top, the KL Rahul of 2019 has been watchful and selective with his shot selections.
Overall, he managed to score a total of 593 runs from 14 innings at an average of 53.9 and a strike rate of 135.38. However, his strike rate of 135.38 has been pretty ordinary if we compare his 2018 strike rate of 158.41.
His cautious approach did help win few matches for his team, but has also been a reason for worry in high scoring matches.
Overall, for his yet another consistent performance as an opener, KL Rahul gets a performance rating of 6.33 with a total of 1107 batting points. 
---
#3: JONNY Bairstow (SRH) 
INNS: 10 | RUNS: 445 | AVG: 55.62 | SR: 157.24
BATTING POINTS: 926 | PERFORMANCE RATING: 7.41
At number 3, we have the IPL debutant, Jonny Bairstow. 
In only his debut IPL season, Jonny Bairstow has shown the world why he is rated as one of the best in England.
In the 10 matches he played for Sunrisers Hyderabad, Jonny Bairstow has managed to score an impressive 445 runs at an average of 55.62 and a strike rate of 157.24. His consistency of 70% is second best to his opening partner, David Warner.
What impressed the most about Jonny Bairstow has been his ability to dominate the bowlers early on the innings. He has shown no signs of nervousness while playing the fast bowlers or the spinners.
His knock of 114(56) with 12 fours and 7 sixes against RCB is easily this year's best batting knock.   
Overall, for his amazing dominating nature at the top with consistent performances, Jonny Bairstow gets a performance rating of 7.41 with a total of 926 batting points. 
---
 #2: ANDRE RUSSELL (KKR) 
INNS: 13 | RUNS: 510 | AVG: 56.66 | SR: 204.81
BATTING POINTS: 1226 | PERFORMANCE RATING: 7.54
At number 2, we have the only middle-order batsman in our top 5, and he is the hard-hitting monster from the Kolkata Knight Riders, Andre Russell. 
Always known for his exploits down the order, Andre Russell got more opportunity with the bat this time, and he has responded to that brilliantly by displaying some amazing power hitting and consistency in performance.
While he was outstanding in the first half of the tournament, he somehow gave a lull performance in the second half. That is the reason his rating fell from a perfect 10 in the first half to 7.54 at the end of the tournament.
Overall, however, he has still managed to score a total of 510 runs from 13 innings at an average of 56.66 and an amazing strike rate of 204.81.
What defined Russell's batting in the tournament has been the fear he generated in the minds of the bowlers. He managed to smash even the best of the balls, thus keeping the margin of error as absolute zero for the bowlers.
Overall, for his hard-hitting and match-winning abilities, Andre Russell gets a performance rating of 7.54 with a total of 1226 batting points.
---
#1: DAVID WARNER (SRH) 
INNS: 12 | RUNS: 692 | AVG: 69.2 | SR: 143.86
BATTING POINTS: 1287 | PERFORMANCE RATING: 8.58
At number 1, we have the Mr. consistent of the IPL, David Warner.
David Warner has had yet another fantabulous season scoring 692 runs from just 12 innings at a healthy average of 69.2 and a superb strike rate of 143.86.  
After being suspended by Cricket Australia for a year, David Warner had many things to prove, and he responded brilliantly by winning the Orange Cap for the third time.
The best thing about Warner this season has been his consistency. His consistency percentage of 75% is the best among all the players.
He played many match-winning knocks this season, but the best came against RCB where he combined with Jonny Bairstow to dismantle the RCB bowling.
Overall, for his amazing consistency, David Warner gets a performance rating of 8.58 with a total of 1287 batting points.  
---
So, these were the top 5 batsmen in our batting performance report card of IPL 2019.
Apart from these five, the other batsmen who have been equally good are,
Chris Gayle: 5.87 (954)

MS Dhoni: 5.87 (881)

AB de Villiers: 5.32 (865)

Rishabh Pant: 5.16 (1032)

Hardik Pandya: 5.01(974)
Reference: IPL 2019 Batting Stats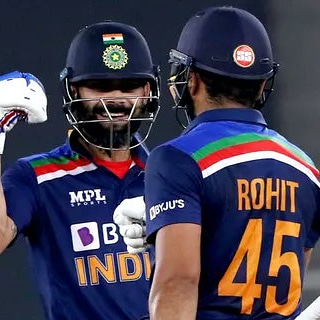 Adesh Kothari is the founder of AK4Tsay1 Cricalytics.
Cricket to him is like what 'Football is to Lionel Messi', 'Singing is to Lata Mangeshkar', 'Dancing is to Michael Jackson', and what 'Acting is to Clint Eastwood'.
Besides his effervescent love for Cricket, Adesh is an MBA by qualification.