IPL 2020: Paisa Barbaad XI of the Season – Steve Smith to Lead
Steve Smith to lead, while MS Dhoni to keep as we look at the IPL 2020 Paisa Barbaad 11 of the season.  
The cash-rich IPL has always seen Teams spending a hefty amount at the auction to procure the services of a few of the top-rated International and Domestic stars. While some perform extremely well, some fail to replicate their International form, and end up being a burden on the team management.
The IPL 2020 was no different. While many players like KL Rahul, Shikhar Dhawan, Jasprit Bumrah, Hardik Pandya, David Warner, etc. lived up to their hefty price stages, there were many others, who couldn't do justice to their price tags with their abysmal performance. So, In this article, we talk about 11 such players across different categories, who if put together will be called for the 'Paisa Barbaad' BC 11 for IPL 2020.
While franchises spend such hefty amount for these superstars to perform, no one wants to see any of these players perform such poorly. Hence, taking nothing away from their stardom and International performance, this article only depicts their performance for IPL 2020, and does not intend to hurt the sentiments of any people.  
Methodology: 
Players are relatively rated on the basis of their Cost per BFB Point, which is calculated by dividing the IPL 2020 salary of a player by his BFB points. 
Whereas,
IPL 2020 Salary: The annual compensation of a player paid by the franchise for IPL 2020. 
BFB Points: BFB points are calculated from the overall aspect of the game such as runs scored, wickets taken, consistency, acceleration bonus, economy rate bonus, number of dot balls bowled, number of catches taken, number of stumpings done, number of fours & sixes hit, number of match-winning knocks and spells, and so on. 
Openers:
#1: Steve Smith (RR)
Runs: 311 || Salary: INR 12.5 Cr ||  Cost per BFBP: INR 189393.9
Leading from the front, Steve Smith started extremely well with two back-to-back fifties and back-to-back wins. But, since then there was no looking forward to Steve Smith as he failed match after match; not just as a batsman, but also as a Captain.
His baffling on-field decisions as a captain, inconsistent batting-order decisions led to the downfall of the team as they finished eighth on the points table. Overall, Steve Smith managed just 311 runs and 660 BFB points. With a salary of a whopping INR 12.5 Cr., Steve Smith's Cost per BFBP stands at INR 189393.9.      
#2: Karun Nair (KXIP)
Runs: 16 || Salary: INR 5.6 Cr. ||  Cost per BFBP: INR 848484.8
Played only 4 matches, but managed to score only 16 runs with 15 coming in one of the knocks. As a result, Karun Nair was dropped from the squad, and was never selected again. Nair cost INR 5.6 Cr. to the franchise, and looking at his performance, he for sure would be released ahead of the Auction. With a total of 66 BFB points, Nair's Cost per BFBP stands at INR 848484.8; second-worst among all. 
Middle-order:
#3: Shimron Hetmyer (DC)
Runs: 185 || Salary: INR 7.75 Cr ||  Cost per BFBP: INR 192546.6
After a below-par outing in 2019 for RCB, Delhi Capitals purchased the talented, Shimron Hetmyer for an expensive price of INR 7.75 Cr. But, in the 12 innings Hetmyer played for Capitals, he managed only 185 runs with zero fifties to boast off. While DC might not release Hetmyer in 2020, a lot would be expected to compensate for his costly price tag, which cost INR 192546.6 per BFBP. 
#4: Kedar Jadhav (CSK)
Runs: 62 || Salary: INR 7.8 Cr. ||  Cost per BFBP: INR 993630.6
The Gold Medal winner of the Paisa Barbaad XI, Kedar Jadhav did nothing in the 8 matches he played for CSK. Jadhav scored a total of 62 runs at a bizarre strike rate of 93.9 (Less than his ODI strike rate). Such was his performance from the 8 matches that CSK didn't even look to consider him for the remaining 6 matches, and had to persist with youngsters. With a salary of INR 7.8 Cr., KJ's cost per BFBP of INR 993630.6 is the highest among all the players. 
#5: MS Dhoni (WK) (CSK)
Runs: 200 || Salary: INR 15 Cr. || Cost per BFBP: INR 276243.1
The driving force behind CSK for so many years, and probably the MVP for CSK since their resurgence in 2018, MS Dhoni has probably seen the worst of his CSK days; both as batsman and player. MS Dhoni managed a meagre 200 runs at a poor strike rate of 116.3. Courtesy of his poor performance, the third-costliest player of the tournament has a Cost per BFBP of INR 276243.1.   
All-rounders:
#6: Glenn Maxwell (KXIP)
Runs: 108 || Salary: INR 10.75 Cr. ||  Cost per BFBP: INR 278317.2
Probably the worst-performing foreigner of the season. It's no less than a miracle to see Kings XI persisting with Glenn Maxwell for 13 successive matches before running out of patience, and dropping him in the final match. A total of 108 runs from 13 matches at a near run-a-ball strike rate speaks volume. Add to that is his inability to hit even a single six in the entire tournament. At a salary of INR 10.75 Cr., Maxwell's Cost per BFBB stands at INR 278317.2; fifth-worst of the tournament.   
#7: Andre Russell (KKR)
Runs: 117 Runs || Salary: INR 8.5 Cr. ||  Cost per BFBP: INR169070.1
As an audience or fans, I am sure no one would have imagined seeing Andre Russell perform like the Least Valuable Player of IPL 2020. A meagre 117 runs from 10 matches and 6 wickets to go with, Russell experienced his worst year in IPL. He batted for 9 innings, but not once he could cross a score of 25. With a salary of INR 8.5 Cr., Russell's Cost per BFBP stands at INR 169070.1
Bowlers:
#8: Kuldeep Yadav (KKR)
Wkts: 1 || Salary: INR 5.8 Cr. ||  Cost per BFBP: INR 519015.7 
Such is the story of Kuldeep Yadav, who is perceived as the second-best spinner in the Indian team, but does not even get to play 50% of the matches in IPL. A meagre 1 wicket in the entire tournament marks the worst year in IPL for Kuldeep Yadav.
Not that Kuldeep is an ordinary bowler, but with a salary of INR 5.8 Cr., normal returns weren't expected from the Chinaman, who is abundance in talent. While the reason for his mediocre performance since 2019 is not known, for 2020, Kuldeep has a Cost per BFBP of INR 519015.7. 
#9: Piyush Chawla (CSK)
Wkts: 6 || Salary: INR 6.75 Cr. ||  Cost per BFBP: INR 247479.4
The third CSKian on the list is the costly and redundant purchase for CSK in IPL 2020 Auction. Had Piyush Chawla not been there, then maybe CSK would have been forced to play the IPL 2019 Purple Cap holder, Imran Tahir. This might have changed CSK's fortune a bit as Tahir was probably the second-best spinner before the start of the tournament.
Nevertheless, Chawla managed just 6 wickets in 7 outings, which is poor for Team's leading spinner. He was bought for a costly INR 6.75 Cr., but looking at his performance, he should have been purchased at this base price as his Cost per BFBP stands at INR 247479.4.
#10: Ankit Rajpoot (RR)
Wkts: 2 || Salary: INR 3 Cr. ||  Cost per BFBP: INR 346820.8
A performance of meagre 2 wickets from 6 matches, but is given a salary of that of 6 wickets from 2 matches. That's how we can sum-up Ankit Rajpoot's show in IPL 2020. His transfer from KXIP to RR did no good for the franchise. In all magnitude, Rajpoot should be released from the squad for IPL 2021. So, with a salary of INR 3 Cr., Rajpoot's Cost per BFBP stands at INR 346820.8.
#11: Sheldon Cottrell (KXIP)
Wkts: 6 || Salary: INR 8.5 Cr. ||  Cost per BFBP: INR 273092.4
Sheldon Cottrell raised a lot of eyebrows when he was purchased at a whopping price of INR 8.5 Cr. His notorious Salute Celebration was the talking point before the tournament. and given his past performance, a lot was expected from him to guide KXIP's toothless bowling department. 
However, Cottrell could only manage 6 wickets in the 6 matches KXIP persisted with him. Seeing his below-par performances, KXIP lost the patience, and ultimately, had to move on from Cottrell to other overseas pacers. With a salary of INR 8.5 Cr., Cottrell's Cost per BFBP stands at INR 273092.4.
IPL 2020: Paisa Barbaad 11 of the Season:
Steve Smith (C), Karun Nair, Shimron Hetmyer, Kedar Jadhav, MS Dhoni (WK), Glenn Maxwell, Andre Russell, Kuldeep Yadav, Piyush Chawla, Ankit Rajpoot, Sheldon Cottrell,  
Thanks for reading! What's your Paisa Barbaad 11 for IPL 2020? Please mention in the comments 
---
ALSO READ: IPL 2020 Special: Bang for Buck Analysis – A detailed Guide
---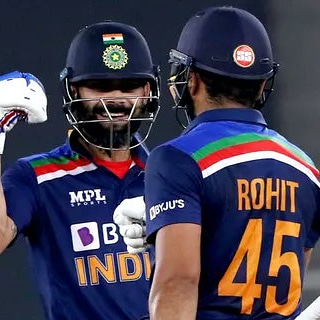 Adesh Kothari is the founder of AK4Tsay1 Cricalytics.
Cricket to him is like what 'Football is to Lionel Messi', 'Singing is to Lata Mangeshkar', 'Dancing is to Michael Jackson', and what 'Acting is to Clint Eastwood'.
Besides his effervescent love for Cricket, Adesh is an MBA by qualification.