IPL 2020 Special: Bang for Buck Analysis – A detailed Guide
Devdutt Paddikkal, the Best Value for Money player as we look at the Bang for Buck analysis for all players for IPL 2020.  
'Money' is and has been the main driving force behind the cash-rich Indian Premier League. The tournament is one of the best payers, not just in Cricket, but also across different sporting tournaments across the world. Every year, cricketers across the world assemble in the 2-months IPL long tournament to enjoy the Cricket festivity in India, and sometimes abroad. 
The IPL has many top cricketers, who are definitely paid a handsome salary for, and some of these perform exceptionally well throughout the tournament. However, the tournament also sees many low-cost players with the salary in peanuts, but if you look at their performance, it would be way better than some of the highest-paid players in IPL.
On that note, here's an interesting article which analyses the performance vis-à-vis salary earned for the tournament. In simple terms, we call it the 'Bang for Buck' analysis for IPL 2020. But, before we look at the article, let's get familiar with a few terms that would bring meaning to this article.   
Methodology:
For analysis per se, we have taken 3 important parameters into consideration, namely the IPL 2020 Salary of a player, Bang for Buck (BFB) Points, and Cost per BFB Point. The final Cost per BFB Point of each player is then compared across 5 categories- Openers, Middle-order, All-rounders, Spinners, and Pacers. The player with least Cost per BFB Point is rated the highest in the analysis, and the player with highest Cost per BFBP is rated the worst. 
Whereas,
IPL 2020 Salary: The annual compensation of a player paid by the franchise for IPL 2020. 
BFB Points: BFB points are calculated from the overall aspect of the game such as runs scored, wickets taken, consistency, acceleration bonus, economy rate bonus, number of dot balls bowled, number of catches taken, number of stumpings done, number of fours & sixes hit, number of match-winning knocks and spells, and so on. 
Cost per BFP Point: It is a simple ratio by dividing the IPL 2020 salary of a player by his BFB points.  
Openers
The first category of players sees Devdutt Padikkal with INR 20L salary as the Best Bang for Buck opener of IPL 2020. In fact, Devdutt is the Best Bang for Buck player across categories. In only his debut season, the talented 19-year-old opener was the leading run-scorer for RCB with 473 runs from 15 innings. His performance helped him gain a total of 1017.5 BFB points, and his per point cost just INR 1956.6; lowest across all categories. 
Following Devdutt is Ruturaj Gaikwad of CSK, who played just 6 matches, but scored a hat-trick of fifties. Ruturaj gained a total of 451 BFB points, and his cost per BFB point stands at INR 4434.6. Only if he had played a few more matches, he could have given a tough fight to Devdutt Padikkal for the top spot. 
At number 3, we have KXIP's Mayank Agarwal, who finally gave a performance worth remembering having playing IPL since 2011. Mayank played an aggressive brand of cricket with 424 runs at a strike rate of 156.5, This performance helped him earn a total of 933 BFB Points, and with a salary of 100L, his cost per BFB point stands at 10718. The rest of two players in the top 5 include Rahul Tripathi with INR 12487 Cost per BFB point and Faf du Plessis with INR 15399.4 Cost per BFB point.
Worst Openers:
Looking at the bottom 3, we have Rohit Sharma of MI as the worst BFB player with a Cost per BFB point of 209351. Following him is Ajinkya Rahane of DC at INR 179372.2 Cost per BFB point and David Warner of SRH with a Cost per BFB point of INR 98846.8.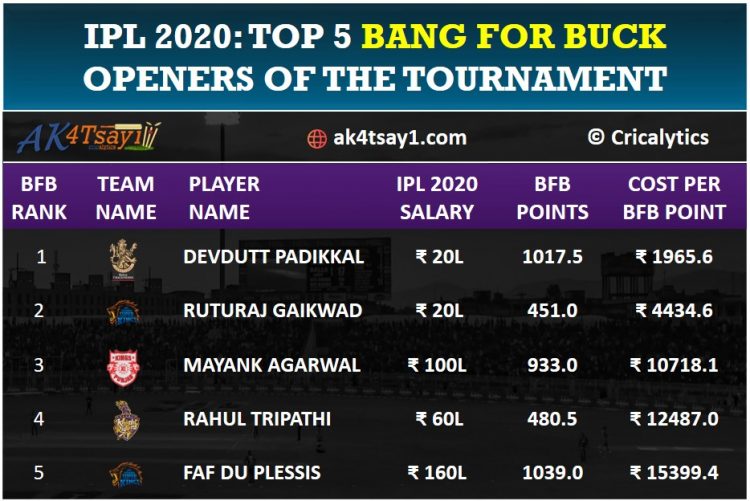 Middle-order
Middle-order doesn't see as intense performance and fight as we have seen in the Openers category. The category is led by Riyan Parag of RR, who to be honest hasn't had the bests of IPL. Riyan managed to score just 158 BFB points, but since his salary is just INR 20L, his Cost per BFB point stands at INR 12658.2, which is less than that of Rahul Tripathi as an opener.
The best player in this category is no doubt Surya Kumar Yadav with a total of 1173.5 BFB points. While Surya's salary is on the higher side at INR 3.2 Crores, his performance keeps him at number 5 with a Cost per BFB point of INR 27268.9. Even though Surya's salary is the highest among the top 5 of all categories, such has been his performance that even after that, he managed to sneak in. 
The other three players in this category include Deepak Hooda of KXIP with a Cost per BFB point of 16949.2, Gurkeerat Singh of RCB at 21834.1 Cost per BFB point, and Saurabh Tiwari of MI at  24154.6 Cost per BFB point. All three had a base salary of INR 50, Deepak Hooda with 1 match-winning knock stands out. 
Worst Middle-order Players:
Kedar Jadhav, who earns a salary of INR 7.8 Cr., is the worst BFB middle-order player with a whooping Cost per BFB point of INR 993630.6; that's almost a million rupee per point. Following him is Karun Nair of KXIP with INR 848484.8 Cost per BFBP, who played 4 matches, but couldn't do well in any of those. 
However, the surprise in this category is MS Dhoni, whose whooping INR 15 Cr. salary earned him just 543 BFB points, and his Cost per BFBP stands at INR 276243.1; the worst among all wicket-keepers. MS Dhoni's lack of form was one of the main reasons why CSK didn't do well in the tournament.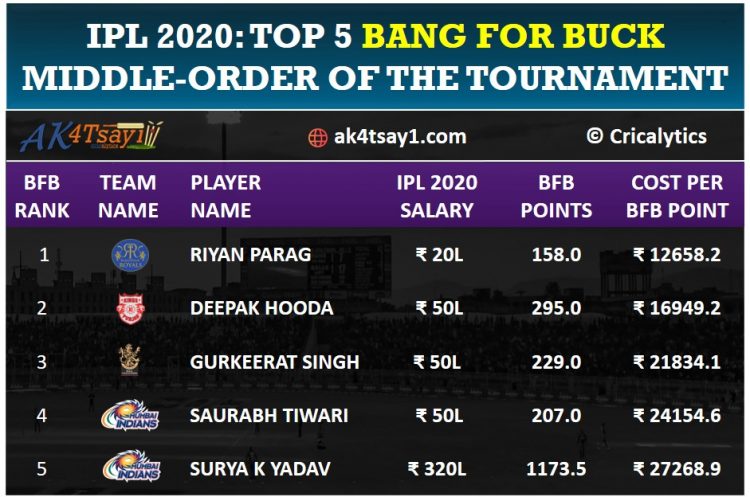 All-rounders
The All-rounders category sees three players in the top 5 from Sunrisers Hyderabad. The list is led by Abdul Samad, whose attacking nature of batting earned him accolades from the Cricketing fraternity. Samad with a salary of INR 20L earned 318.8 BFB points, and has a Cost per BFBP of INR 6274.5
Following him is Jason Holder, who in my opinion should be the Best Bang for Buck all-rounder. Holder played a total of just 7 matches, but that helped him earn a total of 763 BFB points. His Cost per BFBP is good too with INR 9829.6. Two of the other three players include Isuru Udana of RCB with Cost per BFBP of INR 12187.7 and Abhishek Sharma of SRH with a Cost per BFBP of INR 24746.9. 
The final player in the top 5 might surprise a few is Rahul Tewatia of Rajasthan Royals. Tewatia was simply the best all-rounder of the season. He excelled in both; batting and bowling, and was exceptionally well in phases where no other RR played well. He earned a total of 1246.8 BFB points, and with a salary of INR 3 Cr., his Cost per BFBP stands at INR 24062.6.
Worst All-rounders:
The bottom 3 in the all-rounders category sees all superstars in the form of Glenn Maxwell, Andre Russell, and Sunil Narine. Glenn Maxwell has been the worst of all with a salary of INR 10.75 cr., and Cost per BFBP of INR 278317.2. Following him is IPL 2019's Most Valuable Player, Andre Russell with a salary of INR 8.5 Cr., and Cost per BFBP of INR 169070.1. Sunil Narine hasn't been good either. He has a total of 325.3 BFB points, but with a salary of INR 8.5 Cr., he has a Cost per BFBP of INR 147505.4.
Spinners
The spinners category sees a tough fight between Shreyas Gopal of RR and Murugan Ashwin of KXIP for the top spot. Both the leggies have same salary, almost similar BFB points, and their Cost per BFBP is also almost the same, but Shreyas Gopal edges Ashwin an account of scoring slightly more runs. Overall, Shreyas Gopal's Cost per BFBP stands at INR 3268 as compared to Ashwin's INR 3315.6.
Teams have generally not played too many low-cost spinners, and as a result, the other 3 players in the top 5 have a higher cost in INR Crores. Hence, their Cost per BFBP is almost 8 times or more than that of the top 2. Nevertheless, Rahul Chahar stands at 3 with a Cost per BFBP of INR 23690.8, Ravi Bishnoi stands at 4 with a Cost per BFBP of INR 27472.5, and Varun Chakravarthy stands at 5 with a Cost per BFBP of INR 44931.2.
Worst Spinners:
The bottom 3 sees 3 leggies in the form of Kuldeep Yadav, Piyush Chawla, and Karn Sharma. Of the three, Kuldeep Yadav has performed the worst with a total of 105.3 BFB points, and a Cost per BFBP of INR 519015.6. Following him is Piyush Chawla with 272.8 BFB points and INR 247479.4 Cost per BFBP. The last in the list in Karn Sharma, who has 221.3 BFB points and INR 225988.7 Cost per BFBP.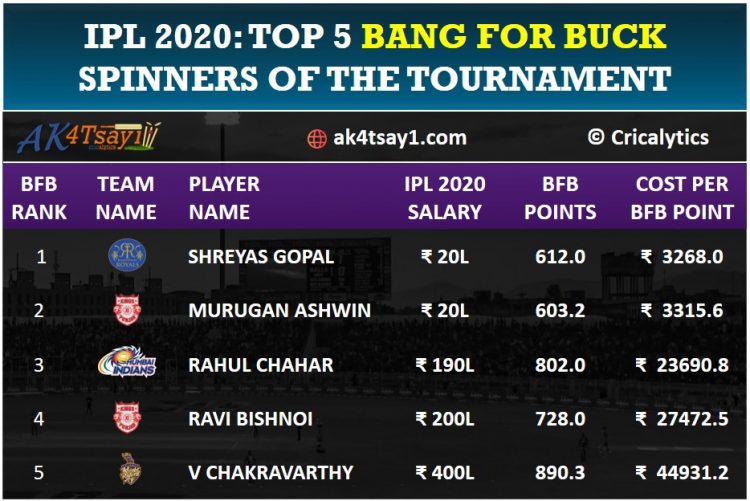 Pacers
The final category also sees another tough fight between the top 2 as both have been extremely good for the franchise throughout the season. T Natarajan of SRH, who impressed everyone with his ability to bowl yorkers, leads the chart with a superb Cost per BFBP of INR 4442 having achieved 900.5 BFB points- All these at a salary of just INR 40L.
Following him is the fiery Anrich Nortje, who reportedly bowled the fastest ball in the history of IPL at 156.2. In fact, 4 of the top 5 fastest balls of IPL 2020 belong to him. Came in as a replacement of the withdrawn Chris Woakes for just INR 50L, Nortje played all the matches, and his successful stint earned him 1095 BFB points. Courtesy to his lower salary, Nortje has a Cost per FBP of just INR 4566.2.
Arshdeep Singh of KXIP has been good in whatever opportunities is third on the list with a total of 429.5 BFB points. With a salary of just INR 20L, Arshdeep has a Cost per BFBP of INR 4656.6. The other two in the list are Tushar Deshpande of DC with Cost per BFBP of INR 9400.7 and Deepak Chahar of CSK with a Cost per BFBP of INR 10356.0.    
Worst Pacers:
The bottom 3 sees two costly foreigners and 1 Indian in the form of Nathan Coulter-Nile, Sheldon Cottrell, and Ankit Rajpoot respectively. Of the three, Ankit has the highest Cost per BFBP of INR 346820.8. Following him is Sheldon Cottrell with Cost per BFBP of INR 273092.4, and Nathan Coulter-Nile with a Cost per BFBP of INR 202147.8.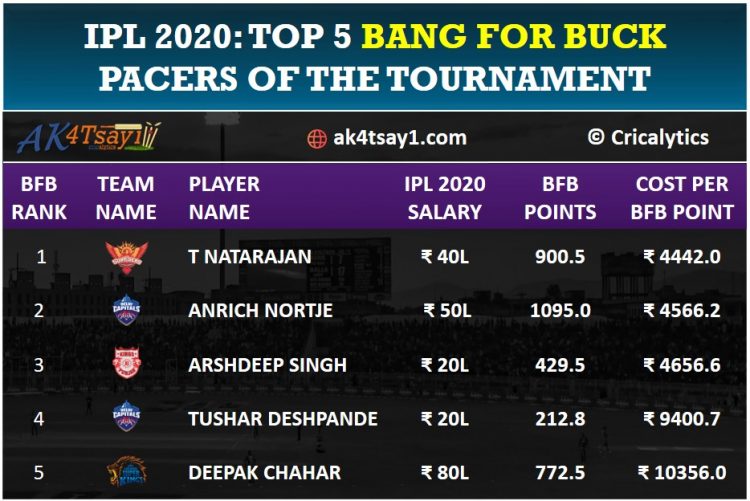 So, these have been the best and worst Bang for Buck players of IPL 2020. 
Thanks for reading! Which player according to you is the best Bang for Buck player of IPL 2020? Please mention in the comments 
---
ALSO READ: IPL 2020: Most Valuable Player Report Card by Cricalytics
---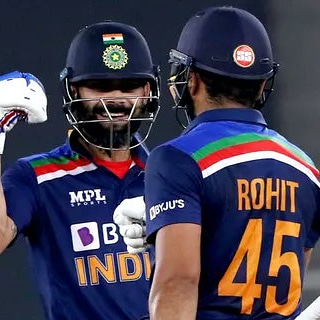 Adesh Kothari is the founder of AK4Tsay1 Cricalytics.
Cricket to him is like what 'Football is to Lionel Messi', 'Singing is to Lata Mangeshkar', 'Dancing is to Michael Jackson', and what 'Acting is to Clint Eastwood'.
Besides his effervescent love for Cricket, Adesh is an MBA by qualification.