IPL 2021 Special: Which Star Players form the Current 'Fab 5' in IPL?
KL Rahul, the undisputed king as we look at the performance comparison of the current fab 5 in IPL 2021. 
The term 'Fab 5' is not alien to anyone who knows or follows cricket. If we talk about international cricket, the term 'Fab 5' is associated with the best 5 Test batsmen in the Cricketing world. This includes Virat Kohli, Kane Williamson, Steve Smith, Joe Root, and Babar Azam as the new entrant. 
But when it comes to IPL, can we actually link this term to the 5 best batsmen in IPL? If yes, what would be the base for it? Well, if talk about IPL, it is very important to stay in the present. Because a player may have performed exceptionally well in the early and mid-2010s, but may not be the same force in 2021. 
Hence, when we are going to analyze the performance of players as of IPL 2021, we would only consider his performance since 2018 when the last mega auction was conducted. Coincidently, the fab 5 shown below also forms the most dangerous barring order in the competition. So, without wasting much of the time, let's look at who is the current Fab 5 in IPL 2021 and their performance since 2018. 
#1: KL Rahul (PBKS)
Inns: 49 // Runs: 2253 // Avg: 56.3 // SR: 139.5
Without a doubt the most consistent batsman in IPL since 2018. Ever since KL Rahul got purchased by Punjab Kings in the 2018 Mega auction, KL Rahul has shown tremendous performance. He has been the leading run-scorer since then with 2253 runs at a fabulous average of 56.3.
While KL Rahul in 2018 had a strike rate of above 150, overall it is at 139.5, which is not bad either. However, in the last three years, KL Rahul has won the orange cap only once in 2020, while finishing second in 2019 behind David Warner, and third in 2018 behind Kane Williamson and Rishabh Pant. 
#2: Shikhar Dhawan (DC) 
Inns: 57 // Runs: 2016 // Avg: 41.1 // SR: 138.4
It can come as a surprise to a few, but ever since moving to Delhi Capitals in 2019, Dhawan has looked a different beast in IPL. He finished fourth with 521 runs in IPL 2019 and finished second in IPL 2020 with 618 runs. Both these years, he was not only consistent but also aggressive with a strike rate in the 140s. 
Overall, Dhawan is the second-highest run-scorer in IPL since 2018 with 2016 runs from 57 innings at a good average of 41.1 and a strike rate of 138.4. He is currently the leading run-scorer in IPL 2021 with 380 runs, and if he maintains the run, he has all the chance to win the orange cap for the first time. 
#3: Virat Kohli (RCB) 
Inns: 50 // Runs: 1658 // Avg: 39.5 // SR: 132
Talk about IPL, and one player that deserves an automatic selection is Virat Kohli. Even as his record doesn't match the standard he set in 2016, it is still good enough to be in the current Fab 5 in IPL. He has been a decent performer for RCB since 2018 with 1658 runs from 50 innings at a good average of 39.5 and a decent strike rate of 132. 
While the numbers aren't that good, those are enough to marginally better Suryakumar Yadav and Sanju Samson, who were equally better if not better than Virat Kohli. However, this is not the same Virat Kohli that we saw in 2016 when he performed at a level unmatched in the history of IPL. 
#4: Rishabh Pant (DC) 
Inns: 52 // Runs: 1728 // Avg: 40.2 // SR: 149.4
Playing as a middle-order batsman, Rishabh Pant is the third-highest run-scorer in IPL since 2018. That is the kind of impact Rishabh Pant has managed to display in the last three years in IPL. Not only has he been consistent but he has also been belligerent too with a strike rate of close to 150. 
With Shikhar Dhawan at the top and Rishabh Pant in the middle-order, these two have been the main reason why Delhi Capitals have done extremely well in IPL in the last three years. Definitely a long-term prospect, Rishabh Pant has a long way to go while playing for Delhi Capitals, and in the times to come, his name will be counted among the greatest to have played in IPL. 
#5: AB de Villiers (RCB) 
Inns: 44 // Runs: 1583 // Avg: 43.9 // SR: 162.5
The only overseas player in Fab 5, and rightly so a deserving one. With Gayle off his prime in the last three years and David Warner not being the same player since the sand-paper ban, AB de Villiers is the hottest overseas batsman in the IPL at the moment.
Of all the 5 players in the Fab 5, AB de Villiers has a class of his own. He bats in the lower middle-order, and has often helped win his side from positions that looked impossible. All these maintaining a strike rate of 162.5, which is simply mind-blowing. On top of it, AB de Villiers is also one of the most loved overseas players in IPL 2021.    
So, that's how the current Fab 5 in IPL has performed in the last three years. Apart from these 5, some emerging and good ones include Suryakumar Yadav, Sanju Samson, David Warner, Jos Buttler, Shreyas Iyer, and Faf du Plessis.   
Thanks for reading! Looking at the performance, which among the Fab 5 is your favorite player in IPL 2021? Please email your comments to business@cricalytics.com 
---
ALSO READ: IPL 2022 Auction Special: Predicted Player Retention List for all 8 Teams
---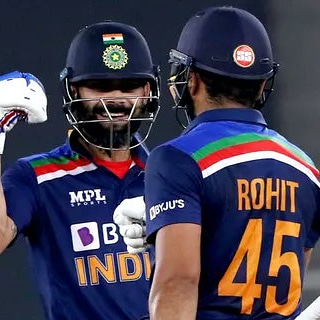 Adesh Kothari is the founder of AK4Tsay1 Cricalytics.
Cricket to him is like what 'Football is to Lionel Messi', 'Singing is to Lata Mangeshkar', 'Dancing is to Michael Jackson', and what 'Acting is to Clint Eastwood'.
Besides his effervescent love for Cricket, Adesh is an MBA by qualification.