T20 World Cup 2022: Best Young Team India Squad Similar to 2007 WC
Rishabh Pant to lead as we look at the young T20 World Cup 2022 squad for Team India replicating the 2007 T20 WC. 
T20 World Cup, a tournament that has changed the Cricketing world forever, and especially Indian cricket. If we rewind the clock to 2007, a young squad led by the young and untested skipper, MS Dhoni led Team India to their win first and only Trophy in T20 World Cup. 
If we recall the time sequence, Team India were coming off a horrible performance in the 2007 ODI World Cup. A lot of thought was given before the selection of the squad for the T20 WC as not only was the format new, but it was also a major tournament first up. Finally, it was decided that all the senior pros shall be rested, and only the young guns shall be sent. 
The squad that played in the tournament had no experience of the format. All players were selected basis on their potential and hitting abilities. Since then, the format has evolved leaps and bounds, and we also saw India bringing to the World Stage, the biggest and the hottest T20 Tournament in the world, the Indian Premier League.
Replicating 2007 in 2022: 
After the win in the inaugural edition of the World Cup, India are still searching for their second Trophy win. We are in 2022, and in a few months, India would be playing another T20 World Cup. As compared to 2007, India is rich with a plethora of talent available in the pool of players. So, what if we replicate the 2007 thought process, and rest our senior players for the Marquee event, and select only young players? 
Of course, if you ask me today, the solution is neither realistic nor practical. In no possible way, selectors would take this decision of resting their key experienced players. But what if we still have to give it a chance? The likes of Rohit Sharma, Virat Kohli, Ravindra Jadeja, etc. have been struggling for form, and there is no harm in just selecting the young players if we get an option. 
Alright then, for selecting the squad, the first criteria would be age. Selecting players around 20-21 would be too aggressive and risky. So, let's take 30 as the age limit, and select players who are aged 30 or below. This way, we will leave out the senior players, and select a few experienced ones that would add a lot of value. 
Another important topic would be the selection of the captain. If we ignore any biases and perceptions, after Rohit Sharma and Virat Kohli, KL Rahul seems the best-suited candidate to captain the team. But what if we replicate the same thought process, and make young Rishabh Pant the Captain of the squad. Not that he has not captained before, but for replicating 2007, he seems the best bet. 
So, looking at all possible options available in the pool of players with an age limit defined, let's look at the best available young squad that Team India can select for the T20 World Cup 2022 while replicating the 2007 T20 WC. 
Openers:

KL Rahul, Ishan Kishan & Ruturaj Gaikwad
Under normal circumstances, Rohit Sharma would have not only been the first-choice opener but he also would have led the squad. But with Rohit coming under the senior player category, KL Rahul shall be the primary opener with Ishan Kishan and Ruturaj Gaikwad being the other two openers. Thankfully, KL Rahul is 30 years old, and thus makes it to the squad. Otherwise, he would have been left out too. 
This is not a bad opening trio as KL Rahul is one of the best T20 openers in the world. Whereas Ruturaj Gaikwad and Ishan Kishan are good emerging prospects. Of the two, Ishan Kishan seems more potent to open alongside KL Rahul considering the left-right combination and a slightly more experience in playing the format. 
Middle-order:

  Rishabh Pant, Sanju Samson & Shreyas Iyer
Coming to the middle-order, India would miss Virat Kohli and Suryakumar, who would have Ideally made it to the squad. But with more being more than 30, Rishabh Pant, Sanju Samson, and Shreyas Iyer shall be the middle-order of the squad. Ideally, Rishabh Pant would be the primary wicket-keeper of the squad, so he is still there. He will also lead the squad from behind just like how MS Dhoni did. 
The other two middle-order options, Shreyas Iyer and Sanju Samson are good batting options too. Sanju Samson can play at 3 with Shreyas at 4 and Rishabh Pant at 5. Shreyas can play the role of the anchor and Rishabh and Sanju can play the role of the aggressor. With Hardik and Sundar or Deepak to follow, this is a good batting line-up. 
All-rounders:

Deepak Chahar, Hardik Pandya & Washington Sundar
The all-rounders' department shall see Hardik Pandya being the most valuable all-rounder with Deepak Hooda and Washington Sundar supporting him. This is an area where 33-year-old Ravindra Jadeja shall be badly missed. Jadeja would have been a perfect number 7, but Washington at 7 isn't a bad option either. Even Deepak Hooda can take that place as a finisher at number 7 and give those valuable 1-2 overs. Overall, Hardik Pandya shall be the focal point in the all-rounders' category. 
Spinners:

Kuldeep Yadav & Ravi Bishnoi 
This is an area which would not see major changes from the strongest predicted T20 World Cup 2022 squad from Team India. Chahal and Kuldeep are the two best spinners in the format currently, but given that Yuzvendra Chahal is 32 already, Ravi Bishnoi and Kuldeep Yadav shall be the two main spinners in the squad. But the team will definitely miss Team India's best spinner, Yuzvendra Chahal. 
Pacers:

  Arshdeep Singh, Avesh Khan,

Jasprit Bumrah & Umran Malik
Selecting the pacers, and the best thing about the squad is the presence of the World's best T20 bowler, Jasprit Bumrah. He will proudly lead the bowling attack with superb support from Arshdeep Singh, Avesh Khan, and Umran Malik. Although Team India shall miss the services of senior pros, Mohammed Shami, Bhuvneshwar Kumar, T Natarajan, and Harshal Patel. 
Nevertheless, all three young supporting bowlers bring unique strengths to the table. While Arshdeep Singh can bowl superbly in the powerplay and death Overs, Avesh Khan and Umran Malik are perfect for middle overs and death Overs. Umran Malik can be the x-factor in the squad with his pace. Whereas Arshdeep Singh shall be a brilliant support to Bumrah in the death Overs. 
T20 World Cup 2022 – Young Squad for Team India: 
Batters: KL Rahul, Ruturaj Gaikwad, Shreyas Iyer
Wks: Ishan Kishan, Rishabh Pant & Sanju Samson
All-rounders: Deepak Hooda, Hardik Pandya, & Washington Sundar
Bowlers: Arshdeep Singh, Avesh Khan, Jasprit Bumrah, Kuldeep Yadav, Ravi Bishnoi & Umran Malik
Coach: Rahul Dravid // Captain: Rishabh Pant // Vice-captain: KL Rahul 
Additional 3 Reserves for COVID-19 Contingency:
Deepak Chahar, Prithvi Shaw & Venkatesh Iyer
So, that completes the depiction of the 15-members squad if BCCI selects a young squad for T20 World Cup 2022 replicating the 2007 model. Apart from the ones mentioned here, the other potential ones include Deepak Chahar, Prithvi Shaw, Venkatesh Iyer, Mohammed Siraj, Khaleel Ahmed, and Axar Patel. 
Thanks for reading! What's your predicted squad for Team India for T20 World Cup (WC) 2022? Please email your comments to business@cricalytics.com
---
ALSO READ:  T20 WC 2022 Complete Official Schedule for IST Timing – Download now
---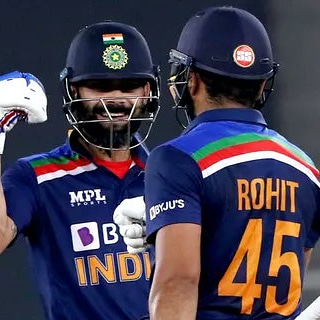 Adesh Kothari is the founder of AK4Tsay1 Cricalytics.
Cricket to him is like what 'Football is to Lionel Messi', 'Singing is to Lata Mangeshkar', 'Dancing is to Michael Jackson', and what 'Acting is to Clint Eastwood'.
Besides his effervescent love for Cricket, Adesh is an MBA by qualification.