Aus vs India: Why Rishabh Pant should play ahead of Wriddhiman Saha
Rishabh Pant vs Wriddhiman Saha: Pant, the batsman-keeper will add more value than Saha, the keeper-batsman in Tests for Team India. 
 A 'wicket-keeper' has traditionally been considered as someone whose primary responsibility is to take catches and affect stumping. While the same is definitely true on Sub-continent pitches where batting is slightly easier, and the wicket-keeping skills have to be top-notch to keep for turning tracks, the same cannot be said for SENA countries. 
In the decade starting 2011, India have been blessed to have had 6 designated wicket-keepers playing in Test Matches. The list includes MS Dhoni (2011-14), Wriddhiman Saha (2015- Present) Rishabh Pant (2018-Present), Parthiv Patel (2016-18), Dinesh Karthik (2018) and Naman Ojha (2015).
Of these 6 wicket-keepers, MS Dhoni has played the most number of matches with 37, followed by W Saha with 36, Rishabh Pant with 13, Parthiv Patel with 5, Dinesh Karthik with 3, and Naman Ojha with 1 match to his name. Clearly, the era post MS Dhoni, which is 2014 and onwards, India have been reliant on two wicket-keepers, viz., Wriddhiman Saha and Rishabh Pant.
So, it is obvious that Team India consider only these two keepers as their prime option in all the Test matches now, and that also reflects in the squad for the Border Gavaskar Trophy 2020. But, between Rishabh Pant vs Wriddhiman Saha, who would be the best option to play the first two Tests, let's have look at a few analysis points.
Batting in SENA Countries: 
The last decade has seen the sub-continent teams like India, Pakistan, and Sri Lanka suffer a major blow in their batting department when they tour the SENA countries. In the subcontinent, where top 6 gets most of the runs, you can afford to play specialist keepers, while in SENA where top order may fall to hardball and movements, you need to have backups in Batting. 
That's the reason, it is important for a wicket-keeper also to perform with the bat. If the team play 6 batsmen and an all-rounder, the role of the wicket-keeper as a batsman becomes even more important. So, comparing Saha and Pant, what do the numbers say in the batting department in SENA countries?
Rishabh Pant vs Wriddhiman Saha in SENA: 
Since 2011, Saha has played a total of 8 innings in SENA countries, and scored a meagre 119 runs at an average of 14.9. His scores in these 8 innings read  25, 13, 35, 0, 0, 8, 35, and 3. Not once in these 8 innings, he has scored well, and India didn't win any of the matches where Saha was involved.
Compare the numbers with Pant, and you see a major difference there. Pant in SENA has played a total of 17 innings to score a fantastic 572 runs with 2 big centuries in England and Australia, which no other Indian keeper has even done. If we talk about the 2018 Australia series to be specific, Pant's scores excluding the Sydney century are 25, 28, 36, 30, 39, and 33. These are not excellent, but if you compare with Saha, they look really good. 
Moreover, In SENA, occupying the crease for longer periods won't give you much advantage as a ball will come with a name on it, and any batsmen can get out. So, moving the scoreboard is the only way to go unless you are Pujara. This is where Pant is ahead. So, it is very much clear that Rishabh Pant as a batsman has been far better than W Saha in Tests for Team India.
People currently are taking shots at Pant because his recent limited-overs and IPL form has been poor. But, the mistake we are doing is comparing his limited-overs form with Tests, which isn't wise. If we see, in the last 4 years in IPL, Rishabh Pant is among the top 3 leading run-scorers, which is a big statement. 
Wicket-keeping in SENA:
This is where many pandits and critics argue that Saha being a better wicket-keeper than Pant should be selected first. While Saha is definitely a world-class keeper, Pant isn't as bad as the world perceives. Ever since he started playing Test cricket at the age of 21 for India, he has only been improving. Sure, he has dropped catches, but as they say 'to err is human', and Saha is no superhuman as he has dropped catches too.
There are numerous instances where Saha has dropped catches, and that too sitters. To name a few, playing against Sri Lanka in 2015, Saha had dropped a sitter off the bowling of Ishant. In 2016 vs England too (Home Series), Saha had dropped a couple of catches in no time. Even in SA tour, Saha had dropped a dolly of Dean Elgar. So, dropping catches isn't uncommon for wicket-keepers as even the best have gone through that phase. 
If we look at the stats, Rishabh Pant may have dropped catches, which isn't good, but he has taken a lot of them too. In 17 innings, Rishabh Pant has accounted for 43 Catches with a D/I ratio of 2.4; highest among all Indian wicket-keepers in SENA countries. Whereas Saha has a D/I ratio of 2. 
Conclusion: 
Coming to the point about why a Batsman-keeper is more important than playing a Keeper-batsman. Saha as keeper may save a few runs by taking some wonderful catches and affecting some wonderful stumping, but his liability in batting is more dangerous. That's why Rishabh Pant, who is a better batsman with proven credentials, and a decent keeper, should get a nod ahead of Wriddhiman Saha. 
Thanks for reading! Rishabh Pant or Wriddhiman Saha? Who should India play in the test series? Please, let us know in the comments. 
---
ALSO READ: India vs Aus: Top 5 Knocks while Chasing in ODIs by Cricalytics
---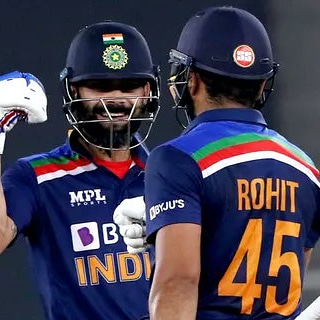 Adesh Kothari is the founder of AK4Tsay1 Cricalytics.
Cricket to him is like what 'Football is to Lionel Messi', 'Singing is to Lata Mangeshkar', 'Dancing is to Michael Jackson', and what 'Acting is to Clint Eastwood'.
Besides his effervescent love for Cricket, Adesh is an MBA by qualification.