India vs Aus: Top 5 Knocks while Chasing in ODIs by Cricalytics
Sachin Tendulkar's 175 in 2009, the highlight as we look at top knocks while chasing in India vs Aus ODIs. 
India vs Aus in ODIs has always been about how good Australia have been as a team. They have a superb win percentage of 56% against India overall. Moreover, the record in Australia is, even more better with Australia maintaining a win percentage of 71.1%. 
However, when it comes to individual stats, Indian players have been better- be it while chasing or batting first. For instance, both the highest score while batting first or chasing belongs to the Indians. Similarly, many of the top scores while batting first or chasing belongs to the Indians.
So, In this article, we take you down to the memory lane to look at the Top 5 knocks while chasing in India vs Aus ODIs. Before that, let's look at our unique and unbiased methodology to calculate the top knocks.
Methodology:
As always, we have analyzed the top batting knocks on the basis of the batting points calculated from the overall aspect of the game such as runs scored, acceleration bonus, relative strike rate and runs bonus, number of fours, number of sixes, number of good knocks and match-winning knock points.
To leave out the biases and perceptions, we have kept the things simple by comparing the overall batting points of all the knocks to find out the Top 5 knocks while chasing in India vs Aus ODIs.
#5: 141*(123) by Rohit Sharma || Jaipur, 2013



SR: 114.6 || 4s: 17 || 6s: 4 || Batting Points: 222.5
At number 5, we have Rohit Sharma's stunning 141* (123) while chasing India's highest successful run-chase of 362 against Australia, back in 2013. This was the time when Rohit had only started opening regularly for Team India, and was the beginning of 'openers' era that still belongs to Rohit.
Coming to knock, India were down 0-1 after losing badly in the first ODI. The second ODI saw Australia make a massive 359 in 50 overs; a target which was never achieved by the Indian team against Australia. However, Rohit had other thoughts as he mastered this chase to perfection. Courtesy of his big knock, India chased the total in just under 44 overs. His 141* (123) consisted of 17 fours and 4 huge sixes; making it 92 runs in boundaries.  
Just to recollect, this was also the innings which saw Virat Kohli support Rohit brilliantly with the fastest century by an Indian off just 52 balls. Taking nothing away from Virat's knock as that was simply superb, Rohit's knock was a touch better than Kohli, which fetched Kohli 220.8 batting points.   
#4:

116 (73) by James Faulkner || Bengaluru, 2013
SR: 158.9 || 4s: 11 || 6s: 6 ||

Batting Points: 222.2
The seventh ODI of the same ODI series in 2013 saw the finale of the series being a blockbuster show. With the series levelled at 2-2 after 6 matches, India stunned the Aussies batting first. India scored their highest score against Australia with 383/6 on the board; courtesy of Rohit Sharma's first double century.
Chasing 384, Australia were all but out at 138/6 before James Faulkner brought life to the game. With a little support at the other end, Faulkner started counter-attacking, and took Australia over the 300 run mark in the 40th over. With around 80 needed off 10 overs with 2 wickets in hand, and set Faulkner at the crease, it almost looked like Faulkner was going it to win it for the Aussies.
Somehow, luck didn't favour the them as Faulkner got out after scoring a stunning 116 (73) with 11 fours and 6 sixes. Australia lost the match by 57 runs, but the knock would remain a special one. Surprisingly, this is the only knock by an Aussie in top 5.    
#3:

143 (131) by Sachin Tendulkar || Sharjah, 1998
SR: 109.2 || 4s: 9 || 6s: 5 ||

Batting Points: 236.6
It is now time to take you back to the great Sharjah story of the mighty Sachin Tendulkar; supported brilliantly by the commentary of Late Tony Grieg. This was the time when Sachin Tendulkar was at his peak, and the memories in Sharjah were just a supporting piece of how dependant the Indian batting line-up was on the 'God of Cricket'.  
Coming to the knock, India were playing the sixth match of the Coca Cola series, and were on the edge of the final qualification. After a revised target of 276 in 46 overs due to the constant Desert Storm inconvenience, India needed at least 237 to qualify for the finals. 
Sachin Tendulkar, who led the run-chase was the only batsman that looked comfortable on the crease. However, with the lack of support at the other end with second-highest score being 35, Sachin Tendulkar alone couldn't help win the match. But, his 143 (131) made sure India qualify for the finals. The knock still remains as one of the best by the Master. 
#2:

115* (66) by Virat Kohli || Nagpur, 2013
SR: 174.2 || 4s: 18 || 6s: 1 ||

Batting Points: 237.4
Probably the best knock in successful chases against Australia, Virat Kohli's another aggressive knock in the same 2013 series helped India level the series 2-2. This was another occasion where India successfully chased down another 350+ score, which is also the second-highest run chase by India against Australia.
Australia were leading the series 2-1, and the Aussies put on a fabulous 350 in the first innings. This was like a replica of the second match where India were trailing 0-1, and were given another 350+ target to chase. It was Kohli, Rohit, and Dhawan in that chase, and it was again the same trio scoring big in this match. The only difference being Kohli guiding the chase this time around. 
Kohli, who had just smashed the fastest century by an Indian in the second ODI off 52 balls, smashed another aggressive century off 61 balls. Kohli didn't play any risky shot in the entire innings as it was an innings of pure class, that included 18 fours and just 1 six. Courtesy of another century, India chased down 351 in 49 overs, and levelled the series 2-2.    
#1:

175 (141) by

Sachin Tendulkar

|| Hyderabad, 2009
SR: 124.1 || 4s: 19 || 6s: 4 || Batting Points: 281.3
Talking about the best second-innings knock, but unfortunately in a losing case comes this gigantic knock of 175 (141) by Sachin Tendulkar. While the match was scheduled in 2009, it felt as if we were in 1998 with Sachin Tendulkar being the only driving force of the team. 
Chasing 351 in 2009 was an enormous task, and something that wasn't a regular fixture. While Sehwag gave a good start with his aggressive 38(30), Sachin was losing partners at the other end before reviving the innings with Suresh, who scored a run-a-ball fifty.
With 52 needed off 45 balls and 6 wickets in hand, it was India's game to lose. But, luck didn't favour the Indians as India lost quick wickets including that of Sachin. While Jaddu was at the crease with 18 needed off last 3, his run-out turned the things around.  In the end, India lost the match by just 3 runs, which should have been won by India. Nevertheless, Sachin's epic knock would still remain one of his best, which consists of 19 fours and 4 sixes.
So, these have been the Top 5 knocks while chasing in India vs Aus ODIs. Some other good knocks include 123 (95) by Kohli, 128 (112) by David Warner, and 149 (135) by Steve Smith. 
Thanks for reading! Which of the above-mentioned top knocks of India vs Aus did you like the most? Please, let us know in the comments. 
---
ALSO READ: India vs Aus: Complete List of ODI Records – Rohit Sharma the Star
---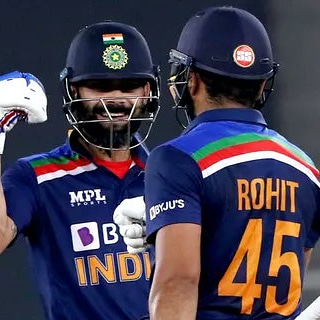 Adesh Kothari is the founder of AK4Tsay1 Cricalytics.
Cricket to him is like what 'Football is to Lionel Messi', 'Singing is to Lata Mangeshkar', 'Dancing is to Michael Jackson', and what 'Acting is to Clint Eastwood'.
Besides his effervescent love for Cricket, Adesh is an MBA by qualification.