India vs England: Player Analysis and Combined best 11 of T20I Series
India vs England 2021: Virat Kohli, the best player as we look at the combined best 11 of the T20I series. 
0-1 is how it started, and 3-2 is how it finished as Team India notched up one of the best T20I series victories in recent times. With this series win, Team India have now successfully managed to beat England in the Test as well as the T20I series of the ongoing tour with only the final ODI series to go.
The world number 1 and number 2 ranked T20I teams witnessed some amazing performance but with ironic strategies. While England struck to their strengths of playing their best 11, Team India had a lot of experimentation in their playing 11 with not a single match they went with had the same 11.
Important to note that Team India were without their two main players, Jasprit Bumrah and Ravindra Jadeja. Even then, Team India's youngsters like Ishan Kishan, Suryakumar Yadav, Shardul Thakur, Rishabh Pant, etc. kept impressing with their superb performance.
So, how did the players perform overall? Let's look at the performance analysis and combined best playing 11 for the India vs England 2021 T20I series. Before that, let's quickly slim through our trademark and unique methodology.
Stats Wizard Methodology:
Batting: As always, we have analyzed the batting performances basis the batting rating calculated from the overall aspect of the game such as runs scored, consistency, the number of match-winning & good knocks, acceleration bonus, and power-hitting bonus. 
Bowling: We have analyzed the bowling performances basis the bowling rating calculated from the overall aspect of the game such as wickets taken, consistency, the number of match-winning and good spells, number of maidens bowled, and economy rate bonus. 
Overall, the team of 11 is selected basis the performance rating, and only players who have performed well in their respective positions are selected. Also, the team combination of 2 openers, 3-4 middle-order players, 1-2 all-rounders, 2-3 pacers, and at least 1 spinner is given precedence in the squad. 
#1: Jason Roy (England) – 5.6
Inns: 5 // Runs: 144 // SR: 132.1 // HS: 49
3 knocks in the 40s and 2 failures are how Jason Roy performed in the series. He gave good starts for England in three matches, but fell for 0 in the all-important finale. Not so convincing overall, but Jason Roy was the second-best opener of the series as he scored a total of 144 runs at a SR of 132.1 and consistency of 66.7%. 
#2: Jos Buttler (England) – 6.2
Inns: 5 // Runs: 172 // SR: 147 // HS: 83*
Jos Buttler started slowly, but played two important knocks in the third and fifth T20I. His 83* in the third T20I is the highest score of the series. Overall, Jos finished with 172 runs from 5 innings; the second-best of the series. He was easily the best opener amongst both the teams, and has a rating of 6.2 for his performance. 
#3: Suryakumar Yadav (India) – 10
Inns: 3 // Runs: 89 // SR: 185.4 // HS: 57
Played just 2 innings, but impressed in both of them with some ferocious hitting. No one can forget the six that he hit off Archer, which was officially his first ball in international cricket. He ended the series with 89 runs at a stunning strike rate of 185.4; the best among all batsmen. His striking even prompted Virat to open the batting to continue playing him at 3. 
#4: Virat Kohli (India) – 9.2
Inns: 5 // Runs: 231 // SR: 147.1 // HS: 80*
The captain, leader, and the leading run-scorer of the series. Virat Kohli oozed with class after a duck in the first match of the T20I series. He scored three fifties in the remaining four matches, and ended with 231 runs; the most by any player in a bilateral T20I series. Virat was also very flexible in his batting position as he played as an opener as well as in middle-order. 
#5: Shreyas Iyer (India) – 7.6
Inns: 4 // Runs: 121 // SR: 145.8: // HS: 67
Played a new role of Finisher in the squad, Shreyas Iyer passed this test with flying colors. He was aggressive in his batting, and that was the highlighting part of his batting in this T20I series. He ended with 121 runs batting at 5 or below, which is impressive. More importantly, his strike rate of 146 complemented his batting position perfectly. 
#6: Ben Stokes (England) – 6.4
Inns: 5 // Runs: 84 // Wkts: 3 // HS: 46
Not so convincing, but Ben Stokes was good overall as the all-rounder. He played 1 good knock in the batting department, but bowled tidy spells in the bowling department. Overall, Stokes managed 84 runs from 5 innings, and took 3 important wickets. However, I had hoped more from Stokes, the batsman, which was missing. 
#7: Hardik Pandya (India) – 5.8
Inns: 5 // Runs: 86 // Wkts: 3 // BBI: 2/16
Similar to Stokes, Hardik was decent as the all-rounder overall. He too had 1 good knock, but it was his tidy spells in the bowling that was the highlight. He too ended similar to Stokes with 86 runs and 3 wickets. His best highlight was his spell of 2/16 in the fourth T20I, which turned the game in India's favor. 
#8: Shardul Thakur (India) – 6.9
Inns: 5 // Wkts: 8 // ER: 9.7 // BBI: 3/42
A forever dark horse that he is, Shardul Thakur went about his business without much of a fuss. He ended the series as the leading wicket-taker with 8 wickets. It is no surprise that most of his wickets came in the death overs where his slow knuckle balls looking mighty effective. While Shardul got wickets, he needs to have control over his economy rate, which has been poor. 
#9: Jofra Archer (England) – 7.1
Inns: 5 // Wkts: 7 // ER: 7.8 // BBI: 4/33
The best pacer of the series, Jofra Archer bowled 2 match-winning spells that were simply outstanding. His raw pace plus variations complemented the pitch quite well. He took 7 wickets, which came in just 2 innings, and his other three spells yielded 0 wickets. Had Archer continued to take wickets in all the matches, England could have ended on the winning side. 
#10: Washington Sundar (India) – 5
Inns: 5 // Wkts: 4 // ER: 8.9 // BBI: 2/29
The most controversial selection of the lot as there was no other option to choose from. He is the only spinner in the squad, and he had to be included being the best spinner in the series. If we had to pick an all-pace attack, then Bhuvneshwar Kumar would have made the cut. Overall, Sundar did decent with 4 wickets from 5 innings with the best spell of 2/29. 
#11: Mark Wood (England) – 7.1
Inns: 4 // Wkts: 5 // ER: 8.1 // BBI: 3/31
Raw pace with superb length, the main highlight of Mark wood's performance in the T20I series. He used the pitch perfectly to his advantage, and that paid off 3 out of 4 times. The only time he struggled was in the high-scoring finale. Nevertheless, 5 wickets from 4 innings at an economy rate of 8.1 is a good effort from Wood. 
So, that completes the combined best 11 of the India vs England 2021 T20I Series. Apart from the ones mentioned above, Bhuvneshwar Kumar gets a rating of 5.4, Dawid Malan gets 5.5, Rohit Sharma gets 5.4, Adil Rashid gets 4.1, Rishabh Pant gets 4.4, Jonny Bairstow gets 4.9, and Chris Jordan gets 3.6. 
India vs England 2021 – Combined Best 11 of the T20I series: 
Jason Roy, Jos Buttler (WK), Suryakumar Yadav, Virat Kohli (C), Shreyas Iyer, Ben Stokes, Hardik Pandya, Shardul Thakur, Jofra Archer, Washington Sundar, Mark Wood. 
Thanks for reading! What's your combined best 11 of the India vs England 2021 T20I  series? Please email your comments to business@cricalytics.com
---
ALSO READ: India vs England 2021: BCCI announces the official ODI Squad
---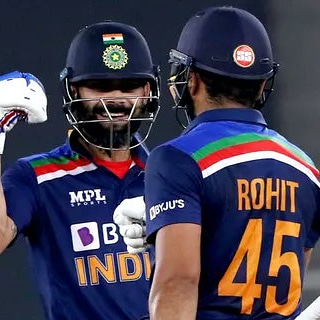 Adesh Kothari is the founder of AK4Tsay1 Cricalytics.
Cricket to him is like what 'Football is to Lionel Messi', 'Singing is to Lata Mangeshkar', 'Dancing is to Michael Jackson', and what 'Acting is to Clint Eastwood'.
Besides his effervescent love for Cricket, Adesh is an MBA by qualification.