India vs WI 2019: T20I Series Player Ratings (Report Card)
Virat Kohli, the best player of the series in our player performance report card for the 2019 India vs WI T20I series.
In what can possibly be called a nightmare series for the bowlers, West Indies and India entertained their fans to the core with some breathtaking batting performances throughout the series.
Ultimately, after being 1-1 in the series, India came out with flying colors in the final decider T20I as they defeated West Indies by 67 runs to claim the series 2-1 in what is yet another successful series win for Team India. 
In the batting department, India saw an animated and aggressive Virat Kohli, who played some spellbinding knocks. West Indies's Captain, Kieron Pollard was equally brilliant with the bat, though he couldn't help West Indies cross the line.
Apart from these two, KL Rahul, Rohit Sharma, and Shimron Hetmyer shined with the bat in the series. However, none of the bowling performances stood out in the series, and that should be a thing to worry about for the game lovers.
So, analyzing the overall performance, what ratings do the players get? Let's have look at our India vs WI T20I series player performance report Card. 
---
METHODOLOGY:
Batting: As always, we have analyzed the batting performances basis the batting rating calculated from the overall aspect of the game such as runs scored, consistency, relative % of team runs, and the number of match-winning and good knocks. 
Bowling: We have analyzed the bowling performances basis the bowling rating calculated from the overall aspect of the game such as wickets taken, consistency,  relative % of team wickets, and the number of match-winning and good spells. 
Right then, let's look at the performance of the top players during the 2019 India vs WI T20I series.
*Please note: The player who has played at least 2 innings is considered for the evaluation.
---
BATSMEN: 
#5: Shimron Hetmyer
Inns: 3 | Runs: 120 | Avg: 40 | SR: 151.9
Rating: 6.7
Probably the best batsman of series for West Indies, Shimron Hetmyer got starts in all the three innings he played. He scored a fantastic fifty in the first match, and looked threatening in the third T20I before throwing his wicket away. He is the third-highest run-getter in the series with 120 runs from 3 innings. Thus, Hetmyer gets a rating of 6.7 for his performance. 
#4: Evin Lewis
Inns: 2 | Runs: 80 | Avg: 40 | SR: 153.8
Rating: 7.3
Evin Lewis was quite unfortunate to have missed playing on the hottest batting track of the series in Mumbai. However, in the other two matches Lewis played, he played one attacking knock in the first T20I, and another decent one in the second T20I. For scoring 80 runs from 2 innings, Evin Lewis gets a rating of 7.3 for his performance.
#3: Kieron Pollard
Inns: 2 | Runs: 105 | Avg: 52.5 | SR: 181
Rating: 8.9
Kieron Pollard played only two innings, but had grit and maturity in both the innings. He scored a fantastic 37(19) in the first T20I to help his side cross 200, and then looked absolute dangerous to almost pull-off an incredible win in his 68(39) in the third T20I. Nevertheless, for scoring 105 runs at an average of 52.5 and a strike rate of 181, Pollard gets a rating of 8.9 for his performance. 
#2: KL Rahul
Inns: 3 | Runs: 164 | Avg: 54.7 | SR: 153.3
Rating: 9
In the absence of Team India's regular limited-overs opener, Shikhar Dhawan, KL Rahul did a fantastic job in the series. Similar to Virat Kohli, he played two match-winning knocks, even though Virat Kohli's blazing knocks overpowered him.
KL Rahul scored a total of 164 runs from 3 innings at a strike rate of 153.3 with just 1 failure in the second T20I. He still gets a rating of 9 for his performance. 
#1: Virat Kohli
Inns: 3 | Runs: 183 | Avg: 183 | SR: 190.6
Rating: 10
If there was one word to define Virat Kohli's performance in the series, it would be 'Extraterrestrial'. Virat started the series with an inhumane effort of 94*(50) in the chase, and then played an absolute carnage knock in the last T20I in his 70*(29).
He looked a different Virat Kohli altogether while batting. He didn't try to smash every ball out of the park, but it was all about pure timing and class. Overall, Virat scored a total of 183 runs at an amazing strike rate of 190.6. Thus, Kohli gets a rating of a perfect 10 for his performance.  
Apart from these five, Rohit Sharma gets 4.9, Rishabh Pant gets 2.7, and Lendl Simmons gets 4.4.
BOWLERS: 
To be honest, it would be better if we don't cover the bowling performance report card as none of the bowlers gave a performance that could help them get a good rating. 
Still, based on the analysis we came up with, the top bowlers of the series, and their rating are as follows. 
Sheldon Cottrell | 6.2

Washington Sundar | 5.2

Hayden Walsh | 5.1

Bhuvneshwar Kumar | 4.7

Ravindra Jadeja | 4.6

Kesrick Williams | 4.2

Deepak Chahar | 3.6
Thanks for reading! We hope you liked India vs WI T20I series player performance report card. Kindly let us know your thoughts in the comments down below.
---
ALSO READ: IPL 2020: The Most Expensive XI of the Tournament (Costs More than 1 Billion)
---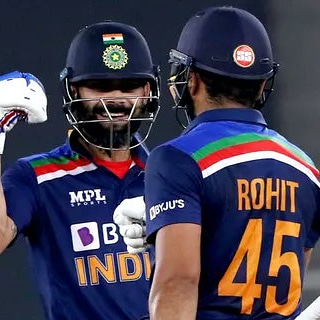 Adesh Kothari is the founder of AK4Tsay1 Cricalytics.
Cricket to him is like what 'Football is to Lionel Messi', 'Singing is to Lata Mangeshkar', 'Dancing is to Michael Jackson', and what 'Acting is to Clint Eastwood'.
Besides his effervescent love for Cricket, Adesh is an MBA by qualification.