IPL 2020: Mid-season Best performing 11 of the Tournament
Virat Kohli to Captain, while KL Rahul and Mayank Agarwal to open as we look at the mid-season best performing 11 for IPL 2020 UAE. 
We are at the halfway stage of IPL 2020, and how surprising, competitive and unique tournament this has been so far. Why surprising? It is because of the baffling team selections and shocking batting-order. Why competitive? Because, every team has given good performances except for the few surprising decisions, which affected the end result. 
But, why unique? Because of the emergence of the youth of Indian players. There have been so many star youth players who have come to the party, and taken the responsibility. The list includes Devdutt Padikkal, Priyam Garg, Shubman Gill, Prithvi Shaw, Rahul Tewatia, Ravi Bishnoi, Kartik Tyagi, Kamlesh Nagarkoti, and so on. 
Nevertheless, how interesting would it be to select the mid-season best performing 11 from IPL 2020? So, without wasting much time, let's straight jump into the discussion.
Methodology:
As usual, we have removed any biases or perception while selecting the best performing 11. Our robust methodology gives precedence to 'Performance Rating' to select players in the playing 11. Moreover, players have been selected basis their performance for the first 7 matches only, and the combination is decided basis the 4 overseas players rule.
Openers: 
Mayank Agarwal (KXIP)
Inns: 7 || Runs: 337 || Avg: 48.1 || SR: 158.9 || Rating: 7.8
KL Rahul (KXIP)
Inns: 7 || Runs: 387 || Avg: 64.5 || SR: 134.8 || Rating: 8.4
Probably the easiest of the lot as Mayank Agarwal and KL Rahul ruled the opening department in the 7 matches so far. Even though their team, Kings XI Punjab is dwindling at the bottom of the table, it takes nothing away from how awesome these two have been together.
While Mayank has played an aggressive brand of Cricket, KL Rahul has been rather watchful. This looks like an ideal combo, and definitely, they have lived up to the expectations. The only thing they could improve could be guiding their team to victory, which they have failed on multiple occasions. Even then, with over 650 runs, they have been stunning as openers.
Middle-order: 
A tough one to select as there were good options to chose from, but ultimately our methodology helped, and the overseas player combination was given preference to select the middle-order.
Virat Kohli  (RCB)
Inns: 7 || Runs: 256 || Avg: 64 || SR: 127.4 || Rating: 5.7
If you ignore the overseas players rule, Faf du Plessis should get selected above Virat Kohli given how consistent the former has been. However, the overseas players' restrictions meant the next best, Virat Kohli gets the preference. Kohli started poorly scoring just 18 runs from 3 matches, but the next 4 matches he made consistent scores including the match-winning 89 against the CSK.
Suryakumar Yadav (MI)
Inns: 7 || Runs: 233 || Avg: 38.8 || SR: 155.3 || Rating: 5.9
Suryakumar Yadav could well be the underrated player of this year's IPL. He has scored played a few cameos along with a couple of match-winning knocks to his name. Often we have seen MI losing one of the openers early, and then SKY bringing his experience to guide his name. That's the differentiation he has brought to the table.
AB de Villiers (RCB)
Inns: 7 || Runs: 228 || Avg: 57 || SR: 185.2 || Rating: 7.4
Mr. 360, AB de Villiers has had a satisfactory performance in this year's IPL so far. He has 3 fifties to his name from 7 innings so far, and all those fifties have come in winning case. He has looked at the sublime best in all those knocks scoring with a strike rate of almost 200. Overall, ABD has scored around 228 runs so far with a strike rate of 185.2. 
All-rounders:
This was probably the toughest choice to make. There were plenty of good options in the all-rounders category, and ultimately it boiled down to the combination and effectiveness as a finisher to select the 2 all-rounders.
Kieron Pollard (MI)
Inns: 6 || Runs: 174 || SR: 189.1 || Wkts: 2
The best ones to compete in this category include Marcus Stoinis, Sam Curran, Rahul Tewatia, Washington Sundar, and Kieron Pollard. Seeing the batting all-rounder, we had to select only one of Kieron Pollard or Marcus Stoinis. Both were excellent, and created a great impact for their individual teams, but with Hardik misfiring, Kieron Pollard added a lot of value to MI's lower-order. Moreover, he has been dismissed only once so far, and has an average of 174 with a strike rate of 189. 
Rahul Tewatia (RR)
Inns: 7 || Runs: 189 || SR: 152.4 || Wkts: 5 || ER: 7.9 
If not for the 4 overseas rule, Pollard and Sam Curran would have been a perfect all-rounder set, but given the restrictions, the finisher, Rahul Tewatia gets an edge above Sam Curran and Washington Sundar. Tewatia has been the king of Sharjah having played two stunning knocks, and bowled two tight spells. Overall, he has scored 189 runs at a strike rate of 152.4, and has 5 wickets to his name. 
Bowlers:
Picking the 4 core bowlers isn't an easy task, and the same is the case here. If we look at the performance overall, Kagiso Rabada and Rashid Khan stand-out as the two best bowlers so far in the tournament. What that does is, it takes away the pending 2 overseas slots.
So, even though Jofra Archer deserves the third pacer slot, we have to the settle with the next best, Mohammed Shami along with deserving Jasprit Bumrah. Yuzvendra Chahal or Axar Patel for Shami would have been excellent, but a need for a third pacer takes away that opportunity.
Rashid Khan (SRH)
Inns: 7 || Wkts: 10 || Avg: 14.1 || ER: 5.1 || Rating: 9.3
Probably the best spinner in the competition so far. The Magician from Afghanistan has taken 10 wickets from 7 innings at an average of 14.1, and an economy rate of just 5.1; the third-best among bowlers with 5 wickets or more. Moreover, he has a consistency of 100% to go with. 
Kagiso Rabada (DC)
Inns: 7 || Wkts: 17 || Avg: 12.5 || ER: 7.7 || Rating: 9.5
The best pacer in the competition without any doubt. The fiery pacer from South Africa has been right on the money since the match 1 of IPL 2020. He hasn't gone wicketless as yet, and has been a go-to bowler for Shreyas Iyer in all situations of the match; be it Powerplay, middle-overs or death overs.
Mohammed Shami (KXIP)
Inns: 7 || Wkts: 10 || Avg: 22.3 || ER: 8.4 || Rating: 5.6
The powerplay bowler of the season, Mohammed Shami used the swing assistance from the pitch to his advantage. Even though he doesn't match the performance of Rabada or Bumrah, his 10 wickets from 7 matches at an economy rate of 8.4 for a predominate powerplay bowler isn't bad. Moreover, him alongside KL Rahul and Mayank Agarwal have been the stand-out performers for the team. 
Jasprit Bumrah (MI)
Inns: 7 || Wkts: 11 || Avg: 20.2 || ER: 7.9 || Rating: 6.8
 Probably the best Indian pacer in the Tournament so far, Jasprit Bumrah has once again made a niche for himself in the star-studded bowling line-up comprising of Trent Boult and James Pattinson. He is the joint second-highest wicket-taker currently with 11 wickets. Even though he hasn't looked his best yet, the performance has only improved over the course of time. 
So, that completes the mid-season best performing 11 for IPL 2020.
IPL 2020 Mid-season Best performing 11:
Mayank Agarwal, KL Rahul (WK), Virat Kohli (C), Surya K Yadav, AB de Villiers, Kieron Pollard, Rahul Tewatia, Rashid Khan, Kagiso Rabada, Mohammed Shami, and Jasprit Bumrah.
IPL 2020 Mid-season Best performing 11 Without Restrictions:
Mayank Agarwal, KL Rahul (WK), Faf du Plessis, Surya K Yadav, AB de Villiers, Kieron Pollard, Sam Curran, Rashid Khan, Kagiso Rabada, Jofra Archer, and Jasprit Bumrah.
Thanks for reading! Do you think we got the playing 11 right, or you foresee any replacements? Please, let us know in the comments.
---
ALSO READ: IPL 2020 Exclusive: Player Performance Report Card for the First Half
---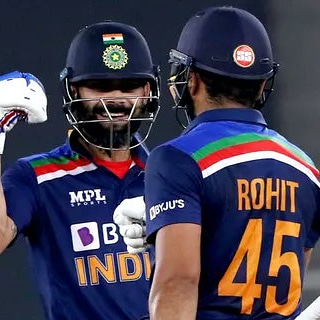 Adesh Kothari is the founder of AK4Tsay1 Cricalytics.
Cricket to him is like what 'Football is to Lionel Messi', 'Singing is to Lata Mangeshkar', 'Dancing is to Michael Jackson', and what 'Acting is to Clint Eastwood'.
Besides his effervescent love for Cricket, Adesh is an MBA by qualification.