IPL 2021 Exclusive: Predicted Top 4 Teams for Playoffs – CSK as Toppers
IPL 2021: CSK qualified whereas SRH eliminated as we look at the predicted final 4 qualifying teams for playoffs.
It is getting closer and closer day by day as were are just 11 matches away from the Playoffs of IPL 2021. As of October 2, Chennai Super Kings and Delhi Capitals remain the only two teams to have qualified for the Playoffs. Whereas Sunrisers Hyderabad are the only team to have been eliminated.
But the competition for the remaining two spots is very much open, and 5 teams are competing for the final 2 spots. It seems as if it will go down the wire until the last day where we would see the confirmation for the final 4 teams for the Playoffs. 
So, looking at the current points table, the nature of the pitches, the current form of Teams, and the pending matches, which 4 teams have the best bet to qualify for the Playoffs? Well, let's find out in this article as we look at the predicted final 4 qualifying teams for the Playoffs of IPL 2021.
#8: Sunrisers Hyderabad
Current: M: 11 // P: 4 // NRR: -0.490
Next matches: KKR, RCB, and MI
Quite an unfortunate end to SRH's 2021 journey as they became the first team to get eliminated from the tournament. Since 2016, SRH played all the Playoffs, and were the most consistent team until 2020. They can now only look to play for pride and try out different playing combinations for next year's Auction.
Looking at their pending matches, there are high chances of them being the party spoilers. They will be playing against KKR, RCB, and MI, and any win from here will make the qualification chances difficult for the other teams. Given the current form, SRH have a good chance against RCB as they almost won in the first half too.
Predicted Points: 6 // NRR: -0.521
#7: Rajasthan Royals
M: 11 // P: 8 // NRR: -0.468
Next matches: CSK, MI, and KKR
Rajasthan Royals started their UAE league with a brilliant win over PBKS, but 3 successive losses have almost dented their Playoffs chances. They now have 8 points from 11 games, and even if they win all 3, which looks difficult, it would only take them to 14. Seeing their matches, they may not win against CSK, but can make a comeback against MI and KKR, which will make the tournament interesting. 
Predicted Points: 12 // NRR: -0.394
#6: Punjab Kings 
M: 12 // P: 10 // NRR: – 0.236
Next matches: RCB and CSK
A win against KKR keeps Punjab Kings' Playoffs hopes alive, but there's still a lot of work yet to be done. They now have 10 points from 12 games, but it's a do or die in all the matches from now for PBKS. CSK will be their biggest match, and winning against them seems difficult. However, they can fancy their chances against RCB by looking at the history. 
Predicted Points: 12 // NRR: -0.214
#5: Kolkata Knight Riders
M: 12 // P: 10 // NRR: +0.302
Next matches: SRH and RR
If KKR don't qualify from here, it would be the most unfortunate instance in IPL 2021. The team was rising in confidence in the UAE leg with two successive wins, but the loss against PBKS hurt them the most. They currently have 10 points from 12 games with a positive NRR of +0.302. But the road ahead seems difficult for KKR. 
KKR play SRH and RR in their remaining two matches. While the match against SRH could be an easy affair, and expect them to win there, the match against RR could well be a knockout match for both teams. They had lost their first match against RR, and history may find itself repeating in the second match too. 
Predicted Points: 12 // NRR: +0.115
#4: Mumbai Indians
M: 11 // P: 10 // NRR: – 0.453
Next matches: DC, RR, and SRH 
Never did I imagine that the pre-tournament strongest team of the competition, Mumbai Indians could actually find themselves struggling to qualify for the Playoffs. They have 10 points from 11 games with a negative NRR of -0.453, but the most important match is against Delhi Capitals.
If MI lose the match against the Capitals, they can consider it to be the end of their tournament, but expect them to bounce back against Capitals. The match against RR could be tricky, but their qualification could go on the last day, and expect Mumbai Indians qualify for the Playoffs with last-day heroics.  
Predicted Points: 14 // NRR: -0.145
#3: Royal Challengers Bangalore:
M: 11 // P: 14 // NRR: – 0.200
Next matches: PBKS, SRH, and DC
Royal Challengers Bangalore started their UAE leg with back-to-back losses, but an inspirational Virat Kohli led them to back-to-back wins. With 14 points from 11 games with a -ve NRR of – 0.2, RCB are almost at the doors of the Playoffs. A win from here is what they need to qualify for the Playoffs. 
Seeing the pending matches for RCB, expect PBKS and SRH to give tough competition to RCB. This could mean, RCB's qualification could go on the last day against Delhi Capitals. It could be a must-win scenario for RCB, but expect a Maxwell or ABD show to guide RCB into the Playoffs at 16 points. 
Predicted Points: 16 // NRR: -0.215
#2: Delhi Capitals
M: 11 // P: 16 // NRR: +0.562
Next matches: MI, CSK, and RCB
After KKR's loss against PBKS, Delhi Capitals became the second team to qualify for the Play-offs. They now have 16 points from 11 games with a positive NRR of +0.562. However, Delhi Capitals can't breathe easy as all their remaining matches are important as a place in the top 2 spots is at stake. 
The match against Mumbai could be an interesting one. MI are in desperate need of a win, and will come all guns firing at DC. The CSK match will their biggest battle, but to keep the tournament open, Delhi Capitals can confirm their top 2 spot with a win against Chennai. The final match against RCB will again see RCB with all guns firing. Expect DC to win against CSK, and lose against MI and RCB. 
Predicted Points: 18 // NRR: +0.465
#1: Chennai Super Kings:
M: 11 // P: 18 // NRR: +1.002
Next matches: RR, DC, and PBKS 
With a win against SRH, CSK confirmed their Playoffs spot with a bang. They now have 18 points from 11 games with a brilliant NRR of +1.002. Even as CSK have qualified for the Playoffs, they can't breathe easy yet as they shall be eyeing the crucial top 2 spots. Seeing the final 3 matches for CSK, the one against Delhi Capitals could be a difficult one, but expect them to win against RR and CSK. This should take CSK to 22 points, the most in the competition. 
Predicted Points: 22 // NRR: +0.879
Conclusion: 
As seen from history, the Playoffs qualification is expected to go on the last day with Mumbai Indians and RCB fighting for their survival and Delhi Capitals fighting for the top 2 spots. Expect CSK to finish at the top of the table followed by the Delhi Capitals. RCB and MI are the other two teams well placed to qualify for the Playoffs. 
Thanks for reading! Looking at the predicted scenarios, which 4 teams do you think would qualify for the playoffs for IPL 2021? Please email your comments to business@cricalytics.com
---
READ MORE: Team India Official Squad for T20 World Cup 2021 – MS Dhoni as Mentor
---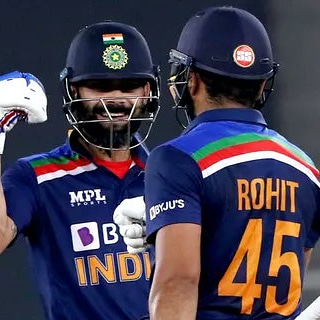 Adesh Kothari is the founder of AK4Tsay1 Cricalytics.
Cricket to him is like what 'Football is to Lionel Messi', 'Singing is to Lata Mangeshkar', 'Dancing is to Michael Jackson', and what 'Acting is to Clint Eastwood'.
Besides his effervescent love for Cricket, Adesh is an MBA by qualification.