IPL 2021: What's an Ideal Playing XI for depleted Sunrisers Hyderabad?
Getting the batting line-up right, the focus as we look at the ideal playing 11 of Sunrisers Hyderabad (SRH) for IPL 2021.
The Sunrisers Hyderabad are off to a dreadful start in IPL 2021. Three matches into the tournament, and they have lost all three so far. Not that this is quite surprising as SRH have mostly been slow starters with first-half mostly going into identifying the right batting line-up. The IPL 2021 hasn't been any different as they are yet to identify a winning combination. 
If we analyze the squad for Sunrisers Hyderabad, they have a Well-balanced squad. Bowling is their strength, and they are doing great in that department. However, and I say this in capitals, SRH just aren't sure of which batsmen to play and what batting-order to apply. 
This has majorly happened in the last two years, and it is happening again in 2021. So, while the team finds the right combination or playing 11, let's quickly look at the options, and identify the ideal playing 11 for Sunrisers Hyderabad (SRH) for IPL 2021. Before that, let's quickly skim through their latest squad. 
Sunrisers Hyderabad's Latest Squad for IPL 2021: 
Batsmen:  David Warner (C), Jason Roy, Jonny Bairstow (WK), Kane Williamson, Kedar Jadhav, Manish Pandey, Priyam Garg, Sreevats Goswami (WK), Virat Singh & Wriddhiman Saha (WK)

All-rounders: Abdul Samad, Abhishek Sharma, Jason Holder, Mohammad Nabi & Vijay Shankar
Bowlers: Basil Thampi, Bhuvneshwar Kumar, Jagadeesha Suchith, Khaleel Ahmed, Mujeeb Zadran, Rashid Khan, Sandeep Sharma, Shahbaz Nadeem, Siddharth Kaul & T Natarajan
Openers:

David Warner and Jonny Bairstow
David Warner and Jonny Bairstow have been such a wonderful opening pair for Sunrisers Hyderabad since 2019. But, SRH seems to have lost the patience and plot after a few failures from Bairstow in 2020. That changed the batting-order complexion completely, and it led to SRH looking for a new opening pair.
The last match against MI saw the pair open after a long time, and it clearly showed the effectiveness. Bairstow being the aggressor and Warner being the Anchor works really well for SRH. They should persist this combination going forward as it clearly leaves a positive impact on the team's start.
Middle-order:

Vijay Shankar,  Kane Williamson & Manish Pandey
Let's get this straight. The batting-order of SRH against Mumbai Indians was a horror. Manish Pandey batted at 3, and there was no good batsman after him to guide the team. Hence, Manish Pandey should play at 5, the role which he has done so well for Team India over the years. He is better suited as a Finisher in the team; the role which Abd is playing for RCB. 
SRH are already missing their best middle-order batsman, Kane Williamson. The lad is one of the best in the business, and clearly, his match fitness is affecting the team combination. If fit, Kane Williamson should be back in the squad at 4 or maybe at 3. He is one of the most dependable middle-order batsmen, and SRH need him badly.
This leaves with 1 batting position at 3 or 4. Looking at the options SRH have, they should look at playing the Anchor of Vijay Shankar for that role. Shankar isn't the finisher, and SRH should realize this. If they play Shankar, they should Play him early on in the innings. Hence number 3 is the best position for Shankar where he can play freely.
All-rounders:

Kedar Jadhav, Vijay Shankar & Abdul Samad
Sunrisers Hyderabad are missing a sensible batsman for the finishers category, and Kedar Jadhav can be that perfect batsman. He has done that in the past for Team India, and has also been in good form off late in domestic matches. With him batting at 6, SRH can be averse to any batting collapse.
If quick runs are needed, Samad can always play above Kedar. The two can complement each other with one being an aggressor and the other being an innings guider. Moreover, both are handy bowlers, and these two combined with Shankar can easily complete the 4 overs quota. KJ and Samad are good spinners, and if the pitch assists spin, they can bowl 2-3 overs, or even 4, if required. 
Bowlers: 

Rashid Khan, Bhuvneshwar Kumar, Sandeep Sharma & T Natarajan. 
Sunrisers Hyderabad have probably the second-best bowling attack in the competition, and they don't need to do any changes in the bowling attack. The combination of Rashid, Bhuvi, Sandeep, and Natarajan should be persisted. It wasn't ideal of SRH to remove Sandeep after 1 bad match, and Natarajan after 2 matches. 
Natarajan and Sandeep were excellent for Punjab in 2020, and should be shown more faith similar to what Bhuvi has been shown, who himself has performed poorly in all three matches so far. I understand Khaleel did well in the third match, but Natarajan should be back for him, and if the pitch assists spin, the team can fall back to Shahbaz Nadeem or Abhishek Sharma as the second spinner. 
Ideal Playing 11 for Sunrisers Hyderabad (SRH) for IPL 2021:
David Warner (C), Jonny Bairstow (WK), Vijay Shankar,  Kane Williamson, Manish Pandey, Kedar Jadhav, Abdul Samad, Rashid Khan, Bhuvneshwar Kumar, Sandeep Sharma /Khaleel Ahmed / Shahbaz Nadeem & T Natarajan. 
So, that completes the ideal playing 11 for Sunrisers Hyderabad for IPL 2021. The team needs more stability in the middle-order, and that can be achieved by bringing in Kane Williamson and Kedar Jadhav in the squad, and playing Manish Pandey at 5 as a finisher. The team needs more stability in the batting department as bowling can take care of itself. 
Thanks for reading! What's your ideal playing 11 for SRH for IPL 2021? Please email your thoughts to business@cricalytics.com
---
ALSO READ: IPL 2021: The Best Performing Playing 11 from Week 1 by Cricalytics
---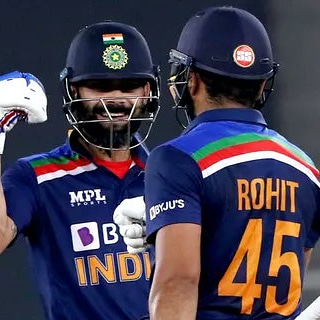 Adesh Kothari is the founder of AK4Tsay1 Cricalytics.
Cricket to him is like what 'Football is to Lionel Messi', 'Singing is to Lata Mangeshkar', 'Dancing is to Michael Jackson', and what 'Acting is to Clint Eastwood'.
Besides his effervescent love for Cricket, Adesh is an MBA by qualification.