IPL 2022 Exclusive: Flop 11 of the Season – Rohit Sharma as Captain
Rohit Sharma to lead while Matthew Wade to keep as we look at the flop team of 11 of the season for IPL 2022.
It's been more than 2 days since the prestigious IPL 2022 got over, but the vibes that the tournament left are still fresh. It was a tournament of many news. A new team, Gujarat Titans won the trophy for the first time since 2016. Many new uncapped players left a strong impression on everybody's mind, and some new amazing records stood apart. 
While we have seen many new things to admire, one thing that the fans and players would like to forget soon is the under-par performance of some of the core and experienced players. Not many, but there were a good number of players who just couldn't perform to full potential, which left the fams fuming. Not that these are bad players, but their performance has been way below par as compared to their potential.
So, in this article, we take a look at 11 such players who would form a part of the flop playing 11 of IPL 2022. Being a cric8 fanatic, I respect all these players deeply, and this article in no way demeans their achievements.  As usual, to leave out any biases or perceptions, we would use our tried and tested methodology to arrive at the ratings and select the final 11.
Stats Wizard Methodology:
Batting: We have analyzed the batting performances basis the batting rating calculated from the overall aspect of the game such as runs scored, consistency, the number of match-winning & good knocks, acceleration bonus, and power-hitting bonus. 
Bowling: We have analyzed the bowling performances basis the bowling rating calculated from the overall aspect of the game such as wickets taken, consistency, the number of match-winning and good spells, number of maidens bowled, and economy rate bonus.
Overall, the team of flop playing 11 for IPL 2022 is selected basis the performance rating for players that played at least 7 matches. Also, the team combination of a maximum of 4 overseas, 2 openers, 3-4 middle-order players, 1-2 all-rounders, 2-3 pacers, and a minimum of 1 spinner.
#1: Rohit Sharma (RR) – 3.5
Inns: 14 // Runs: 268 // Avg: 19.1 // SR: 120.2 
When Rohit Sharma was handed the full-time captaincy in all three formats for Team India, it was expected Rohit would continue his dream run as a captain and batter in IPL 2022 as well. But to our horrific surprise, not just his batting but his captaincy was also taken a hit. In batting, he registered just 268 runs, which is his lowest in the history of IPL and his uninspiring captaincy led to Mumbai Indians finishing last. 
#2: Mayank Agarwal (PBKS) – 2.7
Inns: 12 // Runs: 196 // Avg: 16.3 // SR: 122.5 
Another captain opener, and this time it is the PBKS captain, Mayank Agarwal. Not that Mayank is a bad batter, but captaincy pressure took a lot of toll on him as he finished with just 196 runs from 12 innings. Being a team man, he did try to accommodate Jonny Bairstow at the top, but him playing in the middle-order didn't help either. Overall, he could only play 1 match-winning knock, and the rest all were failures with a consistency of 15.4%. 
#3: Kane Williamson (SRH) – 3.5
Inns: 13 // Runs: 216 // Avg: 19.6 // SR: 93.5
This is one name which is on the list only because of his stubbornness. Except for the last match, Kane Williamson was adamant to open in the first 12 innings. Overall, except for 1 match-winning knock, Kane failed innings after innings. The result was an aggregate of just 216 runs from 13 innings at a horrible strike rate of 93.5. When Kane realized he was better off in the middle order, it was too late. 
#4: Matthew Wade (GT) – 2.9
Inns: 10 // Runs: 157 // Avg: 15.7 // SR: 113.8
The curious case of Matthew Wade is difficult to understand. He never looked comfortable in the middle, but Gujarat Titans kept playing him match after match – of course not that GT had many options on the table. Not only did Wade score fewer runs, but his strike rate of 113.8 was also a major problem. Also, he couldn't register a single fifty in the competition, which shows his incompetency as a batter. 
#5: Riyan Parag (RR) – 2.2
Inns: 14 // Runs: 183 // Avg: 16.6 // SR: 138.6
Style, Attitude, and Aggression on the field are all for good self-motivation, but if they don't translate into performance, it's of no use. There is no doubt that Riyan Parag is one of the best fielders going around, but his batting has been a big letdown. If you play for 14 innings, and score just 183 runs, there is a huge huge problem. This is when he is striking at just 138 being a finisher. Except for that 1 match-winning knock, Parag's consistency of 7.1% is the worst among all top 7 batters.  
#6: Kieron Pollard (MI) – 2.9
Inns: 11 // Runs: 144 // Wkts: 4 // SR: 107.5
If Rohit had a poor season at the top, another retained player Kieron Pollard was not far either. Can you imagine a player of Pollard's calibre having a strike rate of just 107? This is when he is playing a role of a finisher. When Mumbai Indians realized and dropped him, it was probably too late for them. His highest score of 25 is another testimony of how bad he has been. 
#7: Ravindra Jadeja (CSK) – 3.4
Inns: 10 // Runs: 116 // Wkts: 5 // SR: 118. 4
Okay, this is one name I wish I hadn't included or never wished to see. Probably the best all-rounder before the season began, captaincy took a huge toll on Jadeja's performance. Be it batting, bowling, or fielding, Jadeja was equally bad everywhere. He dropped sitters which were never unheard of before this season. Overall, Jadeja could only score 116 runs and take just 5 wickets. 
#8: Washington Sundar (SRH) – 2.9
Inns: 9 // Runs: 101 // Wkts: 6 // ER: 8.5
Washington Sundar may be the only name that could be debatable as he didn't play enough matches, but in whatever matches he played, he wasn't so good. Primarily a bowling all-rounder, Sundar could only manage 6 wickets from the 9 matches he played. This is at an average of 40 and an economy rate of 8.5. In addition, he could only manage 101 runs at an average of 14.
#9: Dushmantha Chameera (LSG) – 4.1
Inns: 12 // Wkts: 9 // Avg: 42.7 // ER: 8.7
Dushmantha Chameera played a good 12 matches in the tournament, but was far from effective. He came in and bowled with pace, but in the process kept bowling off length deliveries that not only gave fewer wickets but also increased his economy rate to 8.7. Overall, in this playing 11, he has the best rating of 4.1, which is the only positive sign. 
#10: Varun Chakravarthy (KKR) – 2.6
Inns: 11 // Wkts: 6 // Avg: 55.3 // ER: 8.5
After two successful stints in 2020 and 2021 at KKR, Varun Chakravarthy has seen the worst of his IPL career. Having been retained by KKR, a lot was expected from Varun. But nothing seems to have worked for Varun, who could only manage 6 wickets overall, and was also dropped on a few occasions. His consistency stood at just 27%, average at a horrid 55.3, and not once did he take more than 1 wicket. 
#11: Mohammed Siraj (RCB) – 2.8
Inns: 15 // Wkts: 9 // Avg: 57.1 // ER: 10.1
Just like Varun Chakravarthy, Mohammed had a season to forget. He had two superb years in 2020 and 2021, and was retained on the basis of that. But the year 2022 took a complete U-Turn where he could only manage 9 wickets from 15 matches at a consistency of 22.7%, average of 57.1 and an economy rate of 10.1. Hopefully, Siraj makes a strong comeback in 2023 as he is a quality bowler.  
IPL 2022 – Flop 11 of the Season: 
Rohit Sharma (C), Mayank Agarwal, Kane Williamson, Matthew Wade (WK), Riyan Parag, Kieron Pollard, Ravindra Jadeja, Washington Sundar, Dushmantha Chameera, Mohammed Siraj, Varun Chakravarthy
So, that completes the flop team of 11 for IPL 2022. Hopefully, we see these superstars recover from this, and make a strong comeback in 2023. 
Thanks for reading! What's your flop 11 for IPL 2022? Please email your comments to business@cricalytics.com
---
ALSO READ: IPL 2022 Dream Team of the Tournament – Hardik to Captain
---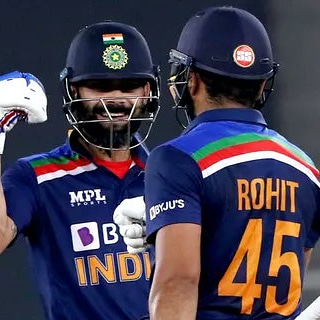 Adesh Kothari is the founder of AK4Tsay1 Cricalytics.
Cricket to him is like what 'Football is to Lionel Messi', 'Singing is to Lata Mangeshkar', 'Dancing is to Michael Jackson', and what 'Acting is to Clint Eastwood'.
Besides his effervescent love for Cricket, Adesh is an MBA by qualification.