Exclusive: Ranji Trophy 2018-19 Team of the Tournament
Wasim Jaffer, Jaydev Unadkat, Rinku Singh included as Faiz Fazal to lead the team of the tournament for Ranji Trophy 2018-19
Ranji Trophy, the domestic first-class tournament played in India finished yet another engaging season. With nine new teams added to the 2018-19 season, we witnessed some fresh talents making their mark in the tournament.
Given the kind of performances we witnessed, it was always going to be a mammoth task if we had to pick the team of the tournament. To be honest, the selection cannot be just about numbers as we need to keep in mind the quality of the opponents, consistent vital contributions, number of matches played, overall performance, etc.
Hence, as a thumb rule, players playing less than six matches are not considered for the team of the tournament. So, please bear with us if any of your favorite players is not considered for the eleven. Considering the overall performances, our final eleven consists of five batsmen, one keeper, one all-rounder, and four bowlers.
Alright then, let's have a look at the team of the tournament for Ranji Trophy 2018-19.
OPENERS
1. Abhimanyu Easwaran (Bengal):
Runs: 861 || Inns: 11 || Avg: 95.66
Considering that Bengal did not have such a good season, Abhimanyu Easwaran deserves a lot of praise for the performance he displayed single-handedly.
The 23-year-old scored a total of 861 runs from 11 Innings at an amazing average of 95.66. His match-saving 201 in the second innings against Punjab was one of the grittiest knocks of the season.  
What was also impressive was his consistency in scoring big scores as he smashed a total of three centuries and three fifties. If ever consistency was a criterion for selection, Easwaran would tick that box without any second thoughts.
2. Faiz Fazal (Vidharba)
Runs: 752 || Inns: 16 || Avg: 50.13
Numbers do not define the importance of Faiz Fazal in the side. Captaining his side to yet another championship with hardly a few big names in the squad speaks for itself.
Moreover, opening the batting, playing mostly in bowler-friendly conditions and scoring 752 runs at an average of 50.13 looks impressive.
While these two are our openers, there were other good performances too to take note of.  
Priyank Panchal (Gujarat)
Priyank Panchal did everything possible for Gujarat this season. 898 Runs from 17 Innings at an average of 59.86 are amazing numbers. 
His 141 against mighty Maharashtra during a crunch game is one of the key highlights of the season. If not Faiz, Panchal would have been our second opener.
Harvik Desai (Saurashtra):
Leading his side to the final, and scoring 781 runs from 21 innings at an average of 37.19 sounds good for an opener.
However, an average of 37 doesn't do good for an opener when others have done a better job. His conversion ratio too is questionable as he could convert only one hundred out of the seven fifty-plus he had.
MIDDLE-ORDER
3. Wasim Jaffer (Vidharba):
Runs: 1037 || Inns: 15 || Avg: 69.13
The number three position is a vital one when it comes to Test cricket, and there has to be a solid player for this position.
Wasim Jaffer did nothing wrong this season. He provided the much-needed stability at number three, and was one of the main reasons why Vidharba retained the trophy.
Scoring over 1000 runs at an age of 40, and leading his side to yet another championship demands automatic selection.
4. Milind Kumar (Sikkim):
Runs: 1331 | Inns: 14 || Avg: 121 || SR: 91.66
If ever only numbers is a criterion for selection, Milind Kumar would top that list. 1331 runs from 14 innings at a gigantic average of 121 and at a strike rate of 91.66 is an extraordinary effort from the Delhi born, Milind Kumar.
Even though Group D wasn't as competitive as the other groups, the sheer amount of runs he scored this season talks volumes of him as a player. He is one of the only two players playing for Group D to feature in our squad.
5. Rinku Singh (UP):
Runs: 953 || Inns: 13 || Avg: 105.88
Seeing this hard-hitting batsman playing for Kolkata Knight Riders in the IPL, it is difficult to imagine the kind of performance he gave in the Ranji Trophy.
952 runs from 13 innings at an impressive average 105.88 and at a strike rate of 72.8, Rinku Singh was the go-to man for Uttar Pradesh.
It's not the big hundreds that are impressive, but his crucial knocks under difficult situations are the highlighting points for him this season.
Picking these three was a difficult task. So, who were the other choices for the middle-order?
Special Mention: Sheldon Jackson (Saurashtra)
Sheldon Jackson had a terrific 2018-19 season as he was the focal point of Saurashtra's middle order until Cheteshwar Pujara came back.
Overall, Sheldon Jackson scored 854 from 21 innings at an average of 47.44 with two hundred and seven fifties. While, these are good numbers, his competition, Rinku Singh was the find of the season, and it wouldn't have been logical to select him over Rinku Singh.
Yashpal Singh (Manipur) and Puneet Bisht (Meghalaya):
860 runs from 15 innings at an average of 78.18 by Yashpal Singh and 892 runs from 12 innings at an average of 85.11 by Puneet Bisht were the two key performances in the middle-order.
However, considering these came in a 'Not-so-competitive' Group D, they miss out on the selection.
WICKET-KEEPER:
6. Akshay Wadkar (Vidarbha):
Runs: 725 || Inns: 16 || Avg: 60.41 || Dis: 27
This is perhaps the most difficult selection in the eleven.
On one hand, we have Snell Patel, who got a brilliant hundred in the final, did a great job opening for Saurashtra, and on the other hand, we have Akshay Wadkar, who made useful contributions while batting with the lower order.
Snell Patel scored 760 runs from 21 innings at an average of 36.19 whereas Akshay Wadkar scored 725 from 16 innings at an average of 60.41. If we look purely at numbers, Akshay would tip Snell for this position.
When it comes to dismissals, Akshay Wadkar has a dismissal per innings of 1.29 as compared to 1.37 of Snell Patel. There is nothing much separating them with Snell marginally better than Wadkar. 
So, the lower middle being the need of the hour, and nothing much to separate them as keepers, Akshay Wadkar is our wicket-keeper of the season.
ALL-ROUNDER (SPIN)
7. Parvez Rasool (VC) (J&K):
Runs: 684 || Inns: 17 || Avg: 42.75
Wks: 35 || Inns: 15 || Avg: 21.34
One of the biggest problems in Indian Cricket is the presence of quality all-rounders. The likes of Hardik Pandya, Krunal Pandya, Vijay Shankar and Ravindra Jadeja were on national duties, hence missed out on getting featured in the team of the tournament. 
That leaves us with Parvez Rasool, who looks the best of the lot from the all-around performances we have seen this season.
Scoring 684 runs from 17 innings at an average of 42.75, Parvez was quite handy with the bat. Taking 35 wickets from 15 innings at an average of 21.34, he strikes the right balance for the fifth bowler.
Rajat Bhatia was the only good alternative, but he had a poor season with the ball.
TWO SPINNERS
8. Ashutosh Aman (Bihar):
Wickets: 68 || Inns: 14 || Avg: 6.48
A season filled with top performances from the left-arm orthodox bowlers, Ashutosh Aman comes out the best.
The leading wicket-taker of the season, Ashutosh Aman took 68 wickets from 14 innings at an unbelievable average of 6.48. No other bowler could come even close to his nine five-wicket hauls and five ten-wicket hauls.
He is also a handy lower-order batsman having accumulated 337 runs from 10 innings.  
9. Aditya Sarvate (Vidharbha):
Wickets: 55 || Inns: 19 || Avg: 19.67
This is another difficult selection as it is a toss-up between Aditya Sarvate and Dharmendrasinh Jadeja for the second spinner.
On one hand, DA Jadeja has taken 59 wickets from 19 Innings at an average of 27.17. On the other end, Aditya Sarvate has taken 55 wickets from 19 innings at an average of 19.67. 
So, why do we pick Sarvate over Jadeja?
Saurashtra wickets have mostly been spin-friendly, and they have always relied on their spinners, but that's not the case when it comes to Vidharba.

Akshay Sarvate's key contribution in the Ranji Trophy final where DA Jadeja couldn't do well in the first innings. Moreover, Sarvate got the crucial wickets of Cheteshwar Pujara in both the innings with his skillful bowling.
TWO PACERS:
10. Jaydev Unkadkat (Saurashtra):
Wickets: 39 || Inns: 14 || Avg: 17.17
Jaydev Unadkat had a horrible IPL 2018, and he lost his place in the Indian team to Khaleel Ahmed. So, he did have a point to prove.
Overall, Unadkat took 39 wickets from 14 innings at an impressive average of 17.17.  Out of his tally of 39 wickets, 18 wickets came in the three knock-out games he played. This was the turning point for his selection.  
His competition, Aniket Choudary (another left-arm pacer) had a terrific season too picking 49 wickets from 18 innings at an impressive average of 14.71.
However, Unadkat marginally tips him for the first pacer slot owing to the group he played in, and his performances in the knock-outs.
11. Sandeep Warrier (Kerala):
Wickets: 44 || Inns: 18 || Avg: 17.54
Looking for a right arm pacer to complement Jaydev Unadkat, Sandeep Warrier looks the best option from the list of available players.
Sandeep Warrier was the leading wicket-taker for Kerala in the Vijay Hazare trophy, and he replicated his form in this Ranji Trophy season to taking 44 wickets from 18 innings at an average 17.54.
His eight scalps; four in both the innings had an important role in Kerala's quarter-final victory against Gujarat.
So, here is the Team of the Tournament for Ranji Trophy 2018-19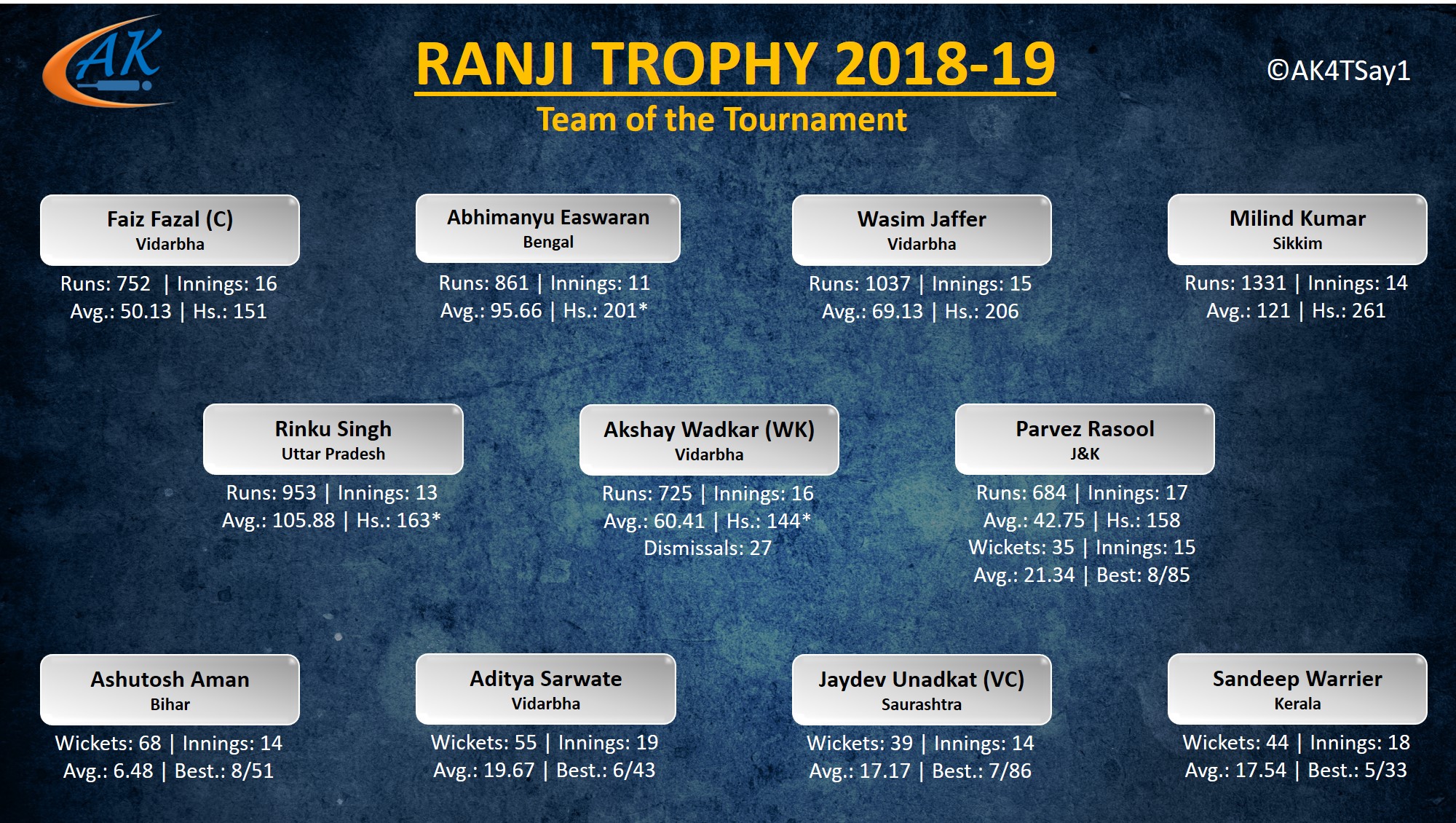 Shubman Gill deserves a special mention for his 728 runs from five innings at an average of 104. His performances inspired his selection in the national side. 
Thanks for reading! Are you satisfied with the Ranji Trophy 2018-19 team of the tournament? Please, let's know in the comments. 
---
ALSO READ: Six Interesting Takeaways from Ranji Trophy 2018-19
---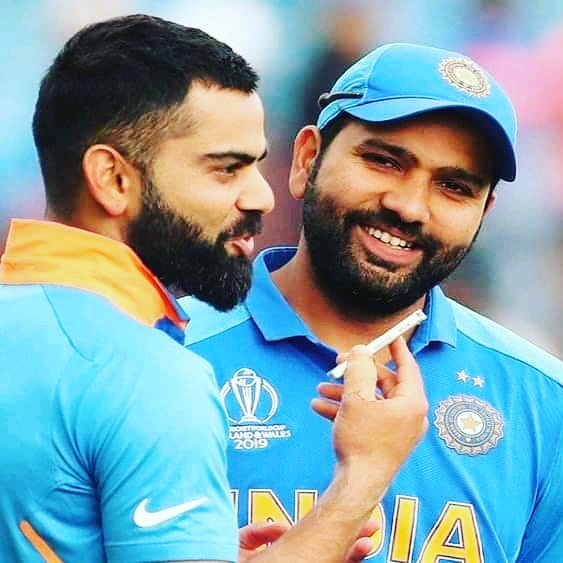 This is the official user profile for AK4Tsay1 Cricalytics