Is Vijay Shankar a potential number 4 for Team India?
Is Vijay Shankar a potential number 4 for Team India? Will it be wise to make this decision just before the World Cup? Let's look at it. 
Alright, this may surprise many, but let's look at the possibility of playing Shankar at 4 from all angles. 
Ambati Rayudu, India's current number 4 has done really well for Team India since his return to India's squad in September, last year. Since then, he has scored 637 runs from 19 innings at an average of 45.5 and a strike rate of 85.7. These are excellent numbers in addition to a few Important innings he has played.
He was obviously my first choice for number 4, but these few Important knocks by batting all-rounder, Vijay Shankar has sort of left me befuddled.
If not for Vijay Shankar's calm and composed knocks in the last few matches, Ambati Rayudu would have been the ideal choice for number 4.
But, why Vijay Shankar's name has suddenly popped up to make him a member of this playing XI? If he comes in, who will be replaced? Will India make this call just before the World Cup?
These are the sorts of questions that must be occurring to your mind too, isn't it?
Let's look at his International Cricketing journey.
Disasterous Nidahas Trophy Debut:
Everyone remembers Vijay Shankar from that disastrous batting debut he had in the Nidahas Trophy finals. He almost left India in disarray before Dinesh Karthik pulled off an incredible win.
In his initial few matches, he bowled more than he batted. He had a poor series with the ball too claiming only 3 wickets at an average of 51 and an economy rate of 9. He was then dropped from the squad.
Vijay Shankar 2.0:
He got back in the side owing to an injury to Hardik Pandya, and, since his comeback, he has looked a completely different player altogether.
His second knock in International Cricket was on a seemingly difficult pitch to bat. His calm and composed 45 lifted India from a disastrous situation of 18-4. He would have gone on to score more, but was unfortunately run-out.
After that, he played a few more good innings in the T20 Internationals against New Zealand. He finished the T20 series against New Zealand at a strike rate of 155; best by an Indian batsman. Thus, eliminating any doubts anyone had on his striking ability.
In addition to above, his innings against Australia in the second ODI was another indication of what quality batsman Vijay Shankar is. He scored a fluent and pleasing 46 at more than run a ball before getting run-out in the most unfortunate fashion.
His knock was praised by many experts such as Harsha Bhogle, VVS Laxman, Sanjay Manjraker, etc.
Also, who can forget that match winning over in the second ODI? Such calm and composure while bowling. Exemplary. 


Vijay Shankar's Bowling Stats | AK4Tsay1 Cricket
The Decision:
Alright then, where does Vijay Shankar fit-in in the playing XI?
Well, he certainly cannot pip either of Kedar Jadhav or Hardik Pandya for the all-rounder spot. He certainly cannot topple the top three plus Dhoni. He certainly cannot be played as a pure bowler. So, where does he fit in?
The only position, which seems a logical one to have Shankar in the playing XI is by asking him to play at number 4.
Having Vijay Shankar at number 4 in the playing XI gives two advantages.
Team India gets a solid batsman at number 4, who can handle swinging conditions too

The ability for Team India to play 7 bowlers, which will strengthen India's bowling department even further
Excluding the positives, there are certain risk factors involved too as given below
No experience of playing a long innings

Less International experience

Hasn't proven himself at the International level.
Yes, there are certain risks too, but are these risks worth taking just before the world cup? Is he actually potential and wise number 4 for Team India?
Thanks for reading! Is Vijay Shankar your potential number 4 for Team India in ODIs? Please, let's know in the comments. 
---
ALSO READ: Exclusive: Ranji Trophy 2018-19 Team of the Tournament
---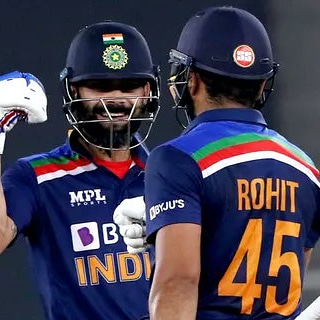 Adesh Kothari is the founder of AK4Tsay1 Cricalytics.
Cricket to him is like what 'Football is to Lionel Messi', 'Singing is to Lata Mangeshkar', 'Dancing is to Michael Jackson', and what 'Acting is to Clint Eastwood'.
Besides his effervescent love for Cricket, Adesh is an MBA by qualification.