The All-time Strongest ODI Team of Players Born in '80s and '90s
MS Dhoni to lead the Team '80s, while Kane Williamson to do the honours Team '90s as we look at the all-time strongest ODI team of players born in '80s and '90s.

Historically, the average life of a good and successful cricketer has been anywhere between 10-20 years. Potential cricketers start their journey somewhere around the age of 19-20, and go on to play anywhere between the age of 35-40.
So, the latest full-strength squad of any team across the world is usually a concoction of two or more generations of cricketers. For instance, the Indian team that lifted the 2011 World Cup was the right blend of players born in the late '70s and early '80s. This way, apart from adding balance to the squad, boost is also given to smooth transitioning of a squad from one era to another.
Come to 2020, the current crop of cricketers is dominated by the players born in the '80s and '90s. The '80s players are veterans, and have either retired from the game, or are at the flag end of their career. Whereas most of the '90s players are making a mark in world cricket, and would dominate the game for another decade. 
So, wouldn't it be interesting to look at the all-time strongest ODI team of the players born in the '80s and '90s, and see how they fare against each other from an overall standpoint?
Criteria:
The class of '80s will comprise of cricketers born between 1980 and 1989, whereas the class of '90s will include the newer generation of players born between 1990 and 1999. For the selection of the squads, the focus will be on the overall stats of the players, hence removing any kind of biases or perception. Moreover, a squad should have a mix of good batsmen, all-rounders, spinners, and pacers. 
The class of  '80s:
The successors of the golden generation that produced the likes of Sachin Tendulkar, Jack Kallis, Brian Lara, Kumar Sangakkara, Ricky Ponting, and Glenn Mcgrath, the pressure has always been on the class of '80s to entertain us consistently. This they did comprehensively, aside from delivering a few legends in the process.
Batsmen:
Coming to the team, 80-born-players have some really brilliant openers. This includes the likes of Rohit Sharma, Shikhar Dhawan, David Warner, Aaron Finch, Shane Watson, and Hashim Amla. Looking at the records of these players, Rohit Sharma becomes a default selection with 7148 runs as an opener at a stunning average of 58.1, and a strike rate of 92.3.
Pairing him would be the South African opener, Hashim Amla, whose efforts as an opener just cannot be ignored. While Warner and Dhawan are close competitors for this spot, Hashim Amla takes it with as many as 8083 runs as an opener at a brilliant average of 49.9, and a strike rate of 88.7. 
It was reasonably a milder process to select the middle-order. Looking at the veterans born in the '80s, Virat Kohli, Shakib Al Hasan, Yuvraj Singh, AB de Villiers, and MS Dhoni would fit into the extremely strong core of the squad. Virat Kohli is the leading run-scorer among the '80s born players with almost 11867 runs, followed by MS Dhoni at 10772, AB de Villiers at 9577, Yuvraj Singh at 8701, and Shakib Al Hasan at 6323 runs. 
Shakib will act as the spin bowling all-rounder alongside Yuvraj Singh, who shall act as the batting all-rounder. MS Dhoni, with a fabulous captaincy record, would be the default captain wicket-keeper of the side. Moreover, if not for Yuvi's all-round abilities, Ross Taylor could have been a perfect fit in the middle-order. He has been one of the most consistent batsmen of the 2010-19 decade. 
Bowlers:
Coming to bowlers, we are left with no option but to go full strength on pace. The only good spin options that we have are Harbhajan Singh, Ravindra Jadeja, and Ajantha Mendis. However, instead of selecting one of these 3, selecting the pace quartet of Mitchell Johnson, Dale Steyn, Lasith Malinga, and Trent Boult looked a more potent option. Malinga is the leader of the pack with 338 wickets, followed by Johnson at 239 wickets, Steyn at 196 wickets, and Boult at 164 wickets. 
All-time Strongest ODI Team of Players born in the '80s:
Rohit Sharma, Hashim Amla, Virat Kohli, Shakib Al Hasan, Yuvraj Singh, AB de Villiers, MS Dhoni (C&WK), Trent Boult, Mitchell Johnson, Dale Steyn, and Lasith Malinga.
The class of '90s
Almost every cricket team currently incorporates players chiefly from this generation. While some of these players have already achieved quite well, most of these are budding players with an International presence of 4-5 years. Hence, we need to meticulously select players based on their current stats, and future potential. 
Batsmen:
Looking at the current crop of potential openers, two names stand out from the list with some stunning performances. The South African Quinton de Kock and England's Jason Roy. The wicket-keeper batsman, Quinton de Kock has almost 5K runs already under his belt at a healthy average of 45, while Roy has 3434 runs to his name at a superb strike-rate of 107. 
The middle-order comprised of Babar Azam and Kane Williamson will shoulder the batting responsibilities of this team. While Kane is already a Kiwi legend, Babar is hands down the best batsman that Pakistan has produced in recent times. We all know how high Ben Stokes is rated as an all-rounder, and especially for his record in finishing games, he comes into this squad. The same is the case with Jos Buttler, who is priceless at No.6 in the team with no alternative to him. 
Bowlers:
Jason Holder shall share the all-round duties alongside Ben Stokes. Holder is the only player from West Indies to represent from either '80s or '90s. While Russell could have been a dangerous option, he hasn't played much to get himself in the playing XI ahead of Holder. Despite his young age, Rashid Khan has already established himself as a reliable spinner. At the age of 22, he already has 133 wickets to his name at a stunning average of 18.5. 
Coming to the fast-bowling, the team just cannot look beyond Mitchell Starc, who has been the best pacer of the decade with as many as 178 wickets at an average of 22. Joining him are the next-gen pacers, Kagiso Rabada and Jasprit Bumrah, who have 117 and 104 wickets respectively. These three are the best crop of pacers currently. Apart from these, Shami, Chahal, and Cummins are the potential bowlers who could have made the cut.   
All-time Strongest ODI Team of Players born in the '90s:



Jason Roy, Quinton de Kock (WK), Babar Azam, Kane Williamson (C), Ben Stokes, Jos Buttler, Jason Holder, Rashid Khan, Mitchell Starc, Kagiso Rabada, and Jasprit Bumrah.
Thanks for reading! Do you think we got the all-time strongest ODI team of the players born in the '80s and '90s right? Please, let us know in the comments. 
---
ALSO READ: A Classical Team India XI that would have taken the T20 world by storm
---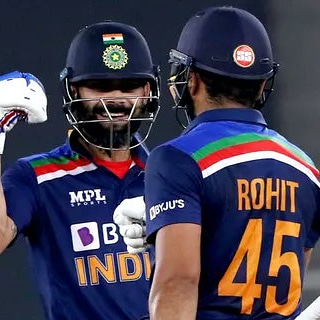 Adesh Kothari is the founder of AK4Tsay1 Cricalytics.
Cricket to him is like what 'Football is to Lionel Messi', 'Singing is to Lata Mangeshkar', 'Dancing is to Michael Jackson', and what 'Acting is to Clint Eastwood'.
Besides his effervescent love for Cricket, Adesh is an MBA by qualification.