IPL 2021: Current Strongest Playing 11 that Played for only 1 Franchise
IPL 2021: Virat Kohli, the only player playing from 2008 as we look at the current unique playing 11 that played for only 1 franchise.  
The Indian Premier League or the IPL as we call it is the hottest T20 League in the world. Apart from boosting quality Indian talent, the tournament boasts of some of the best players in the World. Right from its inception in 2008, IPL has seen talent from across the globe (Except Pakistan for obvious reasons). 
But apart from being a center of Cricketing talent, there's an important factor that separates IPL from the rest, and that is the bond between Franchises and players. The Mega Auction that happens almost every three years sees Teams investing heavily on some of the players that they feel are important for their franchises. 
We have seen over the years how teams invest in a few players, and almost purchase them at every Auction regardless of cost. As we stand in 2021, we will take a look at 11 such players that would form the IPL 2021 unique playing 11 to have played for only 1 franchise throughout their career. 
Before we begin, it is important to note that only current active players in IPL 2021 are considered for selection. The past ones like Sachin Tendulkar for Mumbai Indians or Shaun Marsh for PBKS aren't considered for selection as that would dilute the purpose of being more relevant in today's context. 
#1: Virat Kohli – RCB (2008 – Present)
Inns: 191 // Runs: 6076 // SR: 130.4 // HS: 113
The first player on the list is the only player that is active in 2021, and has represented a single franchise since 2008. Yes, it is none other than Team India's captain, Virat Kohli. Kohli debuted for RCB in 2008, and since then has been retained in every Auction. He is currently the leading run-scorer in IPL with 6076 runs. He is also the most expensive player in IPL 2021 with a single tournament salary of INR 17 CR. 
#2: Sunil Narine – KKR (2012 – Present)
Inns: 123 // Runs: 902 // Wkts: 130 // BBI: 5/19
Second, on the list is KKR's Sunil Narine. Having debuted for KKR in 2012, Narine has been one of the most important players for the franchise. He helped KKR win the 2012 and 2014 tournaments. Since then KKR have shown loyalty for Narine, and have retained him in the two subsequent Auctions. He is 8th on the list with 130 wickets, and also has 902 runs to his name. 
#3: Kane Williamson – SRH (2015 – Present)
Inns: 56 // Runs: 1747 // SR: 134.2 // HS: 89
Kane Williamson made his IPL debut for Sunrisers Hyderabad in 2015, and is currently in the 6th year representing the same franchise. Although Kane didn't play much in the initial years, SRH kept investing in him, and 2018 was the year Kane gave good returns not just with the bat, but also as a captain. He is also the current captain of SRH having dethroned David Warner in the middle of the IPL 2021 tournament. 
#4: Shreyas Iyer – DC (2015 – Present)
Inns: 79 // Runs: 2200 // SR: 126.1 // HS: 96
Shreyas Iyer started his IPL journey playing for Delhi Capitals (formerly Delhi Daredevils) in 2015. It was a successful year for Iyer having won the emerging player of the year. He kept performing for Delhi Capitals, and was also retained in 2018. Such was his journey with Delhi Capitals that he was also given the captaincy in 2019 and 2020, and on both occasions, he led Delhi Capitals in the knockouts. It is no doubt that he would be retained for IPL 2022 too. 
#5: Rishabh Pant – DC (2016 – Present) 
Inns: 76 // Runs: 2292 // SR: 149.8 // HS: 128*
Another Daredevil from Delhi Capitals, Rishabh Pant is currently the Captain of Delhi Capitals in the absence of Shreyas Iyer. He debuted for Delhi In 2016, and since has been successfully representing the franchise. He is the costliest player for Delhi Capitals at INR 15 Cr., and is also their all-time leading run-scorer with 2292 runs. There's no doubt that Rishabh Pant would be the first name on the list to be retained for IPL 2022. 
#6: Hardik Pandya – MI (2015 – Present)
Inns: 80 // Runs: 1401 // Wkts: 42 // HS: 91
The current best all-rounder of the Indian team, Hardik Pandya has been representing the Mumbai Indians since 2015. Except for 2016, Hardik has been a match-winner for MI every year. He was one of the first names to have been retained by MI in 2018 for INR 11 Cr. With Mega Auction in IPL 2022, Hardik would once again be one of the first names to be retained by MI. Talk about stats, Hardik has 1401 runs and 42 wickets to his name. 
---
ALSO READ: IPL 2022 Auction: Predicting the Player Retention List for all 8 Teams
---
#7: Kieron Pollard – MI (2010 – Present) 
Inns: 154 // Runs: 3191 // Wkts: 62 // HS: 87*
The second-oldest player in the playing 11 after Virat Kohli. Kieron Pollard has been the mainstay of Mumbai Indians since 2010. A match-winner as he has been for MI, was retained or RTM by the franchise in all mega Auctions since 2011. He is currently in the 12th year for MI, and in all possibility should be retained for IPL 2022 too. Stat wise, Pollard has 3191 runs and 62 wickets to his name.
#8: Rashid Khan – SRH (2017 – Present)
Inns: 69 // Wkts: 85 // ER: 6.2 // BBI: 3/7
The youngest of the lot from this playing 11, Rashid Khan's name is already counted among the best overseas player to have played the game, Globally, he is the all-time best spinner to have played in the T20 format. Having debuted for SRH in 2017, Rashid Khan was purchased by SRH for a whopping INR 9 Cr. As we move into IPL 2022, Rashid khan would be the first name on the list to be retained.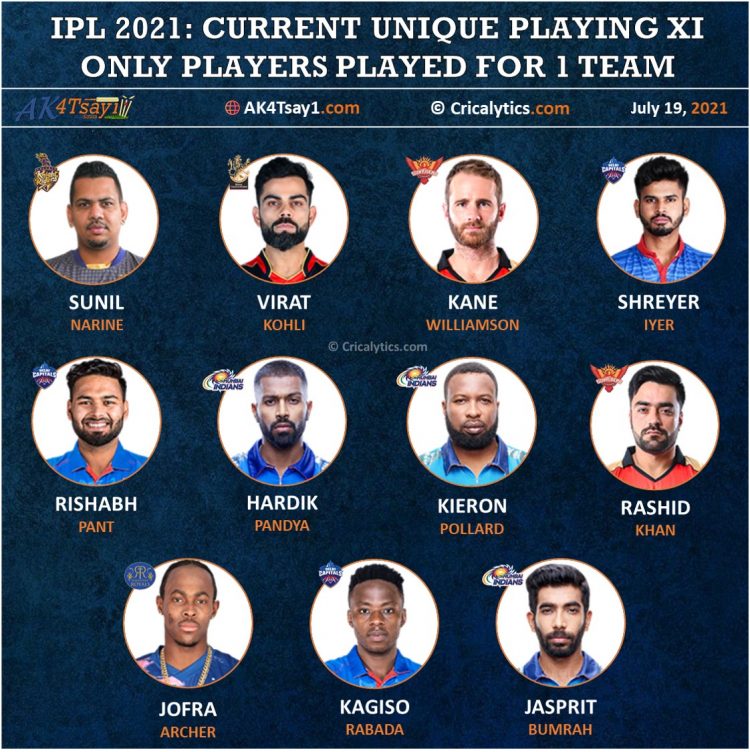 #9:Jofra Archer – RR (2018 – Present)
Inns: 35 // Wkts: 46 // ER: 7.1 // BBI: 3/15
In only his third year in IPL, Jofra Archer is considered as one of the best pacers of the game. He was procured by RR in 2018 for a million dollars. Following his successful stint with RR, was then retained in 2020 and 2021. He was also named as the Most Valuable Player in 2020 even as RR finished at the bottom of the table; the only incident in the MVP history. 
#10: Kagiso Rabada – DC (2017 – Present)
Inns: 42 // Wkts: 69 // ER: 8.3 // BBI: 4/21
Probably the only player on the list who was retained by a franchise despite not playing a single game in the previous year. Kagiso Rabada made his IPL debut in 2017 for Delhi Capitals. Rabada played only 6 games with a decent performance. He didn't play in 2018 due to a back injury but was retained in 2019. He is Delhi Capitals' leading pacer, and in all likelihood, should be retained for IPL 2022.  
#11: Jasprit Bumrah – MI (2013 – Present)
Inns: 99 // Wkts: 115 // ER: 7.4 // BBI: 4/14
The current best limited-overs pacer in the world is truly an MI scouting result. He made his IPL debut in 2013, and since then his stature has only grown leaps and bounds. Breaking the unorthodox action stereotype, Bumrah focused on his strengths all-throughout his career. He will be one of the only few players who will finish their career in the same franchise. 
IPL 2021: Current Unique Playing 11 that played for only 1 Franchise: 
Sunil Narine, Virat Kohli, Kane Williamson, Shreyas Iyer, Rishabh Pant (WK), Hardik Pandya, Kieron Pollard, Rashid Khan, Jofra Archer, Kagiso Rabada & Jasprit Bumrah
So that completes the list of the current unique playing 11 that played for only 1 franchise. You might see the names like Suresh Raina, MS Dhoni, Ravindra Jadeja, Andre Russell, AB de Villiers, David Warner, etc. missing from the list as they have played for more than 1 franchise. 
Thanks for reading! Which is your favorite player from IPL 2021 as seen in the unique playing 11 mentioned above? Please email your thoughts to business@cricalytics.com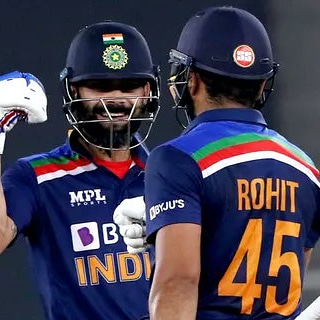 Adesh Kothari is the founder of AK4Tsay1 Cricalytics.
Cricket to him is like what 'Football is to Lionel Messi', 'Singing is to Lata Mangeshkar', 'Dancing is to Michael Jackson', and what 'Acting is to Clint Eastwood'.
Besides his effervescent love for Cricket, Adesh is an MBA by qualification.