What if Team India field a seperate squad for Tests and ODIs?
Virat Kohli and Rohit Sharma to lead if Team India had to field separate squads for Tests and ODIs.
The ICC World Super League 2020-22 began on a very unique note as hosts England played a completely different squad from the Test squad that played against West Indies. The result of the 3-match series may not have been encouraging after their humiliating defeat in the final ODI, but the squad did have a lot of strength. 
Given the time gap between the ODI and Test series, which is also followed by a Test series against Pakistan, this was a very rare and unique situation in hand. Moreover, England could afford to not play a few of their key ODI players like Joe Root, Jofra Archer, Ben Stokes, and Jos Buttler as they were playing a minnow, Ireland.
While this is a rare situation, and cannot be implemented in big tournaments, the Corona vibes combined with World Super League's schedule  could see India adopting this a similar technique. India play teams like Zimbabwe, Sri Lanka, and Afghanistan in the World Super League, and hence, we might face a similar situation where India decide to play different squad for ODIs and Tests.
On that note, let's look at the squad composition if India play completely different squad for ODIs and Tests. To proceed, Virat Kohli would be the Test captain, and the Test regular Rohit Sharma shall be the ODI captain. The rest of the squad is selected based on their format preference and strength. 
Test Squad
Batsmen:
Mayank Agarwal and Rohit Sharma are Team India's current best openers in Tests having had a splendid 2019. However, given Rohit Sharma's presence is more important for ODIs, the backup opener, Prithvi Shaw shall takeover the opener duties alongside Mayank Agarwal. 
The middle-order looks more or less settled with Cheteshwar Pujara at 3, Captain Virat Kohli at 4, and Ajinkya Rahane at 5. In addition to these, India have Shubman Gill, Karun Nair, and KS Bharat as key backups in the batting department. 
Spin All-rounders:
The lower order could see India play an additional bowler alongside Wriddhiman Saha, or strengthen the batting with an extra batsman. However, for his exceptional technique combined with part-time spin, Hanuma Vihari seems a good fit at number 6. 
Technically Ravindra Jadeja and Ravichandran Ashwin are both all-rounders. However, both are more of spin bowling all-rounders with maximum potency in the bowling department. Hence, they are included in the all-rounder department. 
Pacers:
Jasprit Bumrah is definitely the first-choice pacer for Team India in all the three formats. However, given his potency in the shorter format, we made an exception, and selected him in the ODI squad. Hence, the remaining two pacers, Mohammed Shami and Ishant Sharma would lead the pace duties for Team India in Tests. We also have Umesh Yadav and Navdeep Saini as backups if India need an extra pacer. 
Team India's special squad for Tests:

Mayank Agarwal, Prithvi Shaw, Cheteshwar Pujara, Virat Kohli (C), Ajinkya Rahane, Hanuma Vihari, W Saha (WK), Ravindra Jadeja, R Ashwin, Mohammed Shami, and Ishant Sharma.
Backups: Shubman Gill, Karun Nair, KS Bharat, Umesh Yadav, and Navdeep Saini
ODI Squad
Batsmen:
The ODI squad would see Team India's regular openers, Rohit Sharma and Shikhar Dhawan opening the batting in this unique situation. The duo has been India's best pair since 2013, and would continue to be at least until the 2023 WC.
The middle-order would miss the absence of Team India's regular skipper, Virat Kohli. While his absence would definitely create some impact, the likes of Shreyas Iyer, KL Rahul, Manish Pandey, and Rishabh Pant should solve that hurdle a bit given their recent success in ODIs. Additionally, India  also have backups in the form of Sanju Samson and Surya K Yadav. 
All-rounders:
While the ODI format definitely needs 2 all-rounders in the squad, the lack of a good second all-rounder means, Hardik Pandya shall be the sole all-rounder in the squad. However, as a backup, India can fallback to Shivam Dube or Krunal Pandya.
Bowlers:
Jasprit Bumrah shall lead the pace duties for Team India alongside Bhuvneshwar Kumar. The duo are still the leading pacers for Team India in ODIs, and would continue to do so. The presence of Hardik Pandya means, Team India can afford to play the KulCha spin-duo, Kuldeep Yadav and Yuzvendra Chahal. In case of emergency, the team can always fallback to Deepak Chahar or Krunal Pandya for more bowling options.
Team India's special squad for ODIs:
Rohit Sharma (C), Shikhar Dhawan, Shreyas Iyer, KL Rahul, Manish Pandey, Rishabh Pant (WK), Hardik Pandya, Bhuvneshwar Kumar, Kuldeep Yadav, Yuzvendra Chahal, and Jasprit Bumrah.
Backups: Sanju Samson, Surya K Yadav, Shivam Dube, Krunal Pandya, and Deepak Chahar. 
So that completes the squads if India decide to field seperate squads in Tests and ODIs. Looking at the squads, the squads still look dangerous. While the possibility of this situation is rare, even if it happens, Team India are prepared. 
Thanks for reading. Which squad did you like the most? Please, let us know in the comments. 
---
ALSO READ: Exclusive: Predicting Team India's Squad for 2027 ODI World Cup
---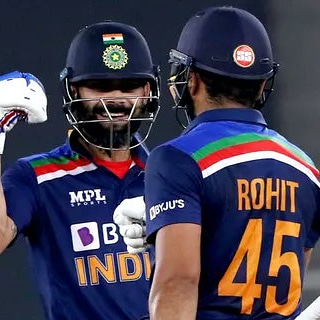 Adesh Kothari is the founder of AK4Tsay1 Cricalytics.
Cricket to him is like what 'Football is to Lionel Messi', 'Singing is to Lata Mangeshkar', 'Dancing is to Michael Jackson', and what 'Acting is to Clint Eastwood'.
Besides his effervescent love for Cricket, Adesh is an MBA by qualification.