ICC World Cup 2019: Top 5 Moments from Week 2
Team India's dominant victory over Australia, Jason Roy's 150 and washouts dominate the top 5 moments from week 2 of World Cup 2019
I don't think #ICC would have been as much trending as it has been over the last week. From the 9 matches being played between June 7 to June 14, 4 matches have been washed out due to rains.
While some people vented their anger on the ICC, some people brought out their creative side to create funny memes.
---
DON'T MISS: World Cup 2019: Twitterati can't keep calm as India vs New Zealand match gets washed out
---
Nevertheless, we still witnessed some brilliant Cricket matches with many records being shattered. Jason Roy scored a brilliant 150, Team India recorded their first 300 against Australia at World Cups, and many more.
So, without any further delay, let's look at the top 5 moments from week 2 of ICC World Cup 2019?.
---
#5: JASON ROY'S SMASHES WORLD CUP 2019'S FIRST 150
Why would Bangladesh win the toss, and chose to bowl first on the pitch full of runs, and against the aggressive batting line-up of England?.
It was indeed a surprising decision by Bangladesh, and it proved costly as Jason Roy's outstanding 153(121) with 14 fours and 5 sixes lifted England to World Cup 2019's highest score, 386-6. 
After their failed starts in the previous two matches, Jason Roy and Jonny Bairstow started cautiously. They scored only 15 runs from their first 5 overs with Roy scoring 12(17). 
Jason Roy, however, broke the shackles as he lifted his score to 33(28). He then didn't stop as he brought his fifty off just 38 balls, and hundred off just 93 balls.  
Batting on 137, Roy hit 3 sixes off Mehdi Hasan, and this almost turned the clock to England vs India match when Dimitri Mascarenhas smashed 5 sixes off Yuvraj Singh.
Jason Roy, however, got out on the next ball. With almost 16 overs left, 200 was definitely on the card had Roy stayed for some more time.
---
#4: MOHAMMAD AMIR'S SENSATIONAL SPELL AGAINST AUSTRALIA
Not often you would see a team losing after a sensational spell of 5-30 in 10 overs?. But, that's Pakistan for you as unpredictability and Pakistan team go hand in hand.
Mohammad Amir bowled one of the spells of his life, but Pakistan still ended on the losing side; courtesy to some poor batting and zero support from other bowlers.
Such was his impact that other bowlers had a combined spell of 39-0-267-5 (ER: 8.90) as compared to Amir's 10-2-30-5 (ER: 3.00).
Courtesy to his sensational spell, Australia, who were cruising at 223-3 after 33.3 overs could only manage 84 runs post that as they were bundled out for 307 in 49 overs.
Australia, however, went on to win the match as Pakistan couldn't chase the target of 308. Some poor shot selection and lack of big partnerships caused them the match.
---
#3: JOE ROOT'S ALL-ROUND PERFORMANCE AGAINST WEST INDIES
A brilliant century and two important wickets sum up Joe Root's brilliant all-round display against West Indies.
Destiny sometimes plays a special role in a player's life, and one such instance has been this match against West Indies.
After a solid partnership between the two lefties, Nicholas Pooran and Shimron Hetmyer, England were in desperate need of a breakthrough. With the off-spinner, Moeen Ali not in the squad, Eoin Morgan turned to the part-time off-spinner, Joe Root.
In only his second over, Joe Root couldn't believe his luck as two soft caught and bowled dismissals in two successive overs proved to be the game-changing moment for England.  
After his superb performance with the ball, Joe Root's second century guided England to a comfortable win over West Indies as they chased the target of 213 in just 33.1 overs.
---
#2: TEAM INDIA'S DOMINANT WIN OVER AUSTRALIA
Such has been Australia's dominance over India in World Cups that the last time India won a group stage match against Australia was in 1987 when they made 289-6. It was also Team India's highest score against Australia in World Cups. 
So, if Team India score a gigantic 352 in 50 overs, and then go on to win the match comfortably, it is actually a historic moment for them. 
It was a complete all-round display by the Indian Team as they overpowered the dominant, Australian side.
Shikhar Dhawan scored a fabulous hundred, Rohit Sharma and Virat Kohli scored brilliant half-centuries, Hardik, Dhoni and KL Rahul provided finishing touches to help India reach a gigantic 352-5 in 50 overs.
In the bowling department, Jasprit Bumrah and Bhuvneshwar Kumar took 3 wickets each, while Yuzvendra Chal took 2 wickets to complete a 36 runs victory over Australia.
---
#1: ICC SCHEDULING, ENGLAND RAINS, AND WASHOUTS
It is absolutely bizarre that in a tournament like the World Cup, which teams prepare for four years to get their hands on the much-coveted trophy is witnessing the destiny of climate.
No Team, absolutely no team would want to share the points where even a single point can knock them out of the tournament. Over the last 9 matches, 4 matches have been washed out due to rains, and in that 3 matches have been abandoned.
The surprising fact is that of the 5 matches that have been abandoned in the 44 years World Cup history, 3 matches have been abandoned this year. It is an absolute shame!
I am sure we do not like to blame people for things where they don't have control over. But definitely, we can question ICC for scheduling such a tournament during June-July, when the chances of rains are maximum in England.
I am sure Ashes could have been rescheduled, and the World Cup could have been scheduled in August- September. 
Anyway, we really hope we do not see more abandoned matches as that would deteriorate the quality of this amazing tournament.
So, these are the top 5 moments from week 2 of ICC World Cup 2019.
Do watch out this space for more such awesome highlights. 
---
WORLD CUP 2019 STATS | JUNE 14, 2019
Most Runs: 279 | Joe Root (England)
Most Wickets: 10 | Mohammad Amir (Pakistan)
Highest Score: 153(121) | Jason Roy (England)
Best Bowling Figures: 5-30 | Mohammad Amir (Pakistan)
---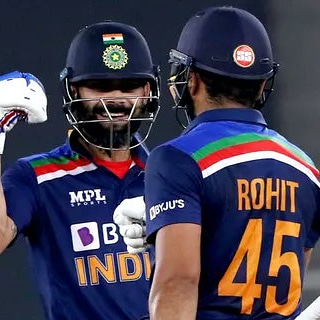 Adesh Kothari is the founder of AK4Tsay1 Cricalytics.
Cricket to him is like what 'Football is to Lionel Messi', 'Singing is to Lata Mangeshkar', 'Dancing is to Michael Jackson', and what 'Acting is to Clint Eastwood'.
Besides his effervescent love for Cricket, Adesh is an MBA by qualification.