3 Problem Areas for Team India to Address before World Cup 2019
Middle-order backup, the utmost priority as we look at the three problem areas for Team India before World Cup 2019.
Champions Trophy Final it was when Team India last played a full-strength squad in an ICC tournament. Since then, Team India has been in search of that ideal 15 for the World Cup 2019.
Although most of the spots look confirmed for Team India, there are few gaps that Team India are still looking to address or haven't found answers for.
Before we look at the gaps Team India needs to address, let's first understand, who all have confirmed their place in the final 15.
Openers: Rohit Sharma and Shikhar Dhawan
Middle Order: Virat Kohli, Ambati Rayudu and MS Dhoni
All-rounders: Kedar Jadhav and Hardik Pandya
Spinners: Kuldeep Yadav and Yuzvendra Chahal
Pacers: Jasprit Bumrah, Bhuvneshwar Kumar and Mohammed Shami
Except for KulCha (Kuldeep Yadav and Yuzvendra Chahal), the remaining 10 were also a part of the Champions Trophy 2017 squad.
So, with only one limited-overs series left before the World cup 2019, what problem areas Team India need to address, and what combinations they can look at to get an ideal World Cup squad?.
Let's find out in our deep-dive analysis of the squad.
Backup All-Rounder:
Until the New Zealand series, Ravindra Jadeja had almost booked this spot with his good performances in a few matches he played.
However, after some brilliant performances with the bat by Vijay Shankar in the recently concluded New Zealand series, the debate for the backup all-rounder's position has opened up again.
Let's see what both of them have to offer, and what can be more beneficial for Team India.
Why Jadeja?
Brilliant Fielder (Probably the best of the lot)

Bowls with accurate line and length.

Spin bowling All-rounder, who can be a handy lower-order batsman.

More Experience as compared to Shankar.
Why Shankar?
A batting all-rounder, who can chip in with few overs, if required

A pace bowler, suited for English conditions.

A decent batsman with a good technique
Analyzing their strengths, we feel, even though Shankar does not have the experience under his belt, a batting all-rounder and a handy pace bowler is the need of the hour for the World Cup.
Also, assuming Chahal and Kuldeep are our preferred spinners, there is no need for a third spinner in the squad.
So, if Shankar gives that confidence in the upcoming series, he should get a go.
Apart from these two, Krunal is the only option. However, he looks a more far fetched option to be tried for this spot. 
Backup Opener:
Rohit Sharma and Shikhar Dhawan are probably the best limited-overs opening pair in the world at the moment, and unless an unfortunate injury comes up, they would be the preferred openers in all the matches.
So, who have we got for the back-up position?
There are three names that come to our mind viz., KL Rahul, Ajinkya Rahane and Shubman Gill.
Analyzing Three Options:
KL Rahul, Indian's first option has had a mediocre test series in Australia as an opener. After his gaffe on Koffee with Karan, he was not selected in the ODI's and T20Is against Australia and New Zealand.
However, he looks set to make a comeback in the series against Australia to be tried out as a back-up opener.
Ajinkya Rahane, the second option came into the contention after a statement by MSK Prasad. To be honest, Rahane is a decent prospect, however, his lack of attacking skill is the only thing to worry about. 
He might get a go in the upcoming series against Australia.
Shubman Gill, the child prodigy was roped in as a backup opener instead of KL Rahul.  Unfortunately, he did not do that well with the bat while playing in the bowler-friendly conditions.
He was also not given any opportunity in T20Is in absence of Virat Kohli.  
Considering his lack of experience and team management's reluctance in giving him more game time, Gill looks the least preferred option.
An alternative option, which Kohli and Team Management have not mentioned till now, but is the talk of the town. It is of using Ambati Rayudu as a backup opener in case a need arises.
 "I am not looking for backups for all the positions; instead I am looking for good players who can play in any situation"-  Ravi Shastri
This can mean, KL Rahul Ajinkya Rahane and Shubman Gill may miss out on selection. Ambati Rayudu may get the additional role of a back-up opener. 
Middle-order Backup:
Dinesh Karthik is the first name that comes to our mind if we are looking for a good middle-order finisher.
However, the only issue with Karthik is the way he has been used. He has mostly been used as a filler, and has not been given consistent chances. 
The other option competing for this spot is Rishabh Pant, who has taken the world by Storm after his heroics in the longest format of the game against Australia and England.
However, Rishabh Pant was not selected in both the previous series. MSK Prasad, the chairman of the selectors cited workload as the reason for his omission. He also said that Rishabh Pant is definitely in contention for the World cup.
So, it should mostly be a toss-up between Pant and Karthik for the middle-order finisher role.
For us, Karthik looks a more matured and reliable option. However, Pant brings in that the x-factor required to win such big tournaments. 
Team management can select both, Pant and Karthik if they decide to give Ambati Rayudu an additional responsibility of a back-up opener.
Conclusion:
As of now, we have 12 fixed players. The remaining three positions to fill from Vijay Shankar, Ravindra Jadeja, KL Rahul, Dinesh Karthik, Rishabh Pant, Shubman Gill and Ajinkya Rahane. 
In would be interesting to see how team India goes about their playing XI in the upcoming series. Do they play a full-fledged squad for a few matches, or do they start trying out combinations from the first match?.  
What do you guys feel about the same?. Do let us know in the comments section.
Thanks for reading! Are you excited for Rishabh Pant? Please, let's know in the comments. 
---
ALSO READ: IPL 2019: Analyzing Strengths and Weaknesses of Chennai Super Kings
---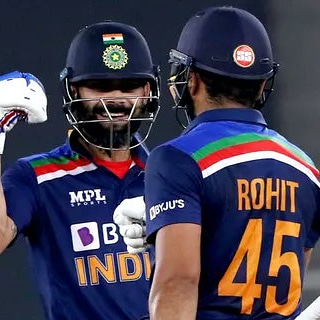 Adesh Kothari is the founder of AK4Tsay1 Cricalytics.
Cricket to him is like what 'Football is to Lionel Messi', 'Singing is to Lata Mangeshkar', 'Dancing is to Michael Jackson', and what 'Acting is to Clint Eastwood'.
Besides his effervescent love for Cricket, Adesh is an MBA by qualification.