Top Spells by Indian Bowlers against Australia in T20Is
Spinners are at the forefront when it comes to top spells against Australia in T20Is. But, there has been one stand out performance too.
After seeing the top 5 knocks by Indian batsmen against Australia, we are back with yet another interesting article on the top 3 bowling performances by Indian bowlers against Australia.
Now, the Indian batsmen did enjoy batting against the Aussies, but the bowlers are not far behind. Some of the best performances by Indian bowlers have only come recently in the last couple of years.
So, without wasting much time, let's straight away jump to the analysis.
---
Methodology:
As always, we have analyzed the top spells basis the bowling points calculated from the overall aspect of the game such as wickets taken, economy rate bonus, relative economy rate, and wickets bonus, number of maidens, number of dot balls, match-winning spell points, and the player of the match points. 
Right then, let's have a look at the top 3 spells by Indian bowlers against Australia in T20Is.
---
#3 Kuldeep Yadav | Ranchi | 2017
4 Overs | 16 Runs | 2 Wickets |  4 Eco.
Performance Points: 120 Points
Even before this performance, Kuldeep Yadav was a household name. His talent, his uniqueness of being a china-man bowler and his performances for KKR got him into recognition in world cricket.
This performance against Australia was one of the many superb spells he has bowled in his career. The occasion this time was the first match of the bilateral series between India and Australia in 2017.
After opting to field first, India started strongly as Bhuvneshwar Kumar dismissed David Warner in the very first over. Glenn Maxwell, who came at number 3 broke the shackles as he added 47 in just 5 overs along with Aaron Finch.
With things starting to look dull for India, Kohli introduced the spin twins, Yuzvendra Chahal and Kuldeep Yadav. The ploy worked well as Kuldeep redefined the lost art of flight and guile. He first dismissed Finch with a beautiful flipper that deceived him in the air and then dismissed Moises Henriques in the very next over with a beautiful tossed up googly.
Such was the performance of the young chinaman that no Aussie batsmen could take him on for even a single boundary in his 4 overs.
Kuldeep was equally supported by other bowlers as India restricted the Aussies to a mere 118/8. Aussies were hopeful that Rain would play the spoilsport, but that didn't happen as Indians from chased the revised total of 48 from 6 overs with 3 balls to spare.
Kuldeep Yadav accumulated a total of 120 performance points for his spell.
---
#2 Krunal Pandya | Sydney | 2018
4 Overs | 36 Runs | 4 Wickets | 9 Eco. 
Performance Points: 130 Points
The 2019 Australian tour was a huge success for the Indian team as they won both, the Test and the ODI series.
Coming to the T20I series, India went to the third game being 1-0 down, after losing the first match by a whisker and rain being the spoilsport in the second match.
Aussies after winning the toss got off to a great start scoring 73/1 in 9 overs. As Aussies looked to get away, Virat Kohli introduced Krunal Pandya for his second spell. He responded brilliantly by dismissing D'Arcy Short and Ben Mcdermott in consecutive deliveries, which derailed the Aussies.
In his third spell, Krunal took the prize scalp of Glenn Maxwell. Even though Alex Carey got hold of him by hitting two boundaries, it was Krunal, who had the last laugh. Krunal's 4 for 36 restricted Aussies to 164/6, which at one stage looked touching 200.
Chasing the target, India comfortably won with 6 wickets to spare with Kohli and Karthik applying the finishing touch.
Krunal Pandya accumulated a total of 138 performance points for his spell.
---
 #1 R Ashwin | Dhaka | 2014
3.2 Overs | 11 Runs | 4 Wickets | 3.3 Eco.
Performance Points: 168 Points
This was Ravichandran Ashwin's best spell in his career as he derailed the Aussies with his intelligent and smart bowling.
Before the match, all the hype was around Ashwin vs Maxwell contest as the attacking Aussie batsman have had a better of the two in the previous encounters in IPL.
After electing to field first, the Australian bowling attack restricted India to 159/7, which looked like a reasonable score.
Defending the total, Indian quicks started well by keeping Aussies to just 13 in the first 3 overs. By the time Ashwin was deployed in the attack, the frustration had already started to creep in, and the veteran spinner used it to a great effect.
In his second ball, he dismissed Aaron Finch and then took care of the dangerous David Warner in his very next over, thus denting the Aussie hopes further.
By the time Glenn Maxwell arrived at the crease, the required rate had already touched 9.50. As the whole world waiting for yet another Maxwell blitz, Ashwin potentially ended the contest by disturbing Maxwell's middle stump with a superb carom ball.
In his 20-ball spell, Ashwin bowled 15 dot balls and took 4 important wickets as Aussies were bundled out for just 86.
For this stellar performance, Ashwin accumulated a total of 168 performance points.
Right then, we have already seen the top 3 spells by Indian bowlers against Aussies in T20 Internationals.
However, this amazing performance by S. Sreesanth deserves a special mention.
---
S Sreesanth | Durban | 2007
4 Overs | 12 Runs | 3 Wickets | 3 Eco.
Performance Points: 108 Points
Saurav Ganguly once said, "Good batting wins you matches, but good bowling wins you tournaments". 2007 World T20 was one prime example of that.  
The occasion for this spell was the semi-final of the inaugural World T20 where India locked horns with the tournament favorites, Australia.
After deciding to bat first, India with the help of Yuvraj's blistering 70 (30) posted a mammoth score of 188/5.
If there had been any other opposition, it would have been a cakewalk for India, but this was Australia with the likes of Gilchrist, Hayden, Symonds, etc. in the squad.
The Aussie chase began with two contrasting fortunes. On one hand, India's star bowler, R.P Singh was taken to bonkers by Adam Gilchrist, while on the other hand, S. Sreesanth was bowling a dream spell with all pace and aggression. His beautiful outswingers were making even Matthew Hayden sweat.
Keeping the things tight, Sreesanth gave away just one run in his third over and took the prize scalp of Adam Gilchrist.
Hayden and Symonds then led a fightback as they added 66 runs in just 6 overs. Memories of 2003 began to haunt the Indians as Aussies needed just 54 of the last 6 overs.  India needed a miracle, that was provided by Sreesanth as he uprooted Hayden's off stump, and subsequently bowling a wicket maiden.
With the shift in momentum to India's side, they went on to win the match by 15 runs. Sreesanth's famous ground thumping celebration after taking Hayden's wicket still remains fresh in memories.
Sreesanth was not awarded the man of the match for his performance, but still, he accumulated a total of 108 points.
---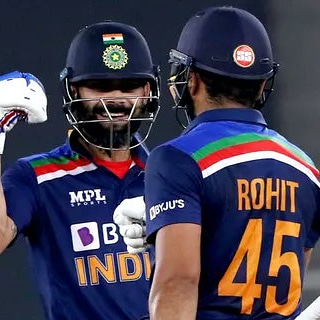 Adesh Kothari is the founder of AK4Tsay1 Cricalytics.
Cricket to him is like what 'Football is to Lionel Messi', 'Singing is to Lata Mangeshkar', 'Dancing is to Michael Jackson', and what 'Acting is to Clint Eastwood'.
Besides his effervescent love for Cricket, Adesh is an MBA by qualification.