WC 2019: Twitterati can't keep calm after India vs New Zealand match
Twitterati couldn't keep calm as India vs New Zealand match gets washed-out due to rains at World Cup 2019. 
Another day, another washout as the unbeatables, India and New Zealand face the unfortunate weather situation this time.
It is no surprise that Team India's match generates the most excitement among all teams. Such is the fan base that fans come to cheer the players in the stadium in large numbers, and the online viewership is huge too; thus encouraging revenues. 
So, It is all but natural to empathize with the sentiments running behind if matches like these get abandoned due to rain. Moreover, this is the fourth match in this World Cup, and the third match in the last 4 days that has been called off due to unplayable weather conditions.
With no reserve days, it is extremely unfortunate that Teams are witnessing the destiny of rains in Cricket's most important tournament. Something which ICC could have kept in mind while finalizing the schedule.
Nevertheless, with Team India facing the ax this time, Twitterati, as usual, couldn't keep calm as they have flooded the social media with hilarious memes. Some vented out their anger, while some brought out their funnier side.
So, here's the collection of some of the best memes after today's washout match between India vs New Zealand.
TWITTER MEMES:
Reporter: There is too much water…doesn't look good

Shastri: Yes, I had told Jadeja to mix less water

Reporter: Sir, we are talking about the outfield pic.twitter.com/sgKIzejaRY

— Sir Yuzvendra (parody) (@SirYuzvendra) June 13, 2019
Rain is leading the points table!!!#CWC19 #INDvNZ pic.twitter.com/ovUTMQi7Vk

— Arun Kaundinya (@arun_kaundinya) June 13, 2019
Cricket fan : you should choose the venue wisely

ICC: #INDvNZ pic.twitter.com/ChkoDhz0j1

— Imteyaz Rayeen (@imteyazray) June 13, 2019
*past 3 pm,
cricket fans* #INDvNZ #CWC19 pic.twitter.com/HIEeKKxwR9

— D J 🎧 (@djaywalebabu) June 13, 2019
If only ICC Officials focussed on planning the schedule and venue of World Cup 2019 as much as they focus on MS Dhoni's gloves. 😤😤😤 #INDvNZ #NZvIND #CWC19

— Sir Jadeja fan (@SirJadeja) June 13, 2019
Priyanka comes to the rescue of cricket fans…#INDvNZ pic.twitter.com/KVmVDzw3Q9

— Burning Chinar (@BurningChinar) June 13, 2019
Let's play 😂 #INDvNZ pic.twitter.com/VXqw6gELrE

— Rishabh pant (@Rishabpant_17) June 13, 2019
#INDvNZ Meanwhile Shastri ji is thinking barish me konsi brand k whiskey piya jaye. pic.twitter.com/3Sk196e5TE

— Saumen🇮🇳 (@isaumen) June 13, 2019
ICC before planning world cup 2019 pic.twitter.com/E4iAmygwWE

— Gaurav (@meme__o__real) June 13, 2019
Hey ICC forget this cricket and all that, this English weather is perfect for bhajias and chai, create a master chef like competition between the teams, the team with the best rain snack wins the World Cup 🤘🏼#INDvNZ

— Danish Sait (@DanishSait) June 13, 2019
This is how the WC should be played #INDvNZ #CWC2019 pic.twitter.com/zhOD9APhOq

— Riyan Parag Fc (@riyanparagfan) June 13, 2019
I'd love to meet that guy who stood up in the ICC meeting and said, "Sir, I have a great idea, let's do the World Cup in England" #INDvNZ #WorldCup2019

— Danish Sait (@DanishSait) June 13, 2019
No offence, but this has been the shittest scheduled World Cup ever.#CWC19 #INDvNZ pic.twitter.com/JfTLCK3fP3

— Cricket Fanatic🏏 (@ACricfanatic) June 13, 2019
Unbeaten Teams: I want more-
Gods: Grainted! ☔️#INDvNZ #CWC19 🦁 pic.twitter.com/PRLIwGYA7N

— Chennai Super Kings (@ChennaiIPL) June 13, 2019
#WC #INDvNZ
Send Some rain to India and let them play cricket!!!

— Shuvadeep Biswas (@IamShuva) June 13, 2019
---
We really hope we don't have to see another washout at World Cup 2019.  Ultimately, you want a team qualify based on Win points, and not washout points.
---
ALSO READ: World Cup 2019: Pakistan's humiliating loss inspires funny memes
---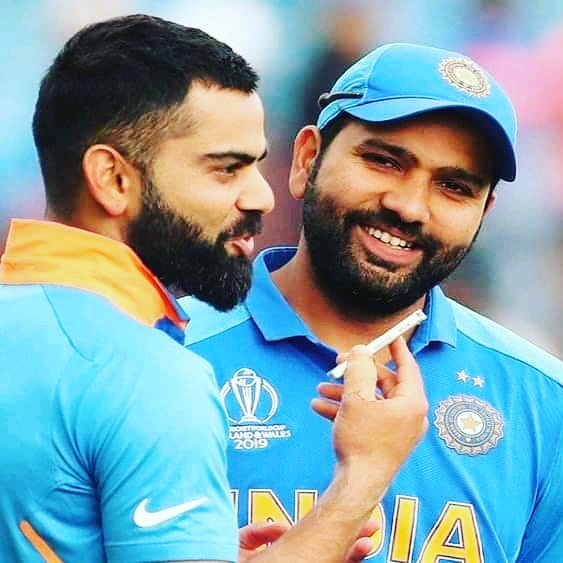 This is the official user profile for AK4Tsay1 Cricalytics